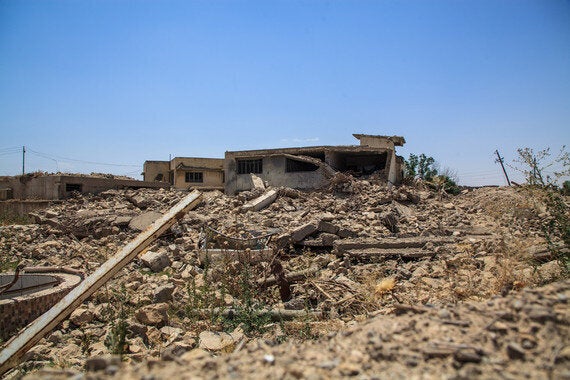 A bombed out school in West Mosul
Three years after Mosul first fell to the so-called Islamic State in Iraq & Syria (ISIS), the battle to retake Iraq's second city appears to be reaching its decisive and brutal final stages. Up to 100,000 civilians, including an estimated 50,000 children, are trapped in the last enclave held by the armed group in the densely-packed streets of the old town.
Urban warfare is particularly deadly for civilians, who are paying the heaviest price in the fight for Mosul. Unless the city is to become a graveyard for the children who remain, there is an urgent need for our armed forces and our allies to curb the use of explosive weapons in the weeks ahead
The horror faced by the men, women and children still trapped is almost unimaginable. Hazem, a teenage boy who had recently escaped, told our team how he lay badly injured with no water in the wreckage of his home, destroyed by an airstrike, in the scorching summer heat for a week. A medical team recently spotted a young girl tentatively appearing from a pile of bodies, one of the few survivors of a massacre of fleeing families by the militants. She had hidden under her mother's body for days.
After months of total siege, families are reportedly almost completely out of food, clean water and medicines, shot at if they try to leave and facing heavy bombardment from the air if they stay.
The US-led coalition, which includes the Royal Air Force, is supporting the Iraqi army in trying to end the dark nightmare Mosul's children have lived through for more than three years. We know that the coalition generally use advanced guided munitions in air strikes and coordinate with Iraqi forces on the ground to target militant positions, while ISIS intentionally uses children as human shields. Generals are at pains to emphasise that the utmost care is taken to avoid civilian casualties and the RAF publishes monthly accounts of its airstrikes.
Despite this, we also know that civilians are being killed in the fight against ISIS in Iraq and Syria in ever-greater numbers. The US has reported 484 civilian deaths since August 2014 as part of Operation Inherent Resolve, the majority of them this year, including one incident which killed more than 100 people in a single airstrike in Mosul in March. That may be a significant underestimate - independent monitoring groups put the total much higher.
On average, Action on Armed Violence has found that when explosive weapons are used in a densely populated urban area like west Mosul, a staggering 91% of the casualties are civilians. We don't know exactly how many of these casualties were children - many have been buried hastily by their families or remain trapped under the rubble - but we know children's smaller bodies mean they are particularly vulnerable. Doctors say their limbs are more likely to be severed by shrapnel, organs are more liable to be hit and they have less blood to lose.
Dropping 500 or 1,000 pound bombs onto residential streets and multi-storey apartment blocks, as the coalition is increasingly doing in Mosul according to Human Rights Watch, will inevitably lead to civilian casualties. It will also have longer-lasting effects - physical and psychological scars, and the complete destruction of vital infrastructure such as schools, hospitals and water networks which can take years to repair.
If civilian deaths are accidents, they are accidents by design and could often be prevented by employing different tactics. In 2009, NATO set tighter restrictions on the use of airstrikes in Afghanistan to try to reduce the civilian death toll - contributing to a 26% reduction in civilian casualties the following year.
Mosul has darker days ahead still, but even now attention is moving back to Syria as the coalition looks to retake Raqqa. That is another complex urban environment where the fighting will be tough and civilians will yet again be caught in the crossfire. The same lessons apply.
We can't allow ourselves to be so blinded by the horrors of ISIS that we fail to challenge our own military to uphold the highest possible standards, and urge our allies to do the same. As the coalition presses on into Mosul, Raqqa and elsewhere, protecting civilians must be the first priority. There can be no real victory if in order to save a city, you destroy it.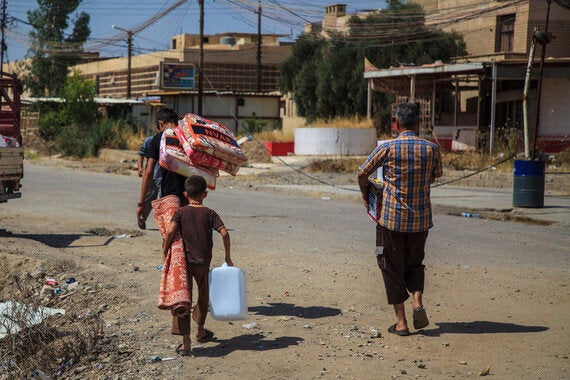 West Mosul residents leave after Save the Children staff distribute non-food items including blankets, sheets, jerrycans, small cooking stove and a hygiene kit