How are you? No, how are you really? Because just for today, you can legitimately respond with something other than, "Fine thanks." I may not be the first person to point out to you that today is Blue Monday, supposedly "the most depressing day of the year". Well, shut the front door; it's not. The term was coined back in 2005 as part of an advertising campaign, and has been spreading misunderstanding ever since.
A quick Google will tell you that the whole concept is a load of rubbish and has about as much scientific basis as Ghostbusters. But no doubt advertisers will abuse it to sell us some booze or a holiday, and it will almost certainly fall into the collective consciousness and be trending on Twitter. Much to the aforementioned advertisers delight. Here are the listed reasons for legitimised 'blueness':
2. Christmas was expensive.
4. I've already given up on my New Year resolutions.
There will be giggles in workplaces up and down the country about how we're all going to get through it. A whole day! Gawd.
As someone who's suffered from the crippling effects of living with depression every day for six months - and I consider myself lucky at that relatively short amount of time - Blue Monday is actually a bit insulting. Here's why:
1. It perpetuates the misconception that depression is logical. Yes, external factors can play a part, but depression can strike anyone, at any time. One thing I felt consistently when I was suffering from depression, was guilt. Guilt at being a shit person, guilt at not being there for my friends, and guilt at not having enough 'reason' to be depressed in the first place.
When I hinted at how fed up I was feeling, many people's reaction was to tell me to "stay positive". I know they meant well, but it wasn't like I hadn't thought of that. I was trying - I had life-affirming messages blu-tacked all over my wall - but still I couldn't reach the dizzy heights of 'feeling positive', and my failure to do so just made me feel useless and like I wasn't trying hard enough. I felt like I was being judged, and criticised for being miserable when I didn't have enough reason to be.
Here's something about depression: it is proudly non-discriminatory. There are no conditions for entry, it doesn't comply with logic, and it will welcome you with open arms - irrelevant of whether you, or anyone else, thinks it has enough 'reason' to.
2. It suggests that those suffering from depression are negative people, looking for any excuse to be miserable. Ahem. Hello! I am a goofy, smiley optimist: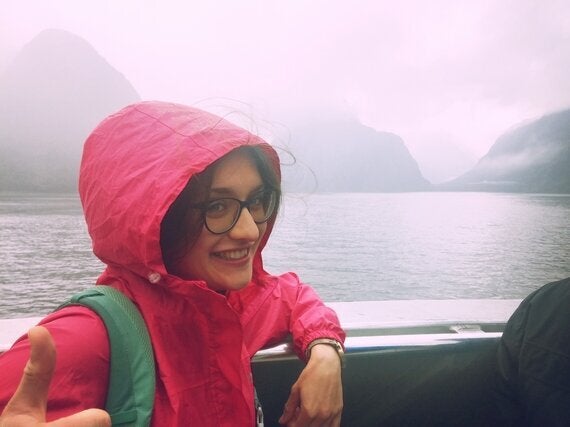 This did not make me immune from depression; it simply made no difference. Depression didn't actually care at all. So you can be the kind of person who laughs when it all goes wrong, and to whom it makes no difference that it's cold outside, because January is actually quite nice, isn't it? The chaos of Christmas is over, there's that 'new start' energy in the air, and it's not that long til summer - at least we're the right side of the New Year, eh? To people who live with depression, the reasons behind Blue Monday are simply irrelevant.
3. Blue Monday trivialises depression. Blue is such a lame word. I doubt anyone has ever stood on the edge of a precipice saying, "I just feel so...blue." Depression is not feeling blue because Christmas is over and it's a bit chilly. Depression is a bottomless pit of despair. Infinite joylessness. An emotional black hole. For me, depression was crying in the shower whilst thinking of ways to kill myself. It was losing all my self-confidence because I couldn't even hold a conversation. It was believing that I didn't deserve to be loved.
Your brain is an organ, and just like any other part of your body, it sometimes gets ill. Depression is an illness; not a lifestyle choice.
Mental illness accounts for 90% of the 6,000+ suicides in the UK each year. For those people, it's "I can't live like this anymore". For their family and friends, it's unbearable pain and loss, and a terrible, terrible waste of life.
We must recognise depression for what it is: a serious illness that can affect anyone, at any time. Depression is already hugely misunderstood; the Blue Monday joke is not helping.
How about we ask people how they really are on a regular basis? Here's how you can support people living with depression every day, and help counteract the damaging Blue Monday myth:
1. Publicly support mental health. Share this post, posts from mental health charities, and general support of mental health on social media - anything that shows your friends that you're open to mental illness and won't judge them. It could make the difference between them talking to you, or bottling it up and getting no one else's opinion on the shit view they hold of themselves other than depression's, which will always agree.
2. More specifically, support Mind's #BlueAnyDay campaign, which is tackling the myth head-on by reminding people that depression is a serious condition that can affect people any day. Use the #BlueAnyDay hashtag on Twitter, and help Mind to spread the truth about depression by getting it trending over #BlueMonday. You can also help Mind to be there for people with depression throughout the year by texting BLUE to 70080 to donate £3.
3. Be there. If you know or suspect a friend is depressed, you don't have to talk about the deep stuff in order to help. If you're not into that or just don't have the words, then ask them out for a beer and crack a few jokes if you're better at that. But keep asking to meet up, even if they appear to be having a rubbish time. Chances are they appreciate it more than they're capable of showing.
4. Be kind. This should go without saying, but in a fast-paced and high-pressured world, kindness isn't always prioritised. You don't know what battles the people around you are facing. Don't roll your eyes if a colleague is a bit slow with the figures. Instead of getting impatient and snapping, check in with them: "You don't seem your normal self today, are you okay?" When someone is in an incredibly vulnerable position, potentially with a pre-formed suicide plan, your words have the potential to push them over the edge, or pull them back.
If you, or someone you know, needs help today or any day, these organisations are worth checking out:
Mind These guys are wonderful. They provide advice and support to anyone experiencing a mental health problem, as well as campaigning to improve mental health services, raise awareness and promote understanding. You can call their confidential information and support line on 0300 123 3393 (Monday - Friday, 9am - 6pm).
CALM: Campaign Against Living Miserably CALM is a charity dedicated to preventing male suicide, in part by 'challenging a culture that prevents men seeking help when they need it'. Their helpline is open 5pm-midnight: 0800 58 58 58, or you can use their webchat service.
Last year, I published an article about my own journey through depression, and how I found my way out. I've received hundreds of messages since from people who've told me that it has given them hope, and from many others who said that they finally understood what a friend or loved one had been through. You can read the full article here.