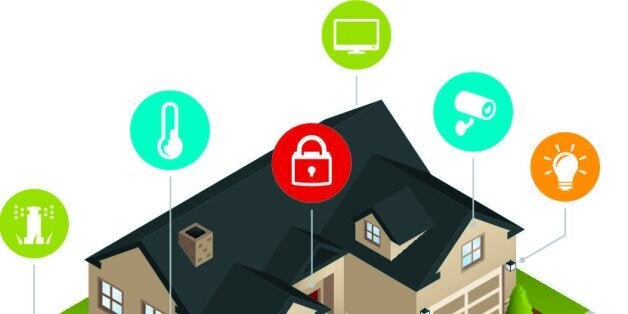 There are various layers within a house that serve a specific purpose, and when combined they create what we call a "home." For example, some are meant to keep us secure and comfortable (i.e. the door we lock, indoor security cameras, air conditioning and lighting), while some are meant to entertain us (i.e. TVs and sound systems) or simply maintain us (i.e. food in our refrigerators and the roof above our heads).
To reach new levels of security, comfort and entertainment we need to embrace the idea of welcoming computer vision and artificial intelligence (AI) into our homes. Computer vision-based user data will improve our daily lives by creating an intelligent home that not only shelters us from the outside world, but knows who we are and what we like - like a personal butler. Computer vision allows devices/systems to detect and recognize what and who they "see." Then, using AI and deep learning they can learn behaviors overtime to deliver smart actions according to what they were programmed to do.
Increased Security and Added Comfort
Welcoming computer vision and AI into your home and adding it to your connected devices will enable a new level of convenience to your everyday routine. Your front door will be able to "see" when you arrive and unlock the door for you, or remain locked when an unfamiliar person (face) approaches. The alarm systems will be smarter, able to detect specific members of the family and who's not. Taking it a step further, indoor security cameras will send an alert to your smartphone if an elderly family member or guest falls, or if a toddler is climbing up the stairs, on the countertop, or anywhere that places the child in danger. Nest, Logitech and other smart home manufacturers have already started to offer some smart security features to consumers as a subscription-based premium service.
When your home can "see" (computer vison) and "think" (AI), it will have the ability to perform actions such as adjust lighting and temperature to the number of people in any given room to ensure a comfortable environment and potentially saving you money on your electric bill. Your fridge will be able to "see" when you are low on milk and eggs and send you an alert to make sure those items are added to your grocery list.
Imagine a cable box that greets you by name and turns on a tailored interface with the content you like. Imagine not having to watch ads that are not relevant to you in any way, and a TV that is smart enough to block inappropriate content/channels when it detects kids in the room. Imagine a system that notices your significant other is sitting next to you on the couch and suggests content that will be enjoyable to both of you. These are examples of how your home and media reacts and adjusts to you. You become a true master of your home and providing data gives you access to new capabilities and information previously unavailable to you.
Embedded computer vision is the answer to the ongoing privacy debate - "I want more personalized experiences, but I'm scared to share personal data." To enjoy the enhanced experiences outlined above worry-free, consumers should understand the two categories of computer vision systems within the home.
First, activities and services that aim to tailor the home to you (i.e. adjusting the lights and temperature, suggesting content on TV to the people in the living room, etc.). These activities and services do not require computer vision systems to save, show, or share any video and visual content. All that is needed for the systems to work is real-time data reporting in a textual format: x people in room, family member x/y detected. For example, to customize media content the system must detect the relevant family member(s) in front of the TV to switch to the appropriate channel, but no image or video has to be stored/shared in order to do so. This technology can and should be embedded, which means no videos or images are sent to the cloud, the sensor shouldn't save any imagery locally, and the camera itself shouldn't be connected to internet - all computer vision calculations should be done in real-time on the device itself. This should reduce any privacy or hack concerns you may have.
Second, activities and services that monitor the home (i.e. security cameras sensing who is at the front door to unlock or sound an alarm, and monitoring your children in the home). These activities require the same privacy protection measures as used today with security and monitoring sensors, and the computer vision layer does not require cloud connectivity or sharing images and videos. It is you that wants to view these images and video footage, so the risk with these enhanced capabilities will be no different from the ones faced today in this sector.
One area that has effectively proven how computer vision and AI can enhance our lives is the automotive space. Even though we think of the house as the "home," our cars are very much a part our home environment. Car systems that utilize computer vision and AI to "see" and learn the driver (and their preferences) overtime can prevent distracted driving, gauge driver awareness, and personalize the driving experience. For example, once the driver is detected and recognized by the car system, the car settings will automatically adjust to his or her preferred temperature, seat position, side and rear-view mirror adjustment, infotainment, volume, etc. While driving, the system will notice if the driver is dozing off or gazing away from the wheel (texting) to alert the driver as necessary, or possibly switch into autonomous driving mode.
Gideon Shmuel, CEO of eyeSight Technologies, is an expert in embedded computer vision, deep learning and AI. His focus centers on developing sensing solutions to improve our daily lives and how computer vision-based user awareness and gesture control is the future of smart homes, car experiences and other digital devices.