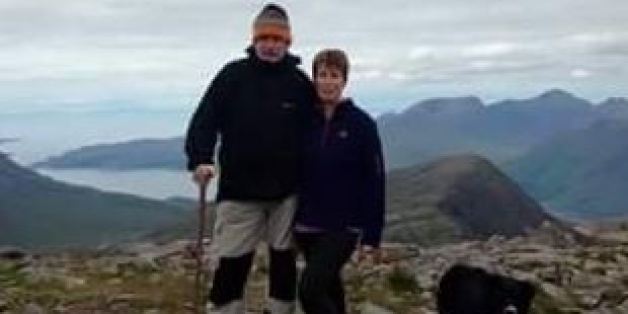 Gillian Robertson
In June last year I had what I thought was a routine mammogram. I was busy but made time for it and, a little later, I received a letter asking me to come in for a follow-up appointment. I didn't take anyone with me as I'd had cysts in the past and didn't think much of it.
But as the appointment went on it became clear that everything was taking longer than usual and I was eventually told I had cancer.
Despite the shock I asked loads of questions - I've always liked to be in control of situations - and I felt very well informed about the treatment I would need.
After a biopsy, the doctors confirmed the cancer, but fortunately it was small and would be easy to treat with a lumpectomy, which I had in August, followed by a month of radiotherapy.
As a head teacher, I have a demanding job, and, at that time, although I wasn't overweight, I hadn't been exercising as much as I'd have liked. So when I had time off work as a result of the treatment I decided I needed to use it wisely and establish a better work/life balance.
I began reading a lot more about dealing with difficult situations and also about mindfulness. I signed up for Pilates classes and a course at the Edinburgh Buddhist Centre, involving Qigong and meditation, which all helped me relax and focus on my breathing. On top of that, I promised myself I would walk five miles every day with my dogs.
I later underwent a type of radiotherapy called deep breath holding inspiration therapy. The tumour was on my left breast and it meant I had to hold my breath for 20 seconds so the radio waves could be targeted more precisely and away from my heart. All the breathing exercises I had been practising made the whole experience that little bit easier. As well as the surgery I was involved in two trials, one a blood test and the other called a 'clear sight margin to margin clinical study'.
The radiotherapy plus the two clinical trials had a really positive influence - I realised that new developments are happening all the time to improve diagnosis and treatment of cancer and I felt that I could be contributing to this to help these developments for future generations, including my daughter's.
Throughout it all, I had wonderful support from my family and friends and the care and treatment I received was incredible. My daughter was appearing at the Edinburgh fringe festival which was great timing because we could then turn our focus on that.
I was back at work in January and through the Cancer Research UK Facebook page I spotted the Walk All Over Cancer campaign, a 10,000 steps challenge. Walking had been such an important part of my recovery that this just felt perfect for me so I signed up and raised more than £800.
It was a great chance to keep up my fitness and I really wanted to give something back in terms of the incredible treatment and care I had received and the research that had made this possible.
It's strange now to think how easy it would have been to miss my mammogram appointment because I was busy. Things might have been very different. I can't recommend the outstanding care and treatment I had from the NHS highly enough - including the opportunity to have the mammogram in the first place. On top of that, my health centre has a voluntary car driving organisation attached to it that proved immeasurably valuable. Incredible volunteers would shuttle me to and from my radiotherapy treatments, leaving me time and energy to walk and practise my Qigong and meditation. Now I and my family support and help fundraise for this service, knowing how important it was to me.
This experience reminded me of the need for mindfulness and the importance of having a good work/life balance. All these things got me through a very difficult time and, with a follow-up mammogram booked for August, I'm more positive than ever.
Want to get fit and feel amazing this June? Try Cancer Research UK's Walk All Over Cancer 10,000 steps a day challenge. To sign up and download motivational tools including a wall chart, leader board and sponsorship form visit www.cruk.org/walkallover