I love visiting New York. Central Park. The shopping. The swanky bars and Brooklyn. Oh, Brooklyn. You have a piece in my heart, you really do. But late last year, we did something I'm going to admit to you now. I'm oddly proud of it too, which might seem distasteful. Ok, here goes.
We cheated on New York with Boston.
And my oh my, it was good.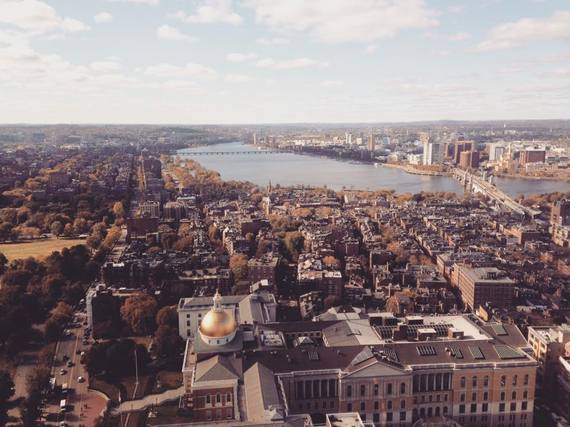 Author's own
My fiancé spent 13 years growing up in Northborough, Massachusetts - a 30 min drive from Boston City Central. So when he was due to work in Atlanta last October (a $100 internal flight to Boston for him and the generous offer to split the cost of my flights) he didn't have to ask me twice to join him.
A perfect chance to see his childhood home, meet the Muccios - his best friends, and soon to be Best Man's family who he grew up with. I wanted to know all about Boston. The Good Will Hunting's/ The Invention of Lying's/ Ted's/ The Town's/ The Departed's, Boston.
We booked to stay at Mandarin Oriental - a 4.5 star hotel which is famous for its location. Being a 5-minute walk from Copley Square and a 4-minute walk from the Hynes Convention Center, it is literally attached to the Prudential Shopping Centre and a minute's walk to the gorgeous Newbury Street. A shopper's dream location. It's worth highlighting, like with New York, the hotels in the centre of Boston aren't cheap and I would recommend any Brits looking to go to remember that Americans book Room Only, so location is key for when you need to pop out early doors for breakfast or brunch. But for luxury, this hotel has it all. It is stunning and with the only Forbes 5 star spa in the State, it's definitely welcomed after a day traipsing the shops. The rooms were huge and spacious and the breakfasts at the hotel, should you want to eat in, by Chef Daniel Boulud.
The hotel excels in every way. From the interior design, with its museum-quality art in the lobby to the deep red french inspired bistro, to its state of the art spa. The rooms are huge too, to make space for all that shopping.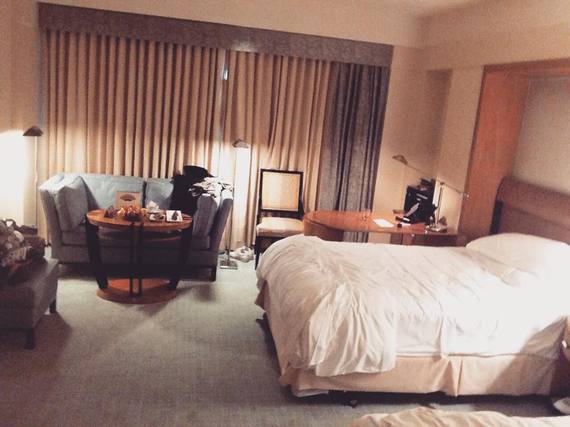 Author's own
THIS was my bedroom view! Right in the thick of it!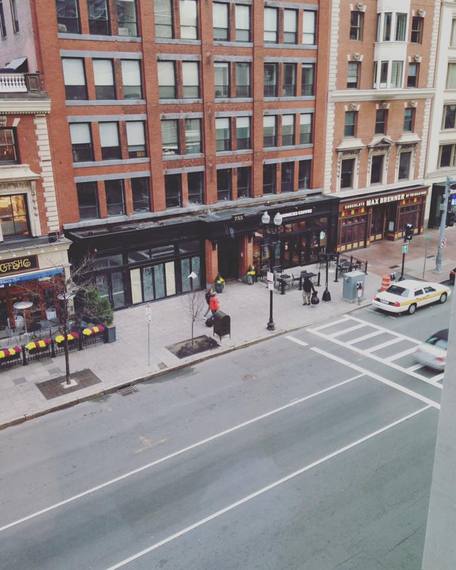 Author's own
On my first day in Boston, I realised how similar it is to New York but how (dare I say it), better in some ways it is. There are less bodies, whilst still steeped in the same history in it being New England with all its beautiful architecture. Plus, the accent is HOT as hell. I'm not ashamed to admit I'm more of a Matt Damon girl than an Adam Sandler, any day of the week.
So, what's missing besides the 7.5 million bodies?
Central Park? Chill out, 20% of Boston is green, the nicest for a stroll, in my opinion is Boston Common, off Beacon Street. There was something magical about walking through this park on an Autumn day.
The shopping? Well, I told you how much I loved the shopping. The high streets, the designers and the vintage. Boston has it all.
The food? Hell No. Boston has LITTLE ITALY. If you are a fan of good Italian food and a killer atmosphere, you won't find a place on earth sweeter than here.
Let me start by giving you some details. I mentioned Newbury St earlier and I mentioned brunch. But what I failed to mention was the place on Newbury St to brunch. If you go, head to Sonsies. In the summer they slide their front porch open for a breezy breakfast - in autumn, when I went, they keep it snug and serve up sugary coffee or Spicy Bloody Mary's. I normally have a love/hate relationship with bacon in America (it being all streaky and well, different), but here, I licked the crumbs from my plate. Eggs and Bacon will never be the same again. The service is great here too as well as the food being unreal - and the location is top drawer. I hate to go to a place twice on holiday, but you can't not with Sonnies. I felt like a local at the end. Ordering 'my usual' then embarrassingly asking for a latte minutes later.
As I mentioned, we had a very special family to hang with whilst in Boston. Mark, my finance's favourite family growing up, made up of Irish-American Gina (excellent name), and Italian-American, Angelo and their three sons and a daughter. The Muccios. As corny as it sounds, meeting them was really important thing for me. Mark and his family speak about them often and we knew we wanted to invite them to the wedding in person. They live, as my partner did for 13 years, in a place called Northborough (Pronounced 'North-Bro', bro).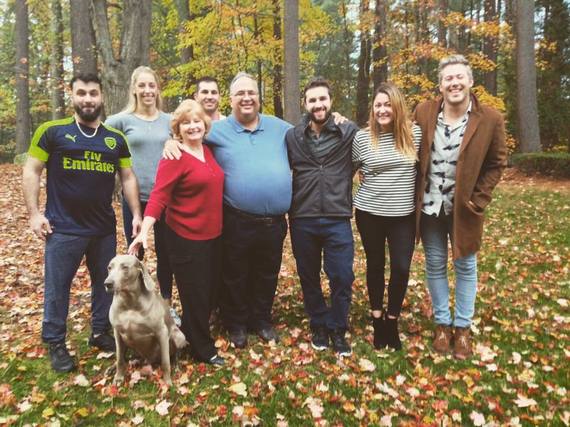 Author's own
The place is every bit the American dream. Big wooden houses, woodland surrounding. We spent a day with them at theirs as Gina cooked up an Italian feast of meatballs, pasta and red wine. There is something special about visiting locals when you visit a new place. It gives you more of an insight into what it's like to really live in a State, not just the tourist hot spots.
I mentioned Little Italy earlier but a second mention is needed. Boston's first and subsequently oldest neighborhood, the one square mile waterfront 'North End' evolved from being an isolated village to the home of American Revolutionists to Irish haven and finally to Little Italy, first settled in the 1600s by the English Puritans. Now, sweetly named 'Little Italy' it hosts all the pasta, cannoli and lasagne you can handle. With around 100 restaurants and bakeries to choose from, there are plenty of options for a slap up meal and a pastry for desserts. We met with some friends, Sam and Nate, who also grow up with my fiancé, and headed to Carmelinas - a traditional Sicilian comfort food restaurant with a Mediterranean twist from Executive Chef Damien DiPaola and Chef di Cucina Michael Hollenkamp. It's on Hanover Street and is informal and plate-shareable. We ordered masses of food and just shared them, chatting and drinking throughout.
We had four nights in the Massachusetts capital, and although we wanted longer, like NYC, it still gives you enough if you are in-ing and out-ing for a fun packed weekend.
On our last night, we decided to go full slap up meal. (Like we had done anything BUT eat the entire trip), and there was really only one place in my sights. Deuxave.
The impossible to pronounce restaurant is set within a trendy part of the city which makes you feel all Carey Bradshaw like when you sit at the window waiting for Mr Big to return.
It's not cheap but it is worth it. At first glance, a novice eater like myself can be overwhelmed by the menu, but settle back, let the sommelier pick your wine and the waiter suggest (and explain) the menu. I promise you one thing, you'll leave smiling. I'm not overall fond of the saying #foodporn but check out Chef Chris Coombs insta page if you aren't on a diet.
Here's an example. (I'm on a wedding diet as I write this and these images are killing me!)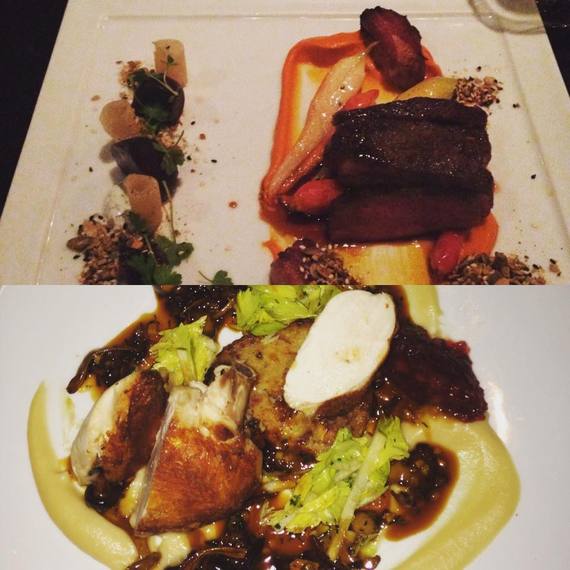 Author's own
If, you fancy copying this trip word for word, I would hold off knocking at the Muccio's ;-) but make your next stop The L Street Tavern. Film buffs will walk into this local boozer (658 E 8th St, Boston, MA 02127, USA) and instantly recognise it from the Minnie Driver bar scenes in Good Will Hunting. Settle in, grab a pint, and wait for your Uber to take you back to the airport, it's only a 15 min drive.
After the weekend, you'll be drunk and full on Boston.
I fully endorse you all have a cheeky little fling with the place. Don't worry, I won't tell NYC.