This Sunday we showcased our short film Not Sophie's Choice to a packed out theatre of 140 eager beavers. It's a black comedy starring Catherine Tate and Alex MacQueen and although only a six minute short, its been months of effort by our small team of myself the writer and the director. Knowing I would be having an exhausting day, on Friday my boyfriend and I took ourself off to a spa.
The thing is with London finally getting some sun, is that most spas are all very inside-y. We wanted to enjoy the sun and not be kept in whilst still swimming in the heat. Unless you are prepared to go abroad, this is a big ask. Luckily, the spa we chose was perfect for those sunny days.
The Penny Hill Park Hotel and Spa is in Bagshot, Surrey. An hours drive from mine in North London or an hours train from Waterloo.
We arrived on the Friday night, beaten down by the working week and the horrific traffic leaving London. The reception had reserved us a meal at the Brasserie for 8pm. There we were met by Sarah, a lovely young waitress who was smiley and informative. We had steak each (were suckers for steak when its on the menu) and shared a bottle of house red. The restaurant overlooks the pool and is the most idyllic setting. There is something about being from London and escaping to a place lined with greenery that just instantly relaxes you.
We checked in to an Exclusive Junior Suite. It had a seating area, great view, and get this, a LIE DOWN SHOWER. That's right, a shower YOU LIE DOWN IN. Turns out, the hotel are known for their featured bathrooms. I thought it would be a gimmick type luxury at first, but its rather enjoyable. How many times have you been so exhausted you just wanted to lie down in the shower?
In the morning, we headed to breakfast at the Brasserie again and managed to get the good seats overlooking the pools.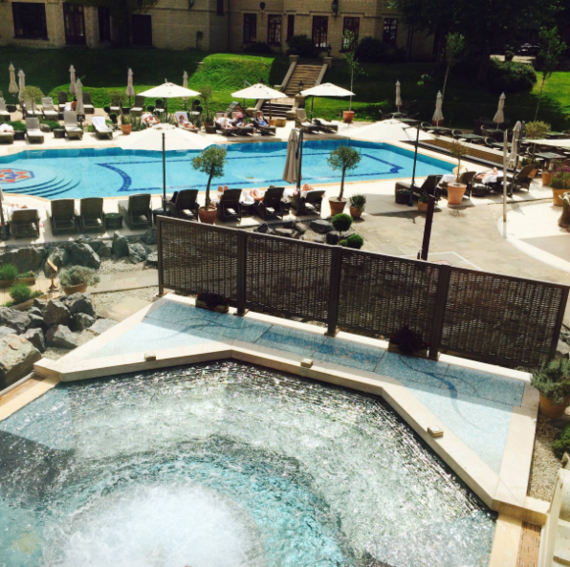 We decided on early treatments, so we could enjoy the sun. My boyfriend had the therapeutic massage which was so good I did wonder if he was going to attempt to run off with the masseuse. He didn't. I had the elementary, which is more of a tailored massage. No matter how much a massage costs (this was was around £100), when its good, like this one was, it could have literally have been my life savings and I would have happily handed it over. Genuinely, I would have given up my pug and cat and future first born for an extra hour of bliss.
We spent the rest of the day by the pool, ordering afternoon tea and cakes and reading the papers. Its one of those places which really attends to attention to detail, so you can find fresh fruit in your room or the decent papers at any pitstop.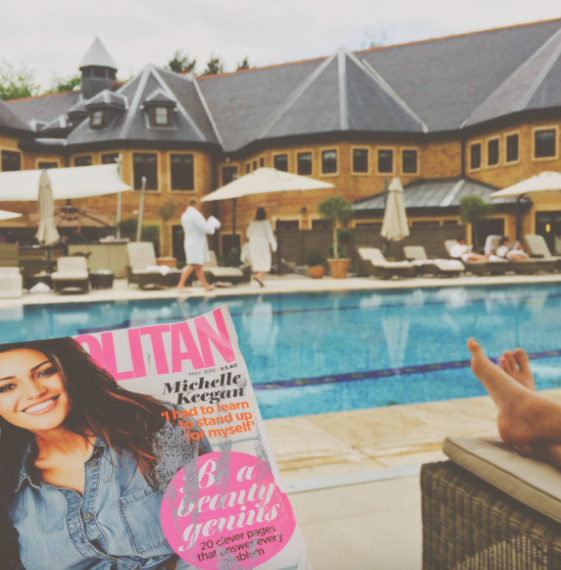 They have some great deals on for people reading this thinking this treat sounds just what they need including a Summer Spa Day which you can Experience a 20 minute cooling facial alfresco style as well as a 40 minute uplifting foot treatment OR mini manicure in the luxury of our indoor treatment rooms. At your leisure, indulge in a seasonal lunch out in the open and float away in our outdoor pool and Canadian hot tubs. For £140, thats well worth a visit.
If its stunning grounds, good food and immense treatments you are after, you'll be left completely spa-trucked at Penny Hill.
For me, it was the perfect summer spa and just what I needed before cracking on with the new month.