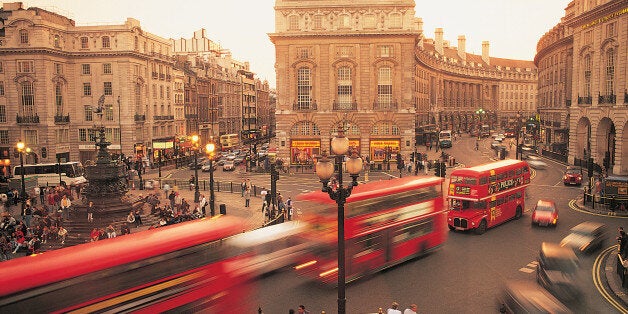 A lot of my mates are from Northampton, because, well, I'm from there, and when they visit London, they always ask me for those special places to try out. People not from London tend to hate it. They get stuck in Leicester Square and only see the tourists and the tubes, they don't experience London like we do. They don't see the culture, the brilliance, the colour. They see stress.
So, with that in mind, I took a couple of days to visit some of my favourite places and to blog about it. For selfish reasons really, as I can now just forward this link and not repeat myself for every. goddam. person. (Insert smiley face.)
I moved to London at 18. And because rent was cheap and I was going to a drama school near, I moved to Camden. It remains one of my favourite places to this day, despite the hordes of hens visiting on a Saturday night, wobbling on the cobbles, I still love it.
I used to love the Hawley Arms a lot, until some friends and I recently got our comedy night banned after a small fire and some slight indecent exposure. A while back, they would have loved that anarchic chaos. Not so much since the refurb.
East is pretty cool. Mostly, too cool for me. I can't do Hipster. I love Phil Collins too much to even think about turn up jeans. I do however love Beach Blanket Babylon in Shoreditch. It's a very cool spot which doesn't make me feel like I need a perm and a ginger dye to fit in. Its West meets East. Its trendy but not hipster. Funky but not pretentious. The food is lovely and the cocktails are ridiculous. It's also an ideal venue for anything. You can book a table for dinner, perch at the bar for cocktails, and even head downstairs to the club afterwards. If you want a birthday bash and don't want to lose people to the Nathan Barley's of the east end, I would very much recommend this place.
For the Americans reading this blog who think us English dress like the queen, shoot clay pigeons daily and only drink tea out of 200 year old fine china, a night at the Hazlitt's Hotel in Soho is just what you are after.
One step through the door from the hustle and bustle of Soho makes you feel like you have done a Goodnight Sweetheart and entered a different era. Its old school hospitality set in a beautiful Georgian townhouse. I had the pleasure of staying in the Duke of Monmouth Suite. (A HUGE tick off my 30 before I'm 30 list.)
With a huge tub in the bedroom, a lounge and our own private terrace this is London Luxury and half of the price of most London's hotels. (Around £500 a night. Baring in mind, you can pay half of that for a bog standard chain hotel.)
Rumour has it, Lady Gaga stayed here. And I can see why. Its English luxury with all the mod cons. My boyfriend and I got Nandos take out (I did point out I was from Northampton), put the fires on and sipped champagne in the tub. I would encourage ANYONE to stay here for a night. It really was my favourite night of the year, to date.
While you are in the west end, I would visit Circus.
If, like me, you get bored with just food to look at while you eat, go to Circus. I love a gimmick, no, I'm obsessed with a gimmick, but with most places with decent gimmicks and Time Out reviews, you don't expect the food to be any good. Well here, it's not just good, it's outstanding. I sat sipping wine (and good wine too), whilst watching a drag performer doing her thing whilst eating the most amazing dim sum. My piece of advice, try the green beans. I don't know what they do to them that makes them addictive, but I've dreamt about them twice since. I am serious. They are out of this world. I was this close to going to the back and snogging the chef.
London has so much to offer, you can party at night, browse markets in the day and everything in between. It wasn't until February last year when my boyfriend fulfilled a childhood dream of mine by taking me to New York that I realised how utterly in love I was with this city.
So, Londoners, get out more. Check out new areas, new haunts. It's so easy to get complacent. We're all guilty of it.
And tourists try my suggestions. If there's one thing I seem to know it's a good night out. (Insert smiley face, again.)