There hadn't been a woman elected to the NUI (Nation University of Ireland) panel in Seanad Éireann (the Irish Senate or Upper House as it's called) for 35 years. Alice-Mary Higgins was seeking to become it. In the week 100 years exactly after the 1916 Easter Rising - where hundreds of women came out to fight for an Irish Republic with equal suffrage - Ireland was to elect a group of new senators to Seanad Éireann. No woman had held an NUI Seanad seat since 1981. I shadowed female candidate Alice-Mary Higgins. Here's one reason Irish women in politics won't be ignored.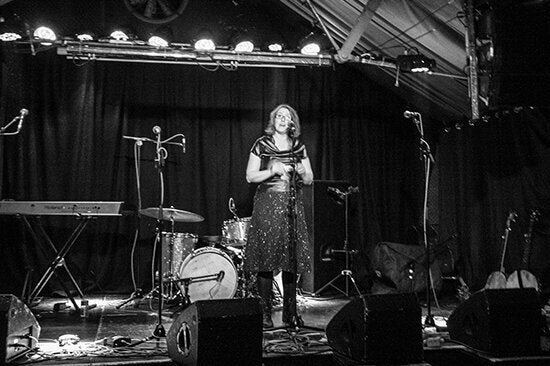 Many were saying that the candidate who stood out in this momentous Senate election was Alice-Mary Higgins. Her long track record of campaigning for equality and deep understanding of the Arts made her an interesting prospect for Ireland's second legislative chamber. Traveling with her while she campaigned I was constantly struck by her ability to balance intellectual interest in the finer detail of policy with a genuine warmth that everyone seemed to relate to. She'd make an impressive Senator. In 2016 it would be a great win.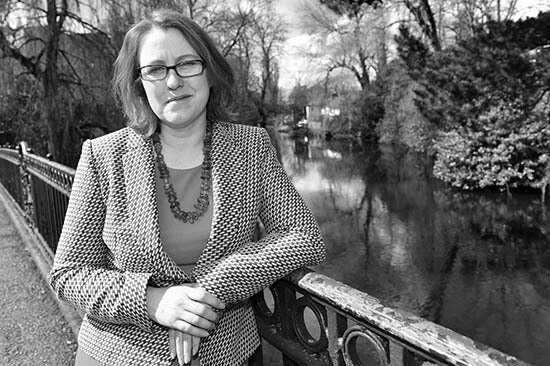 She was on unpaid leave from her job as Policy Coordinator at the National Women's Council, having decided at Christmas to pursue one of three Seanad seats elected by graduates of the NUI universities, a restricted franchise that she was determined to open up if elected. There were 30 candidates, but she was campaigning hard and had some heavyweight backers, including Catriona Crowe of the National Archives and retired UCD lecturer and women's rights campaigner, Ailbhe Smyth, and Social Economist Professor PJ Drudy. Unusually, she had also been publicly backed by a number of artists, one of her formal nominators is the much loved Cork poet, Theo Dorgan.
I recall studying English with Alice-Mary in University College Dublin. We were both very young and battling to make our mark, me through the college newspaper, her through the drama society where we met and I remember her devotion to campaigns such as the national referendum on the right to Divorce which came in the middle of our time in college and only passed very narrowly.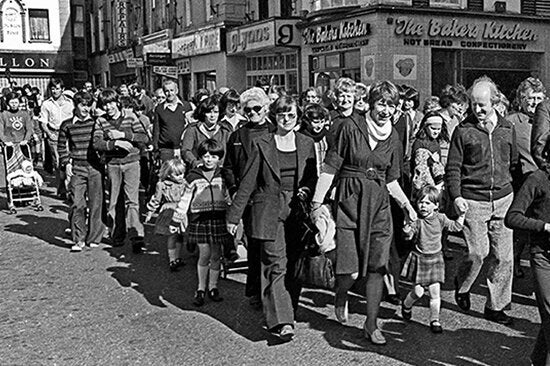 Born in Co. Galway she is the oldest child of President Michael D Higgins and his wife Sabina so it is not unexpected that she has a knowledge and understanding of politics, although she is very clearly determined to walk her own path. Growing up in Galway, early protests on issues like the Iraq war were also interspersed by different kinds of street theatre. She speaks fondly of her childhood involvement with street theatre groups like Macnas, who recently delivered a triumphant performance at SXSW in Austin.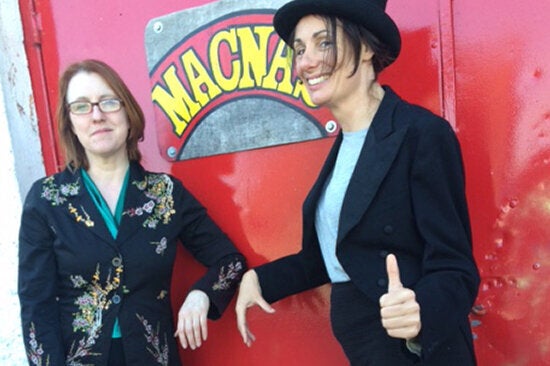 It is clear that Alice-Mary still believes in the power of the street and the power of art "Political change requires careful advocacy and solid legislative proposals - but it is public campaigning that put the important social justice issues on the agenda in the first place, and there is no doubt that art is one of the most impactful ways to communicate any political message," she says.
One formative moment she recalls was when as a teenager in 1992 she saw friends perform a rehearsed reading of 'Eclipsed', the play by Patricia Burke Brogan which first put the spotlight on Ireland's Magdalene Laundries. "The production was staged by Punchbag Theatre in a disused garage at Spanish Parade, I remember it vividly. That was the first time I had heard about the Magdalene Laundries, the religious institutions where so many unmarried mothers were incarcerated for decades - this was how it emerged into public consciousness." There are, she believes parallels today, "The State's Direct Provision policy for asylum seekers is a successor to those institutions, and again, it's been artists who have led the campaign against it," she explains.
Alice-Mary graduated from UCD in Philosophy and English, followed by an MPhil in Theatre at Trinity College Dublin. Having received a Fulbright Scholarship to study at the New School forSocial Research in New York, she also lived and worked with the Flux Factory arts collective in Queens, New York. Now as she steps from civil society into a career in politics, I'm genuinely interested, as an artist myself, to learn how Alice-Mary has managed to intertwine these dual interests in her working life and intends to intertwine them with politics in the future.
"When I returned to Ireland, I worked with Artists Against Racism, where by degree my work probably became less about the Arts and more about legislation, although I did ensure they complimented each other," she says. "Then when I worked with Trócaire my job was to bridge policy and campaigns, coming up with creative ways to express these quite complex issues around climate change or trade justice." She brought that same creativity to a series of successful campaigns to save the State Pension with Older & Bolder, the Irish equivalent of the AARP. "We wanted to make sure our message was one of intergenerational solidarity and we wanted to play with expectations a bit, so we teamed up with street artists and produced some really exciting murals including one which showed an older women in the act of spray painting a message of defiance."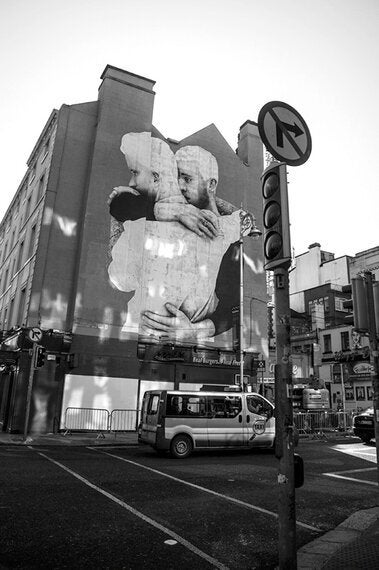 This leads us to discuss another mural by the now internationally renowned Limerick artist Joe Caslin which first appeared on South Great Georges Street in Dublin to promote the Yes vote in the same-sex marriage referendum last May. "Joe Caslin's drawing called 'The Claddagh Embrace' really captured a feeling, a moment in Irish politics," Alice-Mary says. Joe explained a little more about the piece to me over a cup of tea in Dublin. "The piece shows two men in an embrace, one from Co. Dublin and one from Co. Roscommon." It was a self-financed endeavour for the artist "with a range of volunteers helping me," he explained. "I watched volunteers on the YES side put in full days at jobs and then head out knocking on doors to get equality for their friends and family members," Joe said at one point. "Putting a piece of work up was just my way of contributing. Art can create a conversation and can help bring great social change peacefully." Joe said that "the atmosphere around that installation was very memorable. So many people volunteered to help."
I notice in passing that like Joe Caslin, Alice-Mary had a core campaign staff of "seven, maybe eight," all volunteers, and they seemed to be driven by a similar sense of goodwill and positivity. Knowing her it's difficult to imagine it being otherwise. She's positivity with a capital "P".
Commenting more on Joe Caslin's mural she noted that "the art work carried the message far and wide" even appearing in the New York Times. To her credit, Alice-Mary Higgins did not emphasise the active part she herself played in the referendum through her role in the National Woman's Council of Ireland saying, "We all campaigned to bring this change in our own ways."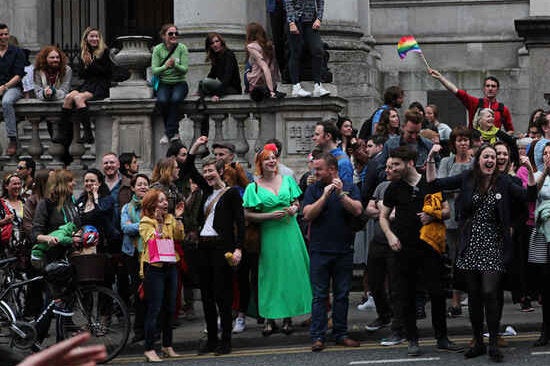 She recounted the "incredible collective feeling" on the day of the Marriage Equality Referendum, she stood, by Dublin Castle with her friends and the whole city seemed to celebrate. She did add however that "we still have a huge distance to travel in terms of so many areas of social and economic equality. And so many of the battles for women's rights have not yet been won."
If elected Alice-Mary wanted to continue to advocate for "equality between women and men, the closing of the pay and pension gap, quality affordable childcare, resources to tackle violence against women and repeal of the 8th Amendment." This amendment in the Irish constitution currently means that women in Ireland don't have full bodily autonomy or reproductive rights. "This amendment has really cast a shadow over the health and wellbeing of too many generations of women in Ireland," according to Alice-Mary.
Her track record in both age and gender equality, had convinced her of the importance of intergenerational solidarity and long term planning, particularly when it comes to care, an issue which she believes is too often invisible in political decision-making. "Our economy and society is only sustainable on the back of care. While everyone's individual circumstance is different, some things really are predictable; 18% of people will have or acquire a disability in their lifetime, children will require childcare and education, an ageing population will need better home and community care. We need to recognise and plan for that. Ultimately, the goal has to be policies and supports that allow women and men of all ages to participate fully in society - and cultural participation is part of that."
I had an opportunity to meet some artists contributing their own ripples to the momentum for change at a special concert for Alice-Mary's Seanad campaign. The event at The Grand Social in Dublin had been organized by her brother, conservationist, writer and producer John Higgins and his partner, renowned Irish silversmith artist Eva Lynch. Many of the artists wanted to be part of the campaign as a message of support. Fiercely independent singer-songwriter Mundy told attendees - a mix from all walks of life - about his first encounter with Alice Mary Higgins - "I was at a party one night when I spotted her dancing and thought My god! That woman is free."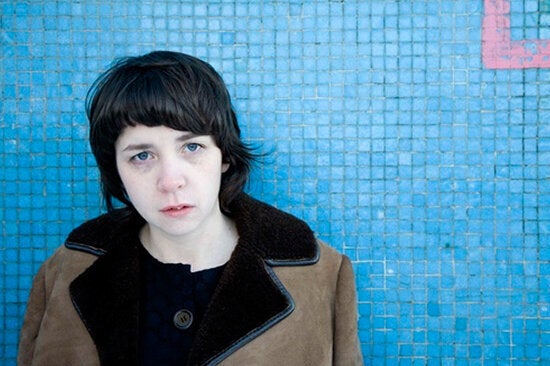 Critically acclaimed Irish singer-songwriter Lisa O'Neill was another performer at the event. After the release of her second album, O'Neill hit the road with Glen Hansard and has toured America and Europe. O'Neill told the gathering about a trip she took to Tasmania to research the story of the Irish martyr Philip Cunningham. Many Irish women were also shipped to Australia where even the night sky in the southern hemisphere was alien without the familiar plough in the stars. The resulting song 'Howl Towards The Plough' was appropriate. She stressed that she was an Alice-Mary Higgins supporter and then the breath of fresh air blowing through the venue when Alice-Mary Higgins made a speech seemed to signal something new, exciting and different in Irish politics.
After her speech, the Irish groups Old Hannah performed - a majestic group who not only brought the riffs of folk, country, roots and bluegrass but also had with them a sense of beautiful, hypnotising harmonies. Due to tour America and Europe this summer, it was a treat to get a secret preview. I Draw Slow provided the crowd with more reason to celebrate with their fresh roots sound; an alt-country, Americana rooted in the old time style of the Appalachian Mountains, melding Irish traditional music with modern Americana. And as Mundy had pointed out at the beginning of the night, Alice-Mary took her free style dancing to the floor with her many campaign supporters and the place buzzed with positivity and hopefulness.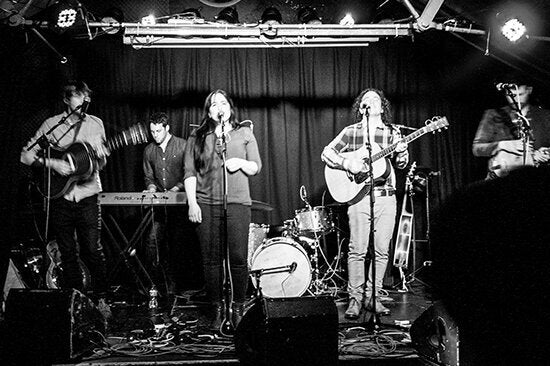 It was difficult to picture Alice-Mary taking a minute's 'down time' judging by the pace of the days that I spent with her. Apart from dancing she loves, "theatre and of course reading," she said. Our discussion turned to 'The Long Gaze Back', a recently published anthology of Irish women's writing collected and edited by writer and cultural commentator Sinéad Gleeson and published by New Island. Gleeson had always been displeased by the scarcity of women in short story anthologies, both in terms of the authors and editors involved so she decided to rebalance the situation. Gleeson noticed the absence of women in short story collections in college every time she plucked a male-heavy anthology edited by William Trevor. Talking to Sinéad Gleeson herself she says that 'The Long Gaze Back' "wouldn't have existed" without the influence of a book called 'Cutting The Night In Two'. Edited by Evelyn Conlon and Hans-Christian Oeser, it contained 34 short stories by Irish women writers like Mary Lavin, Edna O'Brien, Éilís Ní Dhuibhne, Juanita Casey, Norah Hoult, and of course Maeve Brennan, an incredibly talented and successful Irish export who wrote for the New Yorker. Gleeson describes her absence from many Irish short story collections as "astounding" and the 'Long Gaze Back' is a title extracted from Brennan's novella 'The Visitor'.
Observation leads me to believe that Gleeson is a genuine force for good in the current literary landscape in Ireland, encouraging young readers and writers to constantly move forward, improve and educate themselves "if one takes a look at the books that one has in ones home - how many are by women, how many are by LGBT writers, how many are by people of colour? It's about constantly pushing yourself out of your comfort zone" she says. When it comes to the presence and acknowledgement of women writers in Ireland today, Sinéad Gleeson is also encouraged by the fact that there has only been one week this year where a woman wasn't at the top of the Irish book charts. I discuss all this and more about female Irish writers with Alice-Mary, "Irish women have always been strong and present in Irish writing and finally the visibility is here that's been lacking so much in the past. It's a very exciting time in Ireland in the Arts." she says.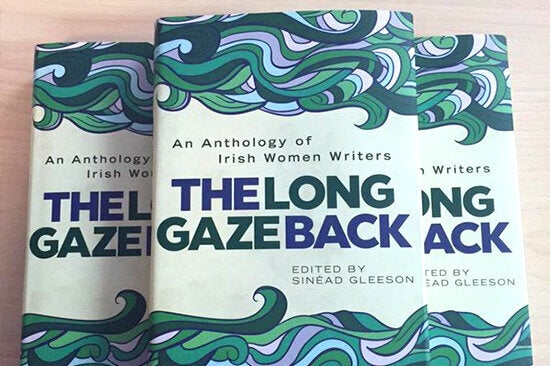 In her capacity as Policy Coordinator with the National Women's Council of Ireland, Alice-Mary had been in the frontline of a new wave of feminist activism in Ireland "I think there really is a groundswell now where women are demanding equality of recognition and representation in all areas of our national life, science, sport, business, politics, academic life and also the Arts. One creative and powerful expression of that demand is the Waking the Feminists movement which sprung out of a debate around how 1916 should be commemorated in our national theatre and evolved into a much wider conversation about equality and emancipation. Alice-Mary feels this is of course so appropriate because "one hundred years ago you had women like Helena Moloney who were in the theatre and in the Citizen's Army during the rising and also went on to develop the Women Workers' Union".
Waking the Feminists spread from Ireland to New York last February, with an event in Fordham and a rally organized by Dublin playwright Lisa Tierney-Keogh at the Irish Arts Centre (IAC) in Manhattan. "There's no going back," Tierney-Keogh told an audience at Fordham in February. She urged attendees not to wait for change, but to "kick the f**king door down". Irish comedian Meave Higgins also spoke at the IAC event, highlighting the difference between male and female performers when it came to money.
And what about women in politics? The last woman to be elected by the National University of Ireland to Seanad Éireann was Gemma Hussey in 1977. She relinquished her seat in 1981. Read carefully! There hadn't been a female senator elected to the Seanad from the National University of Ireland panel since the 1980's. Everyone knew that someone on their first run in politics would realistically find it very difficult to get elected but Alice-Mary Higgin's positivity at close hand was an inspiration to watch. She campaigned right up until the last minute and then on April 27th 2016 something astounding happened. Alice-Mary Higgins created a new chapter in Irish history, beating off stiff and accomplished politicians she won the seat back for women after 35 years.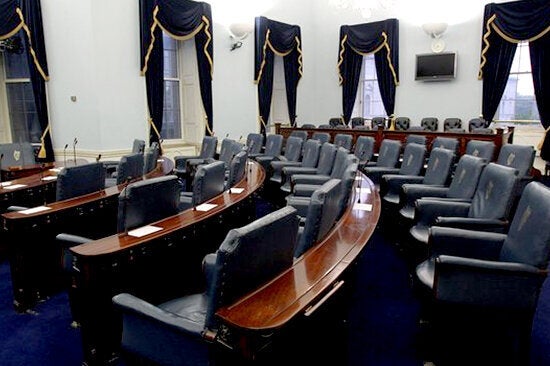 So what did this mean for Irish politics? Back In 2013 there were those in Ireland who questioned the role of the Seanad, and a referendum that year proposing its abolition was resoundingly defeated. Alice-Mary campaigned for its retention at the time, but she wants to see it reformed "I think that when people voted in the referendum, few were saying that the current Seanad system is acceptable. It is clearly flawed and in need of reform," she said, referring to the limited franchise which she wants to see extended. "I think people voted to protect the Seanad because they see its potential to become a truly national house that represents all of the nation. It also has a track record in raising progressive issues and improving legislation."
With the National Women's Council, Alice-Mary had addressed a number of Oireachtas Committees, which had given her a first hand example of what these cross-party parliamentary groups, made up of TDs and Senators, could achieve, "They are also a place where civil society can contribute to the nuts and bolts of policy" she explained. One piece of legislation which Alice-Mary contributed to was the Low Pay Commission Bill, which she described as "an important step forward, but I wanted it to have a stronger mandate so that we could look at in-work poverty and the gender pay gap." She listed off statistics to show how this gap is widening and talks about the problem of 'If-and-when contracts' (similar to zero-hour contracts).
The Seanad will present Alice-Mary Higgins with an opportunity to bring her experiences from all her civil society campaigns into a new arena. As a Senator, she is also eager to "invite others in as witnesses and to draw on their expertise to ensure the legislation that's passed is working for the public good". As we part ways I ask her what particular qualities she hopes to bring to the Seanad as a newly elected senator. "Care, creativity and long term thinking" is her answer. It seems that art and politics will remain entwined in Alice-Mary's path for some time to come. Lucky Ireland!
Popular in the Community