It doesn't matter who you are, or where you are from, there is one common experience in life we all share. We will at some point face a feeling of failure.
It might be losing a job, getting divorced, failing an exam or falling out with a friend but at one time or another we all have to face disappointment and find a way to recover from it.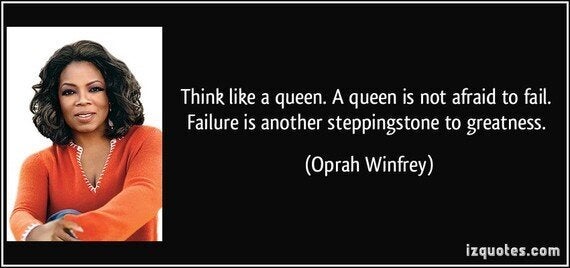 Quote created by IZ Quotes
I am no different. Part of being an entrepreneur is about learning how to cope with setbacks and failures, but as I've gotten older I must admit, it isn't always easy to remind myself how to rebuild and start again.
Professionally especially, this can be tough. We have all been raised with a particular view of our careers - start in your early twenties, build and grow through your thirties, peak in your forties and then from fifty-plus start to cut back.
But what happens if you lose your job (or in my case being on the receiving end of a board room coup) in your forties and you have to get back out there? You may have been in the same job for a long time and find the idea of re-entering the market daunting. You may worry if you have the energy for starting again and building from scratch?
I'm here to say though that you absolutely can, and in fact for your confidence you really must.
Take the example set by Rachel Lowe, MBE. She launched her board game Destination London to massive success, but the crash of 2008 saw banks re-call her financing, leading to bankruptcy and personal illness.
Ironically given an MBE just three weeks before going into administration, the pressure on Lowe was unbelievable. She lost everything. Her home, business and pride.
Did she let it stop her? No! She got back up, dusted herself up and got on, starting a new business in partnership with a fellow entrepreneur. When asked how, she said:
"Getting up and telling yourself that you are going to have another go, that is in itself success."
IMF chief Christine Lagard, a woman respected for her financial brilliance and political acumen has a tough love approach to coping with failure.
When she failed that rigorous application process to the National School of Administration in Paris not once, but twice, she simply told herself:
"Oh, get over it. Get over it and move on."
As harsh as that may sound, it does have merit. Psychologists have long shared the view that disappointment held onto can lead to depression, a lack of confidence and even anger issues.
Personally, I love Oprah Winfrey's attitude to getting over failures. She says:
"Think like a Queen. A Queen is not afraid to fail, seeing it simply as a stepping stone to her future greatness".
As you can imagine from the founder of a beauty brand (Studio 10 Beauty), make-up plays a big part in my 'Queenly' approach - I genuinely believe that if you look the part, it is that much easier to drag yourself out of the mire of self-pity.
For me that means flawless skin, a blow-dry and a great pair of killer 'I mean business' heels. Friends all have their go-to pick-me-ups too. A red lipstick, perfect manicure, even just a pamper session can all help you get your head out the pity party and into battle back mode.
That may sound a little light hearted but believe me when I say that appearances are more than a slick of lippie. A BBC Radio 4 Woman's Hour poll showed that women spend up to 40 minutes a day on how they look.
When you haven't succeeded, maintaining your 'look' is a woman's weapon against a world - a way of maintaining control and dignity in the face of difficulties.
Phillippa Diedrichs confirmed that up to half of us don't like to leave the house without make-up on. Far from an obligation for most of us, how we use our appearance is part of our coping strategy.
From school run nightmares, to difficult days at the office, to meeting the expectations of all those around us, our make-up is where we draw strength and create the 'us' we believe can best meet the challenges we face every day.
The gorgeous and very wise J.K. Rowling has a wonderful attitude to accepting failure as part of life, saying:
"It is impossible to live without failure, unless you live so cautiously you may as well have not have lived at all - in which case you have failed by default."
For me, that thought really says it all. Trying new things, especially as an older woman can be truly intimidating but if you have nothing left, then why not?
Get up, get on and try again - and if in doubt, buy yourself a crown, wave your hand and fake it till you make it (again)!