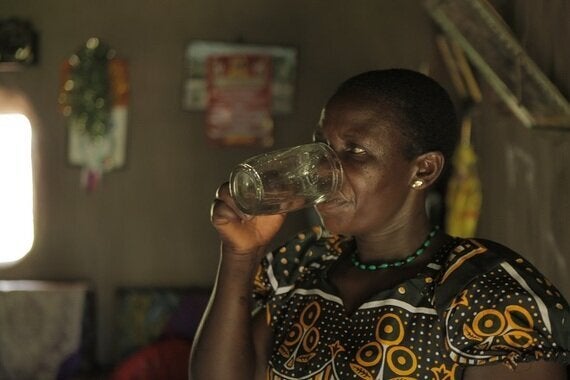 Carbon finance puts Jaguar Land Rover on the fast lane to delivering change.
Can a motor manufacturer make a difference to millions of lives? That is the goal of Jaguar Land Rover, which set an ambitious target to improve health, reduce poverty and create new opportunities for employment and education for 12 million people around the world by the end of this decade.
It's no pie-in-the-sky goal: the difference will be felt by people living in communities with particular development goals - such as the need for safe water. These are being identified in collaboration with ClimateCare, with the Busia region of Kenya first on the list (see 'Water for Busia'). Consistent measurement frameworks are being agreed with the London Benchmarking Group to help report the impact consistently across a variety of projects and global locations.
The key to delivering change on such an immense scale? Carbon finance.
Traditionally , carbon finance is a method of offsetting emissions through investment in clean energy solutions. For ClimateCare, the climate and development organisation which has worked with Jaguar Land Rover since 2007, it's about going a step further, and using this money to both cut carbon emissions and fund community development. "Really it's bringing a new source of finance to projects that wouldn't otherwise happen without that revenue", explains Tom Morton, Director of ClimateCare.
Through ClimateCare, Jaguar Land Rover has supported 50 climate and development projects in 17 countries around the world, cutting 10 million tonnes of carbon emissions and improving the lives of 2 million people. "We wanted to learn from our experience to date and set ourselves a challenge to do more" explains Jonathan Garrett, Director of Corporate Social Responsibility at Jaguar Land Rover. He plans to make smart use of carbon finance to both cut carbon and as a cost effective means to deliver almost half the new target and create measurable opportunities for 5 million people by 2020. A further 5 million people will be engaged through humanitarian, conservation and environmental projects and 2 million through educational initiatives.
As well as delivering on the new target, this remains an important part of Jaguar Land Rover's wider carbon reduction strategy.
Since 2007, the group has reduced CO2 emissions by 21% per vehicle produced, and cut waste to landfill by 75% per vehicle. While identifying ways to reduce the impact of production, the company continues to operate one of the world's largest carbon offset programmes covering the entire manufacturing assembly process.
"At the moment, 20% of the company's total emissions can be traced to this production process", explains Garrett,. "The remaining 80% occur in the use phase of our vehicles. Obviously we are focused on trying to reduce these, and that's where new stop-start technology, lightweight materials and more fuel efficient engines come in".
But reducing manufacturing emissions, particularly in older plants, takes time. "Although we work on reducing energy use in the first place, there is still a residual element of carbon-related emissions from the factory. So we created the offset programme to help negate those emissions, by advancing low-carbon solutions in another part of the world."
So this is how supporting climate and development projects fits into the carbon reduction strategy at Jaguar Land Rover, but how do you choose the smartest way to use your budget, with a specific focus on creating measurable new opportunities for people, as well as carbon reductions?
Water is an obvious area to make a big impact.
"If you want to do a hard-nosed, 'best value for money' life-improvement calculation, then water projects come out on top," Garrett affirms. "It's because there are a whole load of other benefits that flow on from access to water: including improved health and increased economic productivity. Clean water projects are very cost effective."
For funders like Jaguar Land Rover, the business case for supporting integrated climate and development projects goes beyond mere brand development. "Some of the companies we work with measure value in other ways, including an increase in staff engagement and retention", says Robert Stevens of ClimateCare. "And because many of the projects are in developing countries, supporting them can help businesses make partnerships and demonstrate support for local communities. For instance, supermarket chains might want to support projects in regions that play a significant role in their supply chain. There is also an element of reassuring investors that a company is working responsibly and understands the risks associated with climate change."
And of course, there is a simple value for money argument. Climate and development projects deliver multiple outcomes which helps companies streamline and focus activity and make it possible to demonstrate progress towards multiple targets through one activity.
"It's a win-win" explains Garrett. "It also fits with our new parent company Tata: the Indian business model gives back to communities in a big way, so with the Tata group 60% of the profits go back to community-related philanthropic projects."
Jaguar Land Rover's support for Climate and Development projects is an integrated part of a well-established corporate social responsibility programme, which saw it awarded Responsible Business of the Year 2013 by Business in the Community.
Supporting the entire Busia area of the LifeStraw Carbon for Water project is Jaguar Land Rover's largest carbon finance initiative to date, but only a first step in the expansion of its programme.
"Our work with ClimateCare is going to teach us all some interesting lessons that will help us design and deliver the most effective climate and development projects", says Garrett. "We aim to deliver bigger projects and also build on existing methodologies to measure positive impacts in communities. Hopefully", he adds, "this will inspire other companies to do the same."
The largest carbon finance project that Jaguar Land Rover has supported so far is the Life Straw Carbon for Water project in Kenya. By purchasing all the carbon credits generated from the Busia region of the project Jaguar Land Rover has supported provision of safe water to over 700,000 people and funded a carbon reduction equivalent to that generated by UK manufacturing assembly for one year.
How does it work? Free LifeStraw Family water filters were distributed to households in the region by global health company, Vestergaard. These filters use no electricity and, crucially, mean that local people no longer have to collect firewood to boil their water, thereby reducing carbon emissions.
The project is monitored closely. Every householder that is given a water filter is logged by number and geographic location, and checked by a third party. The carbon reductions are independently verified by the Gold Standard Foundation, before being paid for by Jaguar Land Rover.
A report expected later this year, will detail some of the health benefits being delivered, but
Morton has already seen the difference for himself: "You can go to any household and you will hear the same story again and again: families are no longer getting diarrhoea, they are not getting worms or diseases such as typhoid, their babies are healthier."
This project is proving transformative for the community, and the aspirations of people living there. "My children are now able to go to school when in good health", says local mother Sarah Abwire. "The money I used to spend in hospital I now use to pay their school fees. The remaining money I use for household needs, such as buying seeds for planting and washing soap for my family."
Talk about value for money...
Will Simpson is a freelance writer specialising in environmental change.
Photo credit: Jaguar Land Rover