As director of fundraising and strategy at the RAF Benevolent Fund, I am always amazed at the lengths our supporters go to in order to raise the funds that help us support the RAF family.
This week, a group of businessmen embarked upon an arduous 124km yomp across the Falklands to help RAF families in need. The group is fundraising for the RAF Benevolent Fund's Seaside Apartments Appeal, which aims to raise £360,000 to build two additional cottages for use by serving and former RAF personnel. These cottages represent a lifeline for the families who use them, providing a welcome break for parents with ill or disabled children, respite for parents who face illness or serious injury themselves or simply a place where families can be together after an extended period of separation, for example deployment overseas.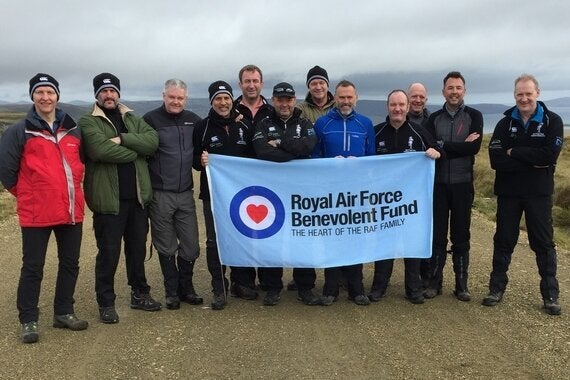 The April Fools Club sets off from San Carolos
The Falklands yomp will support this invaluable service. Those participating share an interest in the RAF and have met regularly as part of the April Fools Club, a group of leading businessmen and professionals. This is the group's first fund-raising mission and they have already raised more than £160,000, which is absolutely incredible.
The yomp will follow the original route of the Royal Marines 45 Commando group, taking in many of the battlefield scenes. Carrying all their supplies with them, the businessmen, more used to boardrooms than bogs, will spend four nights camping out to complete their challenge.
Their efforts will make a tangible difference to the families who use the cottages at Princess Marina House in Sussex. Last year more than 60 of them enjoyed a seaside break in one of the two existing cottages.
A service family from RAF Leeming recently visited one of the cottages, and said: "We cannot thank you enough for everything. As a family with a very poorly child we don't often get a chance to relax, but the warm, friendly and welcoming atmosphere has given us the opportunity to switch off for a bit, to not worry and stress for once! That really means so much to us. We would love to come here again and again! THANK YOU FROM THE BOTTOM OF OUR HEARTS!"