The 'power' of nature is everywhere - volcanoes bursting from beneath the earth's crust, lightning turning the world white for a split second or a lion chasing a zebra. The power of the sea is something many people in the UK are lucky enough to experience, and with most of us living within five hours drive time of the coast, it's part of our national consciousness. But do we really know how to react to something so primal and seemingly unpredictable? Are we doing enough to prepare for rising sea levels and the increasing frequency of storms?
In a former life, I took students to talk about changes on our coast to various places in Norfolk, from freshwater marsh and saltwater marsh (and the frequently topped and destroyed shingle ridge separating them) at Cley, to hotels crumbling into the sea near West Runton and revetments trying to prevent sand being taken from Sheringham.
Unless you live where these changes are happening, it is difficult to see the scale of the impact but frequently our students asked insightful and enlightening questions, looking at the issues with fresh eyes. Rangers working for the Trust see changes to our coastlines every day, from marine litter to our declining seabird populations - but this time picking litter and studying our declining and changing populations won't stop inevitable change - it's time to adapt. It's about working with communities, other charities and Government to ensure our coastlines can cope with future change - simple, but complicated.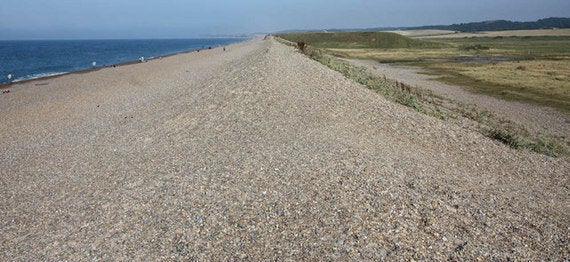 Shifting shingle at Cley marshes. Photo: John Salmon at Geograph
The National Trust released its Shifting Shores report a few weeks ago which highlights the fact that thousands of businesses and hundreds of homes are at risk from sea level rise and more frequent storms. For a long time, the policy has been to 'hold the line' and build monumental defences to prevent flooding, but with spiralling costs from storm damage and increasing sea levels alongside new building on the coastal strip, 'heading for disaster' isn't too strong a phrase.
Every National Trust coastal place has felt the impact of our extreme weather and storms. In the winter storms of 2013/14 in Wales, our coast path was pounded from Pwlldu Head to Cymryd. At Penbryn in Ceredigion, litter was flung 30m inland from the highest tide, and huge stretches of embryo dune were destroyed, removing rarer plants such as ivy broomrape. We also had a large dumping of huge stones, prompting one visitor to ask whether we could remove these to reveal the sand along the mile long beach - I wasn't sure I could help. It was easier to explain that in a few months' time, the beach would be sandy and golden again as the profile constantly shifted.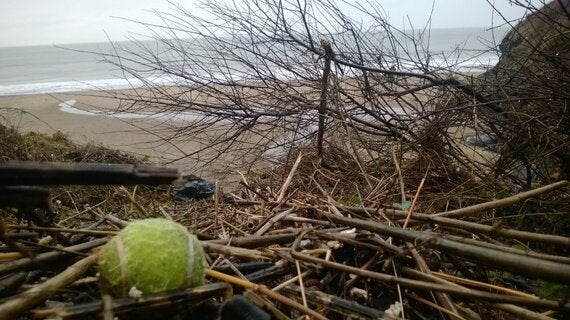 Penbryn litter flung by the power of the waves
As we brace ourselves for storm 'Clodagh' this week, it is likely that many areas of the country, and particularly our coastline, will be hit by the full force of the harsh weather again.
There is so much we still don't know and it's not just homes that are at risk. Even ten years ago, we thought we could protect our sand dunes by preventing movement. These are, however, dynamic systems, that need the movement of sand to maintain their precious microhabitats which anything from bee orchids to natterjack toads can call home. At Formby dunes, therefore, we work with partners on adjacent land as the land profile changes. Essentially, they could be receiving sand moved by the waves or giving it to us at any time - a simple concept but extremely difficult to react to.
Moving gardens, houses and farms
The changes to our shoreline are positive and a real opportunity. At Mount Stewart in Northern Ireland we have used the information that the sea plantation has provided to help us plot future flooding areas and identify plants and areas of the gardens that need to be adapted to cope with the changes in salinity to the soil and to protect the most important plants. At Birling Gap, beautiful cottages have been falling into the sea over the last 20 years, so we have been drawing up plans to build further inland.
Our farmland is also vulnerable to this change - at Gupton farm we are working with the local community to restore and extend reed beds, fen meadows and dune grasslands - constantly shifting habitats that are home to rare bees, hen harriers and otters.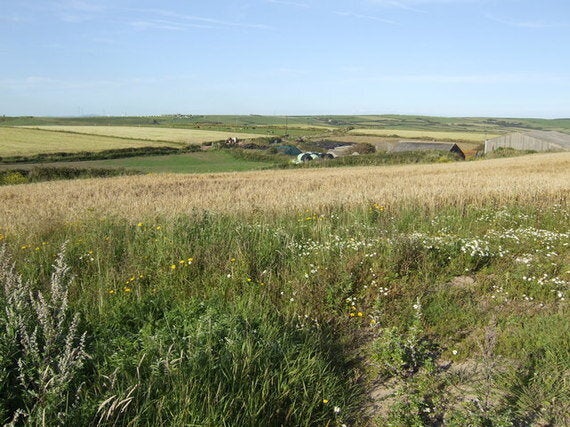 Gupton Farm - a wildlife paradise. Photo: Jonathan Bilinger at Geograph
The farm here will still be able to operate, protecting farmland species such as our arable plants and birds as well as opening up new access to visitors. This also helps sand dunes, fresh and saltwater habitats and meadows be managed well for wildlife, farming and people - in some places this may mean allowing nature to take its course, while in others it means managing the area to the best of our ability. I would always suggest searching for otter spraints as a valuable activity while catching crabs and playing in the sand on the coast - look for where a river meets the sea on a dry morning and any raised rocks adjacent to or raised in the water. These areas are especially popular with young otters who can catch slow moving crabs a little more easily than fish - they leave a tell-tale pooey looking object that smells a bit fishy, musty and lavender-y at the same time. It sounds disgusting but I have met some crazy mammologists who seem to love it, and you can look inside for fish bones or crab bits if it's your thing.
Our partners also do amazing work on our coasts - in north Scotland, RSPB helps look after Culbin sands, an area with both fresh and saltwater marsh. With flowing eelgrasses and hot pink seaside centaury to the sights and sounds of flocks of oystercatcher and shelduck, this is a truly special place with so much to see. When counting the flocks, my brain could not comprehend the number of birds I was seeing, and while monitoring the plants here I imagined shrinking and having breath holding superpowers, so I could weave through the eelgrasses at high tide like a mermaid (just me? OK then...). We need to learn from others and work with others such as RSPB and the Wildlife Trusts to do more for our coast.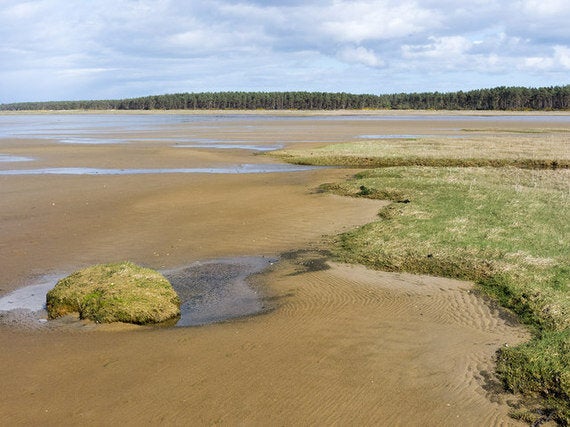 Culbin Sands. Photo: Dr Julian Paren at Geograph
A recent YouGov poll showed 70% of people are worried about the impact of climate change and extreme weather on our coastline, while 94% of people agree that important that Britain's coast is kept beautiful for future generations to enjoy. Beautiful may be a wonderful view, a sky blue flower, a child laughing in the sand or a curlew's ridiculous beak - we all love something about the sea. One can only assume many of our policymakers are within the 24% who love the coast but don't worry about the change. Hopefully our report will help them see the impact of climate change on our coast; and decisive action will come out of this week's climate change conference in Paris.
A final thought - our country was once covered in ponds and mires - as these were drained for agriculture and defences put in place to increase grazing land, the best freshwater marshes are often adjacent to the coast. Behind most saltmarshes there would naturally be freshwater marsh or sand dune - in the past, these have been planted with forestry trees, removing much of the freshwater from the ecosystem, or kept for freshwater grazing marsh - one example would be at Cley marshes. Here, one of the best wetland habitats in Britain is threatened by the sea. Is it time to think about moving our freshwater wetlands inland as well as our buildings?