We have lots to look forward to now the weather is starting to settle - it's time to get out there!
A huge, pterodactyl-like shape soars overhead, alighting in an old larch. A week ago, the tops of these trees swung in the wind like a giant jack-in-a-box - they can still be carried far by a gust or a breeze. But still they cling on to their aerial haven, staring with beady eyes and waiting for a cloud of leaves to appear, cloaking their hulking shapes in dappled green. Our herons have arrived at Llanerchaeron, my first 'sign of spring' to look out for. On an actual properly rainless day this week we had an adder basking on the toasty soil. It must have been its first emergence because it was stretching right out, luxuriating in the warm mid-day sunshine and inching forwards.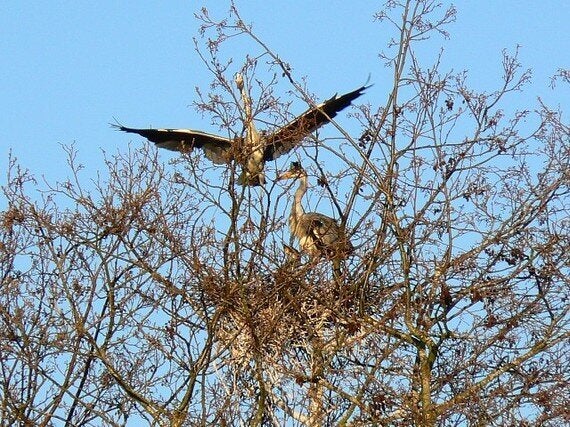 Herons in the tops of trees ©Wikimedia Commons/Brian Robert Marshall
Winter flocks are still going - parcels of linnets still flit and whitter at Mwnt, and long tailed tits still gather all around me in the woods, their loud metallic calls ringing from every direction (I know I'm starting to sound like Snow White - but I don't have that effect unfortunately). Edith Holden may have known exactly when certain plants would arrive, but I struggle. Will the lemon drops of celandine flowers appear in November or March? It's difficult to tell, but snowdrops have appeared right on cue - so maybe all this rain was a reset, and we're back on track...
Even the most hardened naturalists will have deprived themselves of nature in all this driech, but March is on its way. Spring will begin properly with risky plant predictions - primroses and wild daffodils, then bluebells and finally Welsh poppies. In a pond near you, tiny frogs will emerge from the water. In the South Downs at the aptly named Blackcap, listen out for the chiffchaff and then the scratchy, hasty blackcap in scrubby places.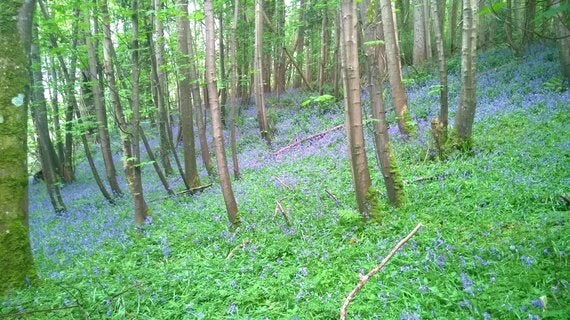 Bluebells ©National Trust Images/Gwen Potter
All the cool moths are coming out - March Moth and Spring Usher, patterned like a tea dress; Hebrew Character, a brown velvet with mysterious black hieroglyphs. Our most spectacular birds head to the hills to breed near Derwent Water in Cumbria, with oil slicked, punky lapwing, whirring snipe, scythe-beaked curlew and joyful skylarks.
It's moth and butterfly time! Moths will appear around lights in the doorway - The Herald, with its splendid ruby glowing colours, pure white lines and jagged edges like a Kaffe Fassett pattern; Early Thorn, sits like a screwed up love note stained with beer (the purple thorn, it's red wine stained counterpart, arrives later).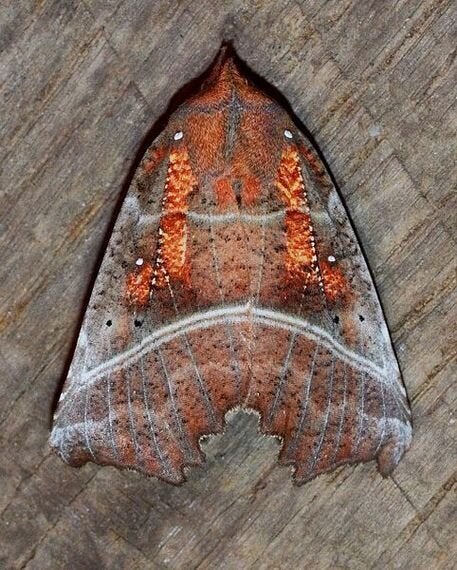 The Herald ©Wikimedia Commons/Andy Reago & Chrissy McClarren
Look out for butterflies at Beningbrough in North Yorkshire - April has the most beautiful ones. Butter coloured brimstone and carrot tinged orange-tip will fly first in meadows. Swallows will arrive at Wimpole in Cambridgeshire, while Arctic terns will start to colonise the Farne Islands on the Northumberland Coast.
Whitethroats arrive in force, then spotted flycatchers in the woods. This is the time for our odder looking avian friends to arrive - cuckoo masquerade as birds of prey and parasitize nests, and nightjars head back to Slepe Heath at the end of the month.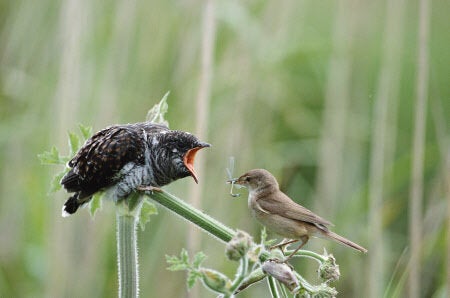 Juvenile cuckoo fooling a reed warbler ©National Trust Images/NaturePL/David Kjaer
Oil beetles blunder dopily in the sunshine on sandy paths and hairstreak season begins in the tops of trees, with green then white-letter and purple hairstreak. Males beautiful demoiselles, resplendent in emerald and royal blue, dance over ditches at Sissinghurst. The hawthorn blooms before elder puffs appear.
Sights, sounds and smells will be at their height. Adonis blue butterflies shine as they float over the chalkhills of Denbies Hillside, Surrey, and the dawn chorus is full throated, with young birds such as confused, bedraggled starlings appearing everywhere. By the end of the month, chasers, skimmers and darters should all be out at Wicken Fen, Cambridgeshire, with only hawkers to come.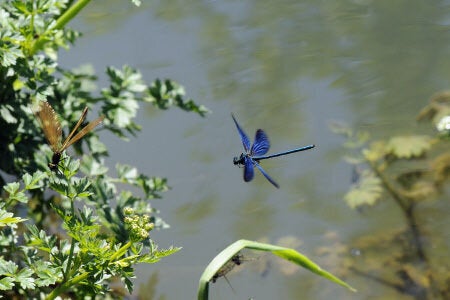 A male beautiful demoiselle ©National Trust Images/NaturePL/Nick Upton
On the sea cliffs, a raucous cacophony penetrates the air at Cowbar Nab, North Yorkshire, while orchids cover our special grasslands at Calke Abbey, Derbyshire and foxgloves fill roadsides and woods. Bees buzz in and out, filling the air with a soft hum.
It's time to get out there, among the sights and sounds, because they will only get better - enjoy it!