For many European fans, this has felt like a particularly fruitless World Cup. England, Spain, Portugal, Italy, Croatia and Bosnia are all out, while more could easily follow before the group stages are through. European teams are likely to equal their record for their lowest ever turnout at the last 16 stage of the World Cup, they could even break it.
That countries such as Costa Rica, Colombia, Chile and Mexico have all looked more impressive than England makes the inevitable debate about how we need to change our coaching set up/youth teams/b-teams/academies/facilities all the more embarrassing and redundant.
Worst of all, blinded by hubris, we and many other European nations failed to see this coming, even though history offered repeated warnings.
Europe has always been disproportionately represented at the World Cup. No continent is allocated more places in the competition, and when it is hosted in Europe it is not uncommon to see European teams dominate the knockout stages.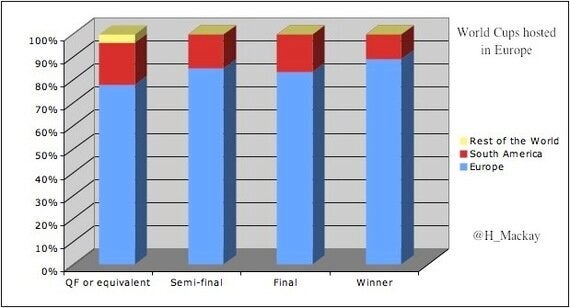 The same cannot be said, however, of those tournaments hosted further a field. Europeans are perennial strugglers in South America. Our teams have made up less than 50% of those represented in the quarter-final (or equivalent) stages of those World Cups, less than 30% of teams in the final, and have never won a World Cup on South American soil.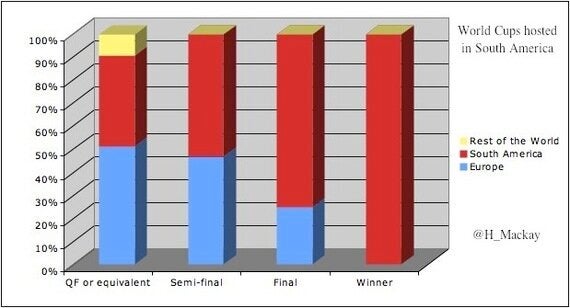 The reality is, though, that Europeans (and England in particular) are worse travellers than teams from South America. Despite being over-represented, European teams are consistently out-performed by their South American counterparts in tournaments played in Asia, Africa and North America. The only World Cup ever won by a European team outside of Europe was in 2010, and even then the rest of the European nations only made up six teams in the last 16.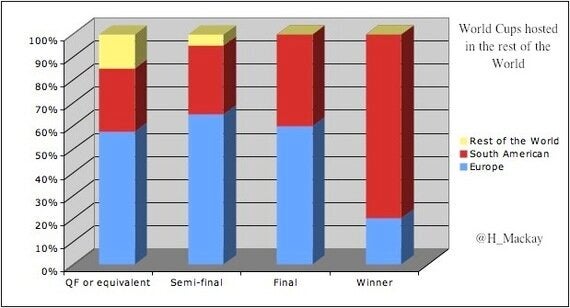 Even when we think we are being realistic about our chances we still usually include gross overestimations. England have not reached the semi-finals of a World Cup for over 30 years. Even our much-maligned 'golden generation' only managed to slump out at the quarter-finals in 2006.
So instead of enduring an extended self-flagellation over England's performance in Brazil, perhaps it is time to congratulate others and accept our actual footballing significance and worth with a little grace.