As much as I enjoyed my last visit to the Future Shorts Film Festival at The Horse Hospital back in April, there's nothing like viewing some of the year's critically acclaimed short films from the Egyptian-cotton comfort of a King-size bed.
For this season's Future Shorts programme, Future Cinema, (the creators of Future Shorts and Secret Cinema) have partnered up with Morgans Hotel Group to include London's St Martins Lane and Sanderson hotels in their ever expanding network of Future Shorts locations.
So on Sunday afternoon I found myself checking into the Sanderson, a modern boutique hotel of the 5* standard, to enjoy a luxuriously cinematic overnight stay. In their galactic-themed lift I ascended to the deluxe suite that showcased the opulent creativity of Philippe Starck. A silver-leaf sleigh bed, elegant swan chair, glowing mirror and a hand-woven rug inspired by Voltaire's handwriting filled the pure white space, with sheer curtains separating the salon from the modern and spacious bathroom, that not only housed a free-standing bathtub, but a wet room and dressing area fit for any screen siren.
Even before I could take advantage of the rooms lavish facilities, a knock on the door brought a fruity gift from the management. You know you're in a posh joint when even the strawberries wear suits.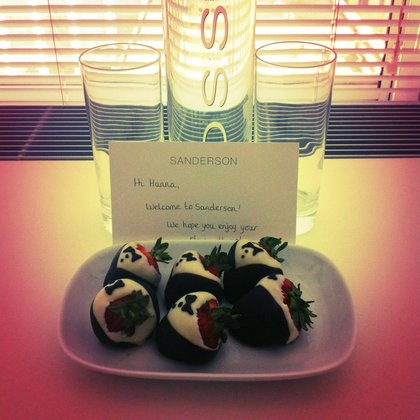 So after a quick call to room service where I fulfilled my childhood fantasy of making a Home Alone 2-esque order of EVERY dessert on the menu, I settled into the seemingly endless down duvet, switched on the flatscreen and with ice-cream spoon in hand got ready to watch this season's Future Short line-up.
The complete summer programme features 7 short films including: Grant Orchard's Oscar-nominated and BAFTA winning "A Morning Stroll" (UK, 2012); recent Clermont winner "Guest" from South Korea and SXSW favourite and award winner "Notes on Biology" from the US. "We'll Become Oil", a sci-fi, digital apocalyptic piece (Romania, 2011); "Street Vendor Cinema" mixes genres and chaos in a Brazilian street market (Brazil, 2011); "Tumult", a short tale of Norse warriors and tourist terror (UK, 2011) and "Fireworks", a coming of age story of two adolescent boys in Los Angeles (US, 2011).
"A Morning Stroll" is as easy a story as its name suggests, but the medium through which it is presented offers a visual journey across the timeline of animation. From black & white moving sketches to 3d colour cartoons a chicken knocking on a door never looked so cool.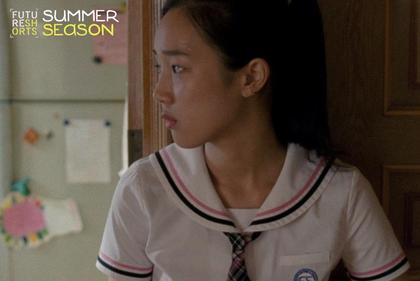 "Guest" proved to be a poignant and emotional short following a teenage girl (pictured above), who after discovering her father's extramarital affair, is confronted by the two sibling products of that betrayal.
Part two of the comedic relief came in the form of "Street Vendor Cinema" a heart-warming "reality show" short film which observes a film producer selling filmmaking on demand in Brazil's busiest shopping district. The charm of this short comes from the pedestrian actors, embracing the fantasy world of their own creation; proving that everyone has a story worth telling, fact or fiction.
"We'll Become Oil" was the bum note for me, with its apocalyptic vision and musical score (based on the Gulf of Mexico Oil spill disaster) far better placed in Tate Modern than on the box in the corner.
For some reason "Notes on Biology", "Tumult" and "Fireworks" were not on the menu but there was an extra film in the form of "Je T'aime John Wayne" starring a pre-BT advert Kris Marshall, as a 90s Mod with a penchant for 60s French Noir exclamations. There's a likeness to Peter Sellers in his performance that makes this short black & white a joy to watch.
As someone who is more likely found in a hostel than hotel, this was a blissfully refreshing and decadent way to indulge my cinematic passions. And for those privileged enough to frequent these kind of 5* establishments, you really shouldn't pass up the chance to enjoy this film festival addition to your next awayday.
But never fear, you can still enjoy the World's largest pop-up film festival and the Future Shorts Summer Programme without the need for a room key, in screenings worldwide from 1st June to 31st August 2012. Next season will be announced in September.
For more information on the full programme, go to www.futureshorts.com/festival