Thwarting drivers, cabbies and cyclists alike the five Olympic black holes of doom have become a symbol of transport disorder across the Capital.
TFL have made it clear that only official Games vehicles carrying athletes, staff and delegates will be allowed to use the roads. But with just 10 days until the opening ceremony, many of the roads affected by the Olympic routes have been left with unclear and confusing signposting for the public to decipher.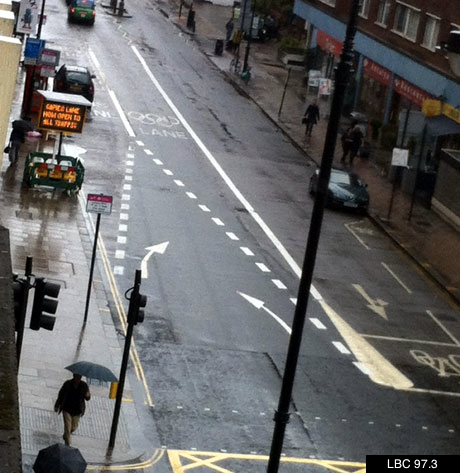 I'm a cyclist living in East London and my route to work in Leicester Square has the unfortunate addition of one of these lanes. Luckily for me the journey from Aldgate past Tower Hill and across the Embankment is relatively issue free on the main dual carriageway. But on Southampton Row near Russell Square, just which lane to use is not so clear.
In the picture above, the road splits into a bus lane and an Olympic lane, so obviously the arrows direct you to use the... bus lane... no Olympic lane... no...erm... wait... what?!
This is by no means the only case of misguided road signs. At LBC 97.3 radio, we've been inundated with calls from angry road users whose daily commute and travel journeys have become a navigational nightmare.
"I hadn't a clue where to go", said Tony from Hayes, a courier who was confronted with an Olympic lane for the first time on Friday.
Martin, a London cabbie, called in to point out the imminent traffic jams near Marble Arch and Green Park: "The way the traffic is directed through Mayfair and Park Lane there is a guarantee of gridlock because of these lanes."
I even took to the streets to quiz London motorists on just how much they knew about the rules around these lanes. Drivers, cyclists, cabbies, bikers, even an NHS ambulance motorcyclist couldn't tell me if the lanes were closed 24/7, whether you can use the lane in the case of a breakdown or if you are transporting someone with a disability. You can here their response below...
As the first Games lane opens today (a former bus lane, eastbound on the M4 between junctions three and two) motorists are still being advised by TFL to avoid driving into Central London. So what then? Overcrowding on the tube? I think most people would rather be stuck in their car rather than squashed in a train carriage on a daily basis. Add the continued closure of the rest of the M4 to mix and it's a safe bet to say Londoners, especially in the west part of town, are being more than inconvenienced.
When I tried to get some answers from TFL on just how long the lanes would be closed off to public road users, they still couldn't give any concrete timings. "The lanes will be closed off as and when they are needed", said the press office.
So one day you could be using Southampton Row, the next it could be shut, making it even more confusing and difficult to plan a consistent route. Well done to the person who gave the ok to use that particular line. Possibly the same brain for the Olympic lane layout?
But don't mistake this tirade against TFL to be an attack on the Games itself. I'm proud to reside in the host city, but as more problems continue to surface, I hate to think London 2012 will be remembered for these faults rather than our medal successes.