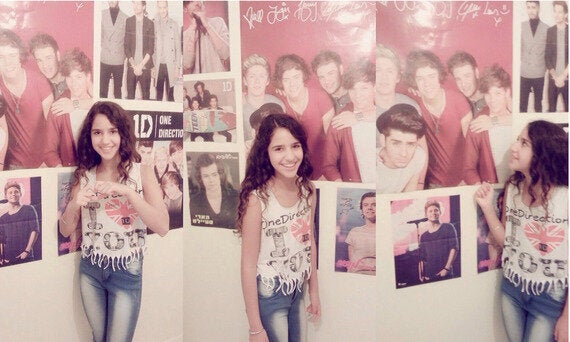 Can you hear the Beatlemaniaic screams of thousands of teenage girls?
The 75 minutes epic features the band's catchy tunes, a never before seen interview and exclusive backstage tour footage, all in true high definition and a 5:1 surround sound; "an epic event for Directioners".
Behind the anticipated movie, stands acclaimed director Paul Dugdale whose diverse credits include The Prodigy, The Rolling Stones, Coldplay, Emeli Sande, David Guetta, BBC Radio 1 and Adele among others. A prolific creative with an unrivalled ability to fuse mesmerizing visuals with engaging sounds, to a striking, long lasting effect.
"The music is everything to a performance based film" explains the manicly busy director, "every decision we make in capturing the performance of each song is dictated by the music and the emotion we want to help evoke or complement"
I talk to Grammy nominated director, editor and photographer about the demanding art of documenting a live show, Spurlock's This Is Us and working with the biggest band in the world today. I start by asking what effect the film's guaranteed audience of millions, has on the filmmaker.
Q Does the film's guaranteed global audience come as a blessing or just added pressure?
A I feel confident in the film we made so its certainly not a pressure. If you're any sort of artist you strive for your creation to be seen or heard so that it touches as many people as possible in some way or another. I feel very lucky to be able to create films that will have this size of viewership. With this project it was a huge motivator knowing we were going to reach out to millions of people and all around the world. Thats a huge buzz and certainly adds buoyancy to a project knowing it will be watched by so many.
Q You have not just worked with big names
but also won great the appreciation of your piers, is this as all important to you?
A Lovely yes, but 'important' no. I take great pride in my work and strive to maintain a high level of quality control. If a peer of mine likes a piece of work then I would feel proud, and of course it would be a huge complement but its the audience at home or in the cinema who is most important.
Q Morgan Spurlock's This Is Us, sadly got a bashing from critics, termed by one viewer as"..an hour and a half commercial for One Direction..". I wonder if you approached Where We Are as a documentary?
A There was never an intention from the band or production company Fulwell 73 to make 'This Is Us Part 2'... This was always going to be solely a concert film. They are at the top of their game and even since we shot the concert scenes for This Is Us, their performances have developed a lot. You can really see and hear the difference and they look completely at home on a stadium stage so it seemed appropriate to capture the moment on their first stadium tour. It was a storming gig and the audience reaction reflects that.
Q Is it hard to make a film of this nature without it looking like a long commercial for the artist?
A Labelling This Is Us as 'an hour and a half commercial for the band' is simply lazy. Artists sell records- they have a product. Its inherent that a film like that advertises the artist and consequently the product that they have been made famous for. Its essentially stating the obvious.
Every music video is a commercial in some way- its unavoidable. It's whether its entertaining, innovative and informing for people thats important. If you're judging This Is Us on whether its specifically a good documentary then thats is a different question. Whilst there might not be any earth shattering revelations in that movie that some critics seemed to have sought, one has to take into account the target audience. Its an honest portrait of life on the road for the boys and I think Morgan and the team did a fantastic job in capturing that. For me that film's success is reflected in how the fans received it which was incredible-. It ticked the right boxes which, for that specific project, was perfect.
Q How involved are you with the editing?
A I am in the edit every single day. Its a key part of the process for me in realising my vision and how we represent each song. I work really closely with some incredibly talented editors who really know how to get the most out of the footage. I love the process and putting the jigsaw puzzle together. What's fun is that with this jigsaw you can dictate the picture yourself, and if you get it right its so much greater than the sum of its parts.
Q Are the boys as sweet as they seem?
A They're great to work with. This film in particular required us getting cameras really close to the guys on stage which for some artists can be distracting. We wanted the audience to feel as though they could reach out and touch the band. Some artists would never allow that, or feel comfortable with performing with cameras so close. The guys were completely cool with it. They understood our intentions and how it would make a difference and the film is so much stronger as a result. Trust between an artist and director is really important and I'm so glad they had that.
Q Commenting on boy bands, Robbie Williams has jokingly said that he can probably predict the 'fate'
each band member (one would make it big as a solo artist..)
A Haha, I think Mr Williams has more ideas than me.
Popular in the Community