My last Huffington Post blog was about starting my new career as an events organiser running family raves (Big Fish Little Fish) having jacked in the Home Office senior civil service career that I had built over 20 years. From Deputy Director of Policing to shady lady promoter in one fell swoop - that has bemused my new associates.
Well it's been over a year now and, as I hoped and feared, it's been the most fun/interesting/terrifying year I've had for a few decades. On the whole, it would have been cheaper to buy a sportscar and less time-consuming to have an affair with a 25 year old, but, as I can't drive and am happy with my fella, this 45 year old's mid-life crisis is a "follow your dream" business startup.
I've had some trials and tribulations along the way, but even those were highlights in retrospect - at least they make for good anecdotes. So, what's happened?
Big Fish Little Fish parties have been a hands-in-the-air, dance-your-socks-off success. We have held twenty-five parties with over 10,000 people attending. This has included seven venues in London, a residency at Camp Bestival, the Coventry Mysteries Festival, recording a monthly radio show on MEATransmission and establishing Captain Cookie's The Minnow Club craft cafe for pre-schoolers. Listing it like that, I'm in shock. Will need gin. *Goes to get gin*
BFLF reviews have been amazing across the board: Twitter and Facebook feedback from punters, blog reviews and features in Time Out, Evening Standard, Mother & Baby, Kin and (most incredible of all) described by The Guardian as "London's latest clubbing craze" and recommended in their top three activities that weekend - in Clubs section no less. People can't quite believe they've found something where they can have as much fun as the kids. Also a headline writer's dream: "Sorted for Cakes and Fizz', "Having it Tiny" and "From the Cradle to the Rave".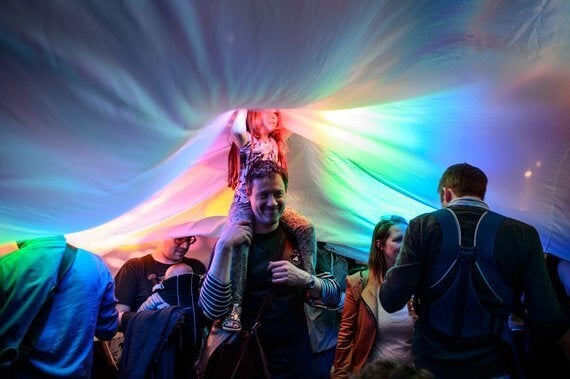 We have gathered an inspiring, creative and wonderful crew - and it really is a family affair with all partners and kids playing a role. Great communications manager (Natasha Morabito), craft manager (Alfie Wilmott), food stall owner (Sharon Newbury/BakerChef), a host of awesome stewards, lighting advisor and, of course, the incredible DJs who've played BFLF because they think it's such a wonderful idea. Oh, I could get quite emotional about it all. One friend - Dave Faunch - was up till 4am the morning of the first party painting the backdrop by hand in my back garden - under spotlights.
Fab sponsors came on board very early on - Bear snacks and Happy Monkey Smoothies. Happy Monkey in particular have helped create the massively popular craft area and supported some of our wider adventures. Both sponsors give generously of their products to our customers and so I have to store a lot of boxes at my house. We actually arrange the boxes to make magnificent chairs in my house, like a smoothie-based Iron Throne. *Writes note to George R R Martin*
One time the expected Bear snacks never showed. It was delivered about ten houses down the road from me - by the time I tracked it down it had been there for three days. The lovely lady in the house explained that her 16 year old son had a few months beforehand ordered a load of nitrous oxide over the internet in an attempt to become a teenage Walter White. Much mortification and removal of privileges had ensued, so when the massive delivery of dried fruit snacks had arrived (they had been incorrectly labelled to their house), apparently from the same distribution depot, they had thought that somehow their name was on a dodgy list. She was most relieved to meet me. Brilliantly, when she then took me in to pick up the boxes she found her son and his mates had opened them and eaten quite a few. Kids eh?
Highlights of the year include: dancing dressed as a dalek next to Mixmaster Morris, seeing the reaction of the crowd to the DJs/seeing the reactions of the DJs to the crowd, hearing that a child on the autism spectrum had such a lovely time at one of our parties he held his Mum's hand for the first time on the way home, the brilliance of working and having fun at Camp Bestival with my family and all the BFLF crew, sticking the "Artists Camping" and "On Site Access" stickers on the car, letting off the glitter cannon, having email "chats" with DJs I admire (colour me star-struck), buying a snow machine, the venue bouncer playing support DJ when the booked one failed to turn up (Marion - we love you) and getting accidentally drunk at work meetings with Natasha.
Mishaps have included: implying that BFLF customers are all ex-druggies in a press interview (sorry everyone, it came out all wrong), using a mate's phone with Alt-J's album playing for the first 20mins at our biggest gig to date (thanks Mog) when a venue had no means to play CDs or records, a venue with broken kit where the world famous DJ ended up cobbling together an awesome set from previous BFLF mixes and some vinyl on the one working turntable, a rejection on the street from my proffered flyer from someone who told me "I don't do paper". Must make going to the loo tricky.
...and at the heart of all this managed chaos or "responsible irresponsibility" as one regular BFLFer had it, has been my children. It's been great that I have been able to spend more time with them during their pre-school years than I would have done in an office and it has been lovely to see them enjoying the parties. Of course they stubbornly refuse to ever match the dress up theme - insisting that a princess and a Spiderman outfit are suitable for everything from Xmas to sci-fi dos and have developed an acquaintance beyond their years to pub and club venues but I think it has made them wonderfully independent. Natsha's youngest had "flyer" as one of her first few words.
Anyway - it's been very exciting. Big Fish Little Fish continues to grow and develop (more guest artists such as Hellicar&Lewis' interactive light projections or synthesizer workshops) and parties in venues from a spiegeltent at Winterville to Southbank Centre over the next few months - and I hope we will bring ever more anarchic, creative, daft family fun to the masses.
I say that Party Hard by Andrew WK is my signature song and I'd love it to play whenever I enter a room (y'know, at GP's surgery, school pickup, Sainsburys) - so see you on the dancefloor people and know that's what's playing in my head.