Imagine a blanket that covers about a quarter of the UK - spanning about 60billion square meters. That's how much fabric is wasted by the fashion industry during the cutting and manufacturing process.
Imagine the irony of a much-loved industry that's second only to oil as the world's most polluting line of business: that's the fashion industry too.
But you already know this, right? It's not news.
Ever since Holly McQuillan and Timo Rissanen raised the idea of "zero-waste fashion" in their 2015 book, there has been media and industry discussion of what should be done to make better use of materials and take a more sustainable approach to design and production.
The phrase they coined may have been new, but the idea has a long history.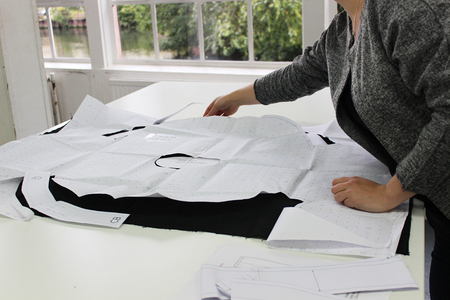 Photo credit - Verity Burton, Norwich University of the Arts
The Japanese kimono is just one example of how material can be cut with zero or minimal waste by using geometric shapes to interlock on the fabric like a puzzle.
And this approach was referenced, for example, by COS in their 10th anniversary collection by designing pieces which patterns would fit together like a jigsaw puzzle and utilised the width of the fabric to minimise waste.
So it can be done. We need to practice, not just preach.
The moment that opened my eyes came during my Masters project at Norwich University of the Art on zero waste pattern cutting and circular design.
It was not about just discussing and writing about the issues. I truly started to see the impact of my own actions and my own practice.
The zero waste design process for me starts by sketching a rough initial design idea or deciding a garment type to create, and then developing it further through a zero waste pattern-cutting process.
I create patterns for the main elements of the design, for example, a certain type of sleeve or collar. I then explore how to re-design remaining patterns to fit into the spaces between the main pieces.
Photo credit - Verity Burton, Norwich University of the Arts
Through this process, details, the shape and silhouette of the design can be refined. Any leftover pieces are used as detailing in the designing process for example as collars, pockets or within the inner structure.
Industry-norm patterns were the starting point in the design process. Inspiration came from simple geometric patterns and lay plans of historical patterns which are the root of zero waste garment construction.
Tamsin Lejeune, CEO of Mysource.io and founder of the Ethical Fashion Forum, argued last year that the fashion industry's sustainability issue will be solved not by talking but by developing solutions.
But it is not only through new business models and certifications that the industry will make progress.
Don't get me wrong, these large scale initiatives are the core of changing how a business is run.
Real change will come by inspiring designers, pattern-cutters, and anyone who is active in product development, to take an interest in sustainability and to innovate new ways of working.
That will change how the industry works - not just how it thinks.
Of course, zero waste pattern-cutting isn't a singular solution to all of the industry's inherent sustainability issues.
Even if the textile waste is minimised during manufacturing, the end-of-use phase for most garments is landfill or waste incinerators. Only about 20% of clothing is reused or recycled.
This is where the larger context of circular economy and design comes to play; where the whole life-cycle of the product is taken into consideration: from sourcing of materials to its end-of-use where it can be made into new material, re-sold or repaired.
For that model to work, the end customer needs to be motivated to take part in the company's circular model.
That's where there's more persuasion - more preaching - to be done.
But for practitioners, we know what needs to be done. And we can make a start, one design and piece of fabric at a time.