I short while ago I turned 39, and I got the best present I could have hoped for. My husband worked his last day as a teacher in a primary school the day before my birthday. The kids had finished up their year at that very same school just a few days before that. They will not be returning when school resumes later this year... We are taking a gap year!
Regular readers of my posts will know that this is not the first time that I have pulled out my boys from formal education. Last year we took quite a road trip, just the kids and I. We drove from London to Rome. During that trip, my daydreaming that we could just keep on driving progressed into my plotting that we were going to take a whole year off and do something different to what we had been doing. But how was I ever going to convince my husband, and how exactly were we going to fund this?
A lot of 'picture it' talk and, okay, a little emotional blackmail later, my husband was open to the idea. We shuffled through a few rough plans, worked on a couple, become a little disappointed as advances turned into 'two-steps-back', but we were open to possibilities and a 'off-the-beaten-track' has been mapped. Rodney may have given up his job teaching at the school he had worked in for the past four years, but he has not given up teaching. He will now be logging onto work at 6am to tutor kids in China, online, in English... He'll be finished at 9am!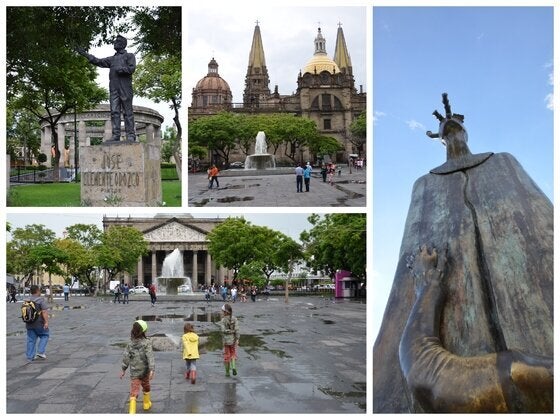 This new job is also going to determine the way we travel, as a strong connection to the world wide web is essential to ensure we have the means to weave our own web over the big wide world. Camping holidays will be restricted to nights when a 6am login is not required, remote regions will have to wait until formal Christmas and Spring breaks and there will always be that nervous feeling about moving on to a new destination, however much we have been reassured that our destination provides 'high-speed' service.
Here I now am, typing away at midnight at the first hotel of our first destination, Guadalajara, whilst the other four members of this team are sleeping. We chose this city, the second biggest in Mexico, as our first stop as we live in a small town, just a four-and-a-half hour drive from Guadalajara. It was not such a long drive, the kids have known longer ones (we all have). I have been working on a project about haciendas for a little while and had yet to visit any in the state of Jalisco. Jalisco, famous for providing us with tequila, has plenty of haciendas to visit. Also, as a family, we have not spent much time in big cities at all. The museums, plazas, architecture and general bustle of the city made Guadalajara a great choice.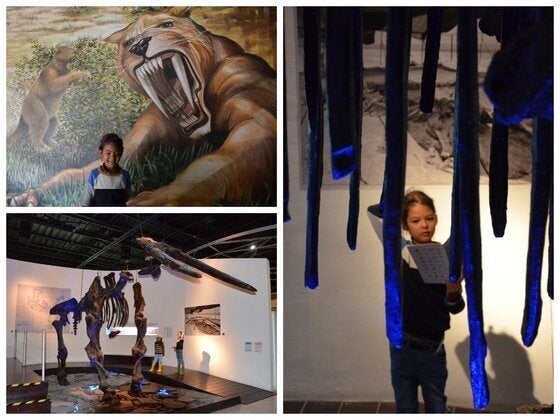 Choosing a hotel has become a lot less random. We checked into The Westin, partially due to it having a 24-hour Business Centre, a space for my husband to sneak off to with his head-set, lap-top and cup of coffee. There was a great deal that The Westin had to offer to inspire the children. The sheer height of the hotel had the kids jumping up and down in their car seats, necks straining at the windows. Elevators... how to split the pushing of elevator buttons between three young kids without the need of having to hit the alarm bell? Somehow we managed, and even the elevator music was appreciated! Peering out of windows from our room on the 16th floor was the only in-room entertainment we needed. The pride of the package came in the form of the Westin Kid's Travel Journal. It kept the older kids occupied, with its 'Missions', 'Log Entries' and various other activities. It inspired me to hold on to the idea of drawing out floor-plans and to write out directions for a 'treasure hunt' of our own for use at future destinations. Score Westin!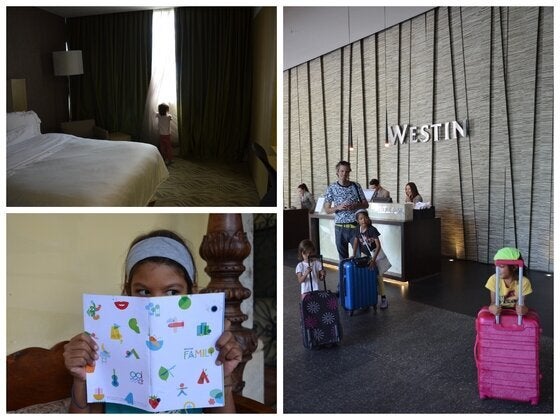 With strolls about the various plazas of Guadalajara, and visits to a couple of museums, including the Museum of Palaeontology, what excited our kids most about the city on our first day there was the huge machinery that was working away on Guadalajara's light railway system. What excited us parents the most was the childminding services offered in 'Los Chilaquiles', a fun family restaurant which serves fabulous plates of our favourite Mexican breakfast dish. We could relax and enjoy a moment of couplehood, which will be difficult to find being on the road, and chuckle at the fact that we were eating at an establishment that was frequented by 'El Chapo.' Provecho!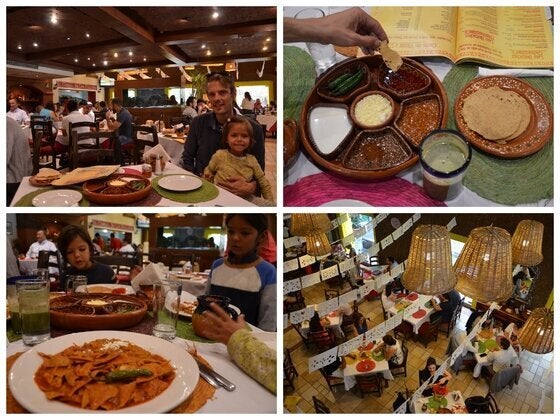 I hope that you'd like to follow our adventures, and if you have any favourite little spots in Mexico, please do let me know in the comments below. Hasta luego Amigos!