One of my twin boys is completely head-over-heels about hedgehogs. He was born in Mexico, and his love affair with Britain's best loved prickly creature was evident a few months after a parcel from 'Grandpa in England' arrived. Sandwiched between a few other books, it contained the children's classic, 'Peace At Last', by Jill Murphy. One small sentence, '"SNUFFLE, SNUFFLE," went the hedgehog.', transformed our lives forever. A collection of cuddly hedgehogs grew, the space on the shelf occupied by books featuring hedgehogs expanded, friends sent us Youtube links to cutesy heggie videos, my little hedgehog lover dressed as his favourite animal for two Halloweens running, his 4th and 5th birthday cakes were chocolate hedgehogs... and... we even appealed over social media to arrange a visit with someone owning an African pygmy hedgehog (who happened to have a prickle of newborn baby hedgehogs)!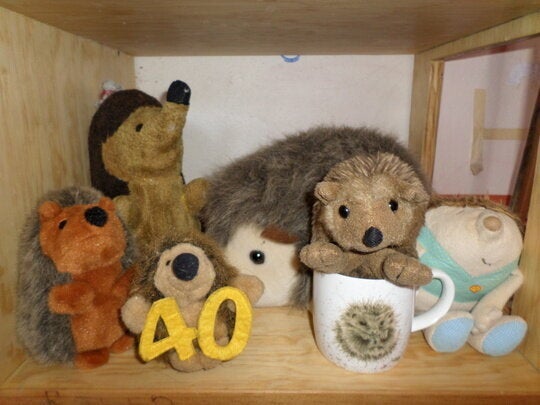 Once he heard that we were to be visiting England in the spring, all he wanted was to witness a 'Hedgehog Howdedo'. Just in case you are not familiar with the spectacle, please allow me to explain. The Hedgehog Howdedo is that time in spring, when all the hedgehogs snuffle out of their winter hibernation and meet up amongst the daffodils, as described in the children's book, 'Hedgehog Howdedo' by Lynley Dodd.
As I like to say, I love to water the big dreams, so with a little investigating we discovered Tiggywinkles Wildlife Hospital, which, as good luck would have it, has a visitor centre.
With close to 30 years experience of taking in wildlife casualties, and treating over 200,000 patients, Tiggywinkles provides an essential service to injured birds and wild animals. Britain has an amazing gift in being home to such wondrous creatures; badgers, foxes, bats, deer, toads, moles, swans, owls and, of course, hedgehogs. The list goes on and on... and on. It is a heartbreaking fact that every year in Britain, over five million of these fantastic creatures are injured as a direct result of their encounters with humans and our human world. However, the British people are known for their empathy towards our beloved wildlife, and so places such as Tiggywinkles exist where people can bring in the injured. At Tiggywinkles they are treated completely free of charge and then, through a controlled programme, are safely released back into the wild.
We visited Tiggywinkles in Haddenham, Buckinghamshire, to meet some of the fortunate patients and those people that help care for them. Upon arriving, we met Sue, a fan and devoted member of the Tiggywinkles team. Three excited children made our reason of visit clear from 'Hello', and a smiling Sue lead us to where we would meet our first British hedgehog, Betty.
One member of our young trio (yes, the five-year-old boy that dressed as a hedgehog for Halloween) had accumulated a wealth of hedgehog facts and was eager to demonstrate his knowledge to hedgehog-handling Sue. She was marvellous in listening to and agreeing with all that was related, but what really impressed that little hedgehog lover was all the additional information Sue had to offer him. He clutched his own not-so-spikey, but cuddly toy hedgehog close to his chest, Armer. Armer was given his name since he "liked being in arms and ate almonds". I loved the fact that it also nodded to the protective coat all hedgehogs wore and that it meant "to love" in Spanish (amar).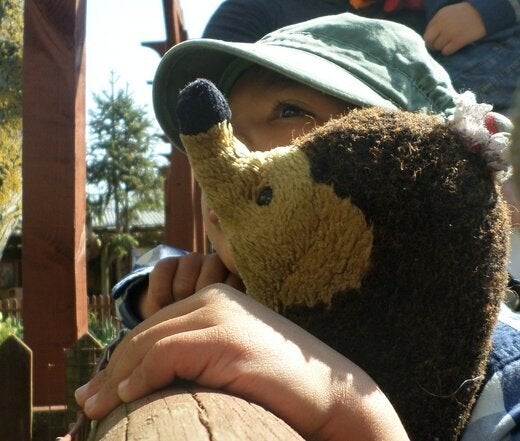 Since it was time for Betty to snuffle off into her heggie house, we were invited to visit the other residents of Tiggywinkles and explore the grounds. We took a moment to soak in the joy of meeting Betty, then proceeded to browse the extensive collection of heggie related curiosities. We then headed to the viewing window into the hospital, visited foxes in their enclosures and kites in their aviary. What superb work and safe spaces the centre provides to all these animals in need of help.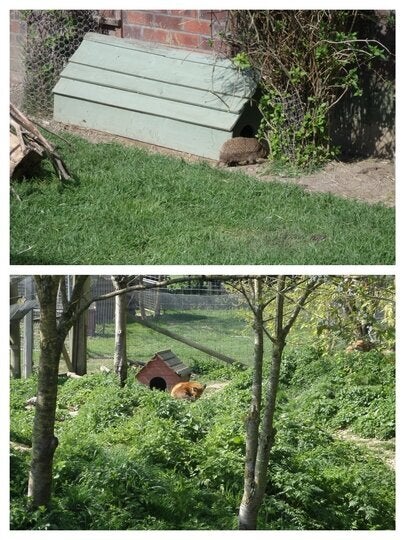 In need of some refreshment we headed into the lovely village of Haddenham, for a bite to eat, a stroll and then spent some time with the ducklings at the pond in front of the village church. There we told the story of when we met an English hedgehog and said, "How'd you do?".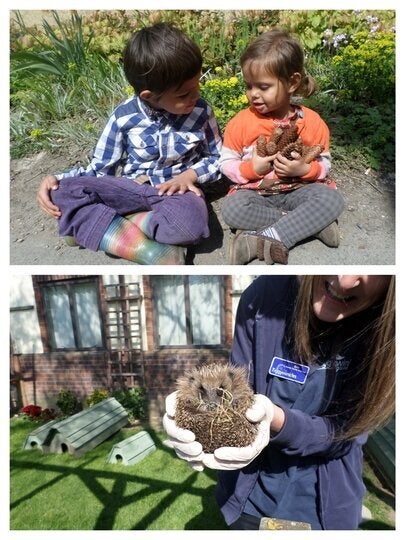 To find out more about the work of this outstanding wildlife hospital and details of how you can visit them, please visit www.sttiggywinkles.org.uk