Wrapped around the strength of a beautiful oak tree is the Palombiere Treehouse. It stands offering vineyard views of the 18th century Chateau Lestange estate, 14km from Bordeaux. As we entered the forest to the right of the elegant chateau, the familiar (to my ears) squeals of delight escaping the mouths of my tiny team brought out a satisfied smile from the faultlessly hospitable Lady of Chateau Lestange. Anne Marie led us down one path and then another, when suddenly a staircase invited us up to a compact but superbly designed, little piece of heaven.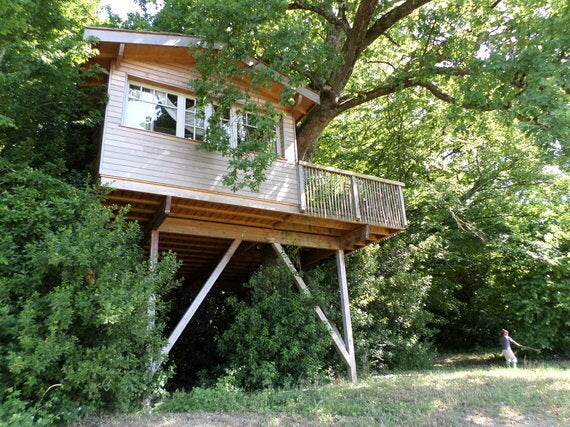 We walked across the spacious deck to caress the trunk of the old oak before entering the enchanting treehouse. The four-poster bed, draped generously in flowing white fabric winked at us as the air kissed the material when we pushed open the door. We were all in love with our new home (for two nights) within seconds. Fairy lights peeped down from the wooden ceiling above the bed, adding an extra swish of magic to an already perfect room. We'd been experiencing heatwave weather, but I couldn't help but wish I would have a need to use the wood-burning stove in the corner of the room.
Next to the kids room... we climbed up to push open a trapdoor revealing a cute second bedroom with three pint-sized mattresses on the floor and an armful of books, games and dvds to entertain its occupants. Pleased that we were more than pleased, Anne Marie advised that dinner would be available at the house of her son, Eric, and arranged that our breakfast hamper would be delivered to the treehouse at 9am. We were then left to enjoy our adventure.
My young trio (aged five, five and two) had already been trekking the forest with their eyes, and could wait no longer to explore the treasure-laden paths. Sticks, leaves, acorns sprouting oak leaves, did I mention sticks? The kids could not have been happier. They were in charge of which path to take, where to stop to climb a tree or when to bend down to study the form of a stone or assess a stick and ponder on its potential.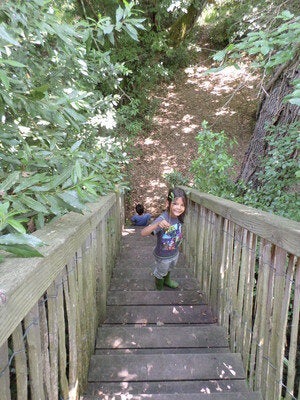 Dinner with Chef Eric was Frenchtastic. Enamored by fine ingredients, Eric was passionate about serving great food, even when his diners consisted of five-year-old twins, a two year old, and a mother who was used to eating the leftovers of the former. Homemade pate, incredibly delicious, was served out on the deck whilst the kids chased the chickens and ducks to a gypsy caravan. Eric took one look at the kids and he knew what to muster up in the open kitchen, gourmet burgers were brought out and devoured. Finishing up every last fry, the young trio got up to frolic in the fields with the chateau dog. I, on the other hand, sat back and enjoyed the view with champagne and flan.
When it came to bedtime, the treehouse trio could not wait to climb up and have the trapdoor closed behind them. Having been trekking and climbing all day, they were soon dreaming, giving me a while to daydream in the gorgeous June sunset light, out on the treehouse deck, rocking in a chair which exhaled the softest creek I've ever heard.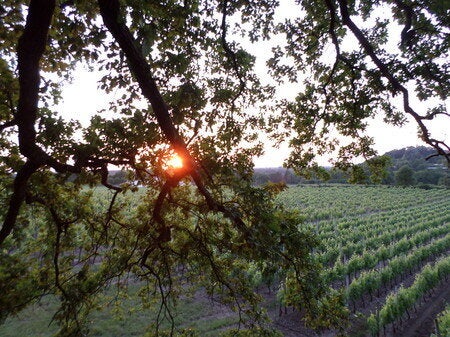 Morning brought me a little surprise. I have never know my children so eager to breakfast. But who would not be excited to have breakfast delivered to your treehouse. Room service, plus! At nine on the dot, we heard and then spotted a little golf car coming in from the edge of the vineyard and stopping at the staircase to our home. Susanna, one of the caretakers, greeted us with a 'Bonjour' as she stepped up cheerfully carrying a basket and a red gingham picnic cloth. Answering in Spanish to her French question of, 'Did we sleep well?', I found out she was from Spain and thus we continued in Spanish, finding out more about her, the chateau and what was for breakfast... Croissants, homemade yogurt served in glass jars, homemade preserves, melon, pear and strawberry flavours, a choice of cereal and hot chocolate. Susanna invited the children to play with her daughter once she got back from school and then bid us 'Bon Appetite'. Everyone tried everything, until little was left.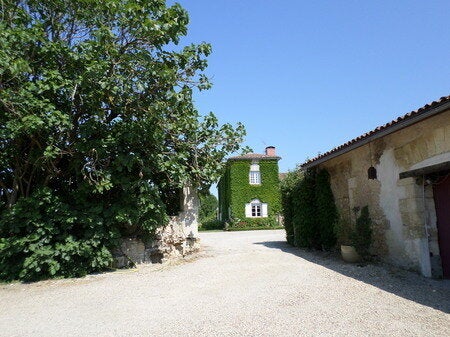 As the day ticked on and temperatures soared to 36C, we were invited into the chateau to keep cool. Filled with family heirlooms collected from the world over, I enjoyed finding out a little about Anne Marie's family history as we walked and talked from delightful room to delightful room. We stopped in the kitchen, where the melon and vanilla preserve that was gently simmering was checked, before I was called on for duty by my eldest as the children wanted to get back to scrambling in the forest.
That evening it was Susanna who was to spoil us, with the best paella I've ever tasted. We then retired blissfully to our home in an oak tree, a little sad to be leaving in the morning but giving thanks for such an exquisite experience.