Orvieto first caught my eye whilst scanning our fold-up map of Italy when planning the drive from Florence to Rome. Not being in any particular rush to reach Rome, a few clicks of investigating suggested Orvieto as a wonderful day trip. Orvieto was a 'why not?' destination. Travelling with three young children, I thought, "Why not stay overnight? What some recommend as a day trip, might be worth a little extra time when touristing with three under-sixes."
Sitting high atop the level of a mega-mound of volcanic rock, Orvieto is as commanding as it is charming. Offering stretching vistas out to the verdant undulating Umbrian hills, with vineyards and cypress trees, it also draws your eye in, to the detail and wonder that the cobbled lanes will lead to.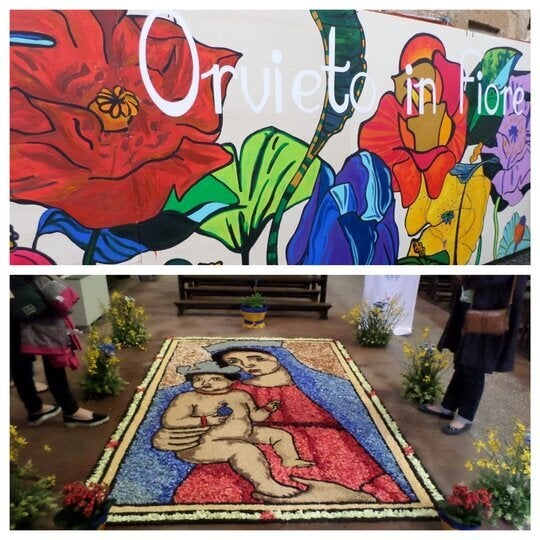 Our first stop, Pozzo di San Patrizio, an ingenious 16th century, double-helix well, commissioned by Pope Clement VII. Two-hundred and forty-eight steps spiral you down to the bottom of the well shaft, 53m deep. There at the central crossway, between the two staircases, a tilt of the head up towards the skylight, the 70 arched windows cutting their shape into the grand cylinder provided quite the striking sight. There, at the bottom, the lightest raindrops started falling down upon our faces urging us to cross over to the second staircase and wind our way up to the top again.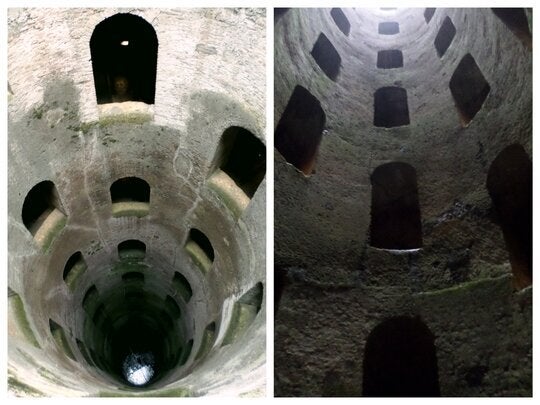 With the mist of rain looking to have settled in for the afternoon, we jumped into the car for cover and to find our lodging for the night. A short gentle country drive lead us to Locanda Palazzone.
Built in the 13th century, by a cardinal to offer shelter to pilgrims visiting Rome, Locanda Palazzone is considered to be one of Italy's oldests hotels. Having been restored by the current owner, Lodovico, the medieval palazzo stands strong with the weight of its ancient stone facade, buttressed walls and mullioned windows, however, in contrast, the interior offers minimalist contemporary design which is clean-lined, light and allows the guest to focus on what truly makes Locanda Palazzone spectacular, the sweeping views.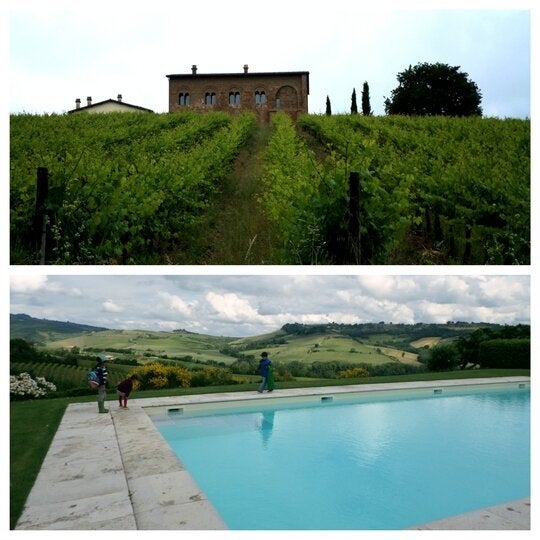 The family suite presented us with breathtaking views in all directions. Hills and forests, valley and vineyards, and of the town, Orvieto, perched high upon its plateau. It was here, from hotel, that I became obsessed with the seemingly ever-changing moods of the character, Orvieto. Flicking through the suggested itineraries offered by the hotel, I was reminded that William Turner had painted Orvieto, and a 2.5 mile easy hike was detailed from the hotel to Turner's observation point. My obsession was in good company.
Unable to resist the pull of Orvieto for too long, we uncovered our umbrellas from the boot of the car and retraced our route back into town. The Duomo di Orvieto, with one of the most dazzling cathedral facades in Italy, offers rainbow-bright frescos to the mesmerised mortal below, not to mention the gothic spires, pillars and delicate reliefs which frame it all. Inside the cold stone edifice, the crowds gather in the Cappella di San Brizio to marvel at and pay homage to Luca Signorelli's vision of 'The Last Judgement', which Michelangelo too stood to admire and perhaps be inspired by it.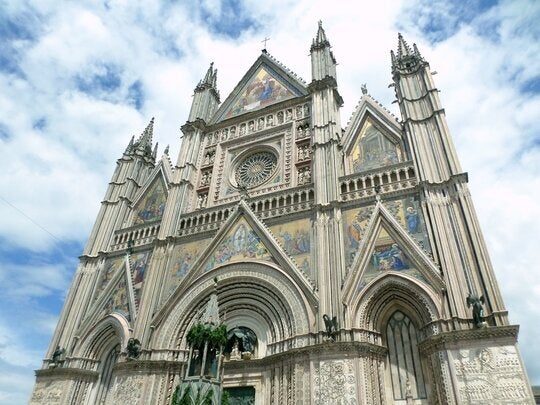 From looking up to the heavens we were then drawn deep underground to the vast tunnel network of the Etruscan caves. A 45-minute tour took us through a section of the 440 caves which served the locals for a millennia in various ways, from providing wells, refrigerators and dovecotes to sheltering souls in times of siege.
Hungry from exploring high and low, we sought out shelter and a porchetta sandwich. A study of the map invited us to more museums, galleries and medieval marvels. It was clear that one night in Orvieto was not nearly enough time to admire half of all that I wished us to see. How did others feel satisfied ogling Orvieto on a daytrip? I did not need any encouragement to extend our stay to two nights. Had we not had a date to keep in Rome, I could happily have spent the whole week there. Observing Orvieto and its evolving weather-filled outline from a divine distance at Locanda Palazzone, before meeting its majesty and admiring its treasure trove of jewels.
Today, as I sit far away from that regal region, almost a year since our visit, I still find myself Obsessing Over Orvieto.