Hasn't everyone dreamed of spending a week or two tucked away in a villa in Tuscany?
As far back as I can remember, since my wanderlust surfaced, I've romanced of winding around hilly b-roads, stopping for some fabulously delicious lunch and returning to savour soft but stunning sundown vistas, from a large shuttered window in a large Tuscan villa.
When we found out we were expecting twins, my one travel wish was to realise that Tuscan vision. Five months pregnant and close to booking our babymoon, I took a slight misstep, whilst manoeuvring my already sizable self between tomato plants and pumpkin patch at my mum's allotment. I was left taking painful pigeon steps for the next few days. For me, it was time to take it easy, not to seek out more adventures.
Fast forward six years >>> I am now the mother of five-year-old twin boys and a two-year-old girl. Whilst my husband is in Mexico working, I am driving my grandfather's 18-year-old Mercedes-Benz, with all three kiddos strapped in the back, to my Tuscan dream. (Or a parallel universe version of it anyway.)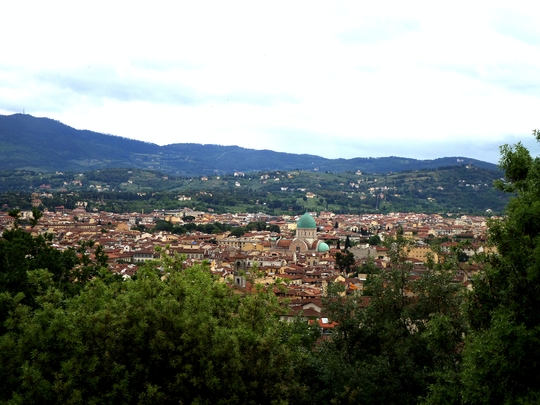 Once in the small hamlet of Pozzolatico, friendly Tuscan locals directed me towards Villa Giotto, just 20 minutes from Florence. We parked our faithful vehicle to be warmly greeted by one of the villa's employees. With a rush of excitement, one or two car doors were left open as the kids jumped out to explore the five bedroom country home.
Our Sri Lankan concierge opened the simple doors to a huge light-filled living area. I immediately gravitated to the source of the light... large shuttered windows, which did indeed gift me with the stunning vistas of my imaginings.
Exhaling a breath of contentment, I pulled away from the stretching views to follow my young trip down a staircase into the dining room with a wall of French doors leading to the garden and glistening pool. Little hands found the French doors locked, and not patient enough to wait for them to be opened, little feet wandered to find an alternative route to the beckoning pool. Dashing through the adjoining room and out through the backdoor, the large and inspiring kitchen must have been a blur to my gang. I, however, instantly knew that we were to enjoy some great meals there. In the centre of the sizable kitchen table was a bowl filled with vegetables a packet of pasta and a bottle of red wine. I was later to discover that the fridge had been kindly stocked with essentials. A welcoming touch that brought a smile to my face.
Out in the garden... I felt blissful. The fragrant breeze rolling off of the hills and the joy in the air that embraced me, created by three dancing bodies as they ran rings around the rose-trimmed pool.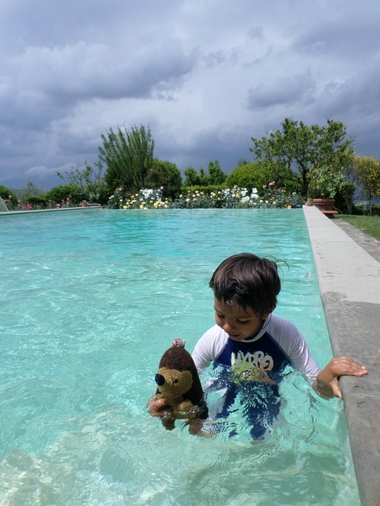 It was out there in the garden, whilst literally smelling the roses, that we met Vania, the owner of the villa. She instinctively took on the role of grandmother, and signaled for the three little visitors to follow her to the casita for a chocolate treat. Appealing for us to make this our home, Vania made sure we knew she meant it by requesting that the children did not forget to sit at the piano and try their hand at composing a tune.
And thus the tone was set for the days that followed, pool, piano, plates of pasta and picturesque panoramas. The only thing that we really pined for was Papa. He joined us over a few Skype sessions but really... Whilst I adored this parallel universe version of my Tuscan dream, I am determined it is not the only version that will be realised. So, Papa, "Let's all go to Tuscany Again Please!"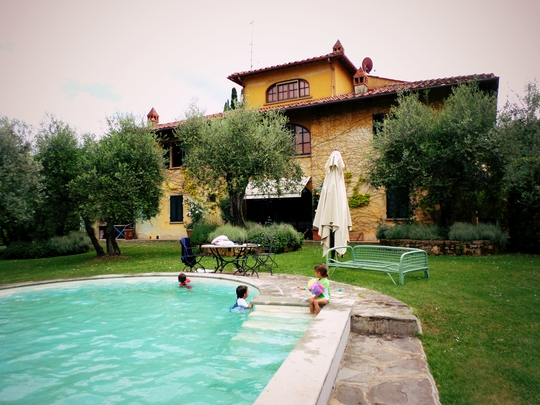 This version of my Tuscan vision came true after finding our dream villa through Tuscany Now & More.
For more scribblings from Harmeet Kaur Sidhu she blogs at ~ www.fiveinthebed.com ~ Five In The Bed