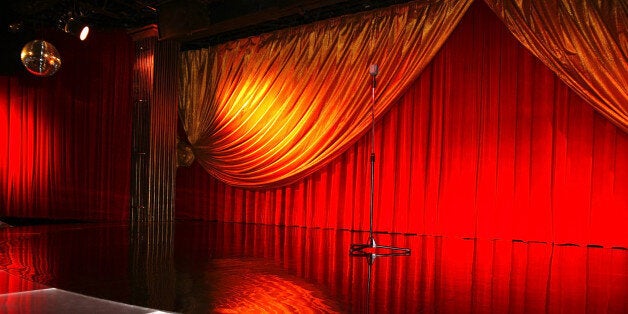 The year was 2014 and me and my torso were taking my debut hour solo show up to The Edinburgh Fringe Festival.
The show in question was called Barking at Aeroplanes and in a nutshell it was about how throughout my life folk had questioned my mental health where as in actual fact I was just eccentric. Well in actual fact that turned out to not be the case. My show explored this.
One day when writing the show I titled a page with, "The second time they tried to section me" and thought, "Wait a sneaky beaker second, something may well be the matter there" so decided to investigate. Surprise surprise I'm riddled with mental health problems.
If something's always been how it is you often don't realise that that's not how it should be. Since I can remember (even at school) I've constantly felt like a black cloud of doom was engulfing my soul, I (obviously) never seemed to be able to shake it and as a result often thought about killing myself.
My mother was great but whenever my mental health was questioned she always told me not to worry and said that that's just what we were like as a family, just eccentric. Now I know the more likely conclusion is that we've all got mental health problems!
When I did my show I was really touched by how many audience members said they could relate to it, hung back after the show to talk to me about it, and also how many comedians have mental health issues, although in hindsight this should've been obvious to me as it seems to be to everyone else.
I decided that once The Fringe had finished I was not ready for my little safe to talk about mental health issues bubble to burst - thus meaning Barking Tales was born.
Barking Tales is a monthly comedy night in Manchester (although soon to start in Newcastle and hopefully London too) where all the comedians on the bill tell stories/do material relating to mental health in a small bid to try to break the stigma that still surrounds it. Any profit made from it thus far has been going to the charity Manchester Mind. I MC it. I'm lucky enough that past acts have included Ray Peacock (Russell Howard's Good News, Dr Who), Felicity Ward (The John Bishop Show, Live from the BBC) and Bobby Mair (Eight Out of 10 Cats etc.) It's going to be occurring every day this year at The Edinburgh Fringe Festival too (6-27 August) and have already got some amazing acts confirmed which i'm super excited about. You might be able to tell in the way I'm writing. WAHOO.
I find doing my show so therapeutic because every month I know that I've got a group of lovely understanding people to listen and laugh with me about anything new I've written about my mental health and chances are we're all feeling the same. The regulars that come now are some of the nicest most wonderful people I've ever met in all my life. Due to various problems / issues and awkward demeanours some of us may get stared at in other surroundings where as at Barking Tales we're all in the same boat and really supportive of each other.
It's become something that a lot of people look forward to now every month. I sometimes get terribly anxious and think of pulling the show, but then I think about the people that'll be there and it pushes me forward. It's an insight into a comedians mind too (oh dear what a place to be) as a lot of the material/stories done at the night by their own admission will never been done again because there's often no place for anything deeper at some of the circuit clubs. At my club there's no place for anyone in the audience to be taken the piss out of as is there no place for vacuous nonsense... Any other nonsense is fine. Ha.
At the Huffington Post UK, we value conversation and believe we can only tackle these key issues if we draw on the views, opinions and experiences of our readers through our blogging platform. To blog on the site as part of The Best Medicine email ukblogteam@huffingtonpost.com and tell us your story