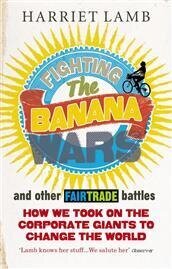 We all remember with horror the great-aunts who would exclaim: 'My how you have grown'. In my case, it was especially excruciating as it usually meant I'd grown out rather than up, unlike my tall siblings.
Fast forward several years and suddenly we've all become that aunt. Before we know it, we find ourselves parroting the same words when children we haven't seen for a while, have suddenly shot up.
It was like this when the good people at Ebury Publishing asked me to update my book 'Fighting the Banana Wars and other Fairtrade battles'. I reassured them that there were just a few facts and figures that needed updating - nothing too much. The book was originally written in 2008. I envisaged that the bones of the story where all there. We would just need to bring the summaries of Fairtrade's impact up to date.
In fact updating the figures was the easy part: Sales were $3,000 million in 2008 and $6.52 billion now. When the book was first published there were 569 producer organisations in 57 countries; today we work with 1,129 groups in 70 countries. Fairtrade products can now be found in the Indian market. Fairtrade gold is now a reality.
But updating the book was a nightmare. When the proof reader got her hands on my notes, she was tearing her hair out. Hardly a page had been left untouched and whole sections had to be completely rewritten. I had wanted to go further still as so much of our thinking has developed over the years.
In this trip down 'ethical memory lane', I was reminded of how much had been achieved in the past six years. Some names remain the same: the Kagera Cooperative Union in Tanzania was the first Fairtrade certified coffee co-op in Africa. It continues to innovate, now part-owning the only instant coffee factory in East Africa. Sainsbury's is still out in the front of the retailer pack while Divine Chocolate, Tropical Wholefoods and others keep breaking new ground, and People Tree's dresses just get more and more lovely!
But since the book was written we have, for example, started working with some of the world's biggest brands, with products such as Maltesers and Kit Kat all now carrying the FAIRTRADE Mark. And there have been negatives too: products and farmers' projects that failed, producer groups that went under because of constant hurricanes or because they could not get enough sales, and companies taken over: reminders of just how tough it is to put fairness into the cut-throat business of global trade.
For example, the very first product to carry the FAIRTRADE Mark was Green and Black's Maya Gold, launched by deep-green pioneers Craig Sams and Jo Fairley. The company expanded phenomenally fast, then got taken over by Cadbury's, went 100% Fairtrade globally, became part of Kraft and now of Mondelez. It's not unusual, this story of constant change. And constant change adds to the challenge of how we reshape Fairtrade for the world of 2015 and beyond.
For some years we were absorbed in shifting public opinion to influence the whole corporate landscape. The grassroots social movement rose to the task and their campaigning zeal has put the issues of sustainability in trade firmly on the map. Chocolate and coffee companies that in 2008 were still denying the problem of child labour, or pushing sustainability issues over to the HR or PR departments, now have made major and serious commitments to producers, with tough targets to be met by 2020. Aid agencies that remained the last bastion of support for government intervention have all swung behind the corporates as the new wealth-creators. While Fairtrade was one of the first movements to prove the power of labelling, we are now jostling for space on products and there is talk of moving 'beyond labelling and certification'.
Fairtrade has played its part in these major shifts. Now we know now that we have to make the next leap forward, pushing the boundaries of change and justice in global trade. Producers need additional support and we also need to strengthen our role in thought-leadership.
Take for example our work with workers in plantations. We know that Fairtrade alone cannot drive the scale of changes that are needed on plantations of tea or bananas, for example. So we have worked with former ILO consultants Richard and Martha Anker to develop a methodology to calculate living wage benchmarks for workers in South Africa or the Dominican Republic. We're doing this work with other schemes such as Social Accountability International or Rainforest Alliance because Fairtrade alone cannot ensure the level of increases workers need. This takes a united effort and also needs government, union and company support.
There are so many instances where we have yet to drive enough change. For example, we know how much more we need to do to empower women. We are also painfully aware that we have made few inroads when it comes to helping, for instance, seasonal agricultural workers on smallholder farms, as highlighted in a recent SOAS report. We're struggling to find the best ways forward: when Fairtrade tea smallholders have less than half a hectare to grow crops to feed their family we will need new solutions that enable them to pay their workers decent wages.
In fact the longer we work within world trade with all of its complexities, the more issues we uncover needing attention. Strangely the task in hand almost seemed easier when we were the tiniest unheard of minnow battling to swim upstream, laughed at and mocked by all observers. Today, the scale of Fairtrade's success in becoming a household name has added a weight of unrealistic expectation that is almost harder to bear.
Each time we make progress we hit the next chapter of challenges waiting for us. It is a constant process of unpeeling the next layer of the poverty onion. Right now we're shaping our next strategy for 2016-2020 and we would love to hear from you. What do you think are the next best steps for Fairtrade to take? Where has our impact been greatest? How can we maximise those successes?
At a recent strategy away day with our members, we asked when they thought Fairtrade was at its best. The answers varied from 'Cadbury Dairy Milk' to 'Working with 100% committed companies' and everything in between.
The same pride, the same empowerment in action, comes through every time you visit producer groups. They often face a million difficulties; Fairtrade is absolutely not the magic cure-all for poverty; but farmers have a pride in knowing that the state of the art warehouse, the wells for clean water, the new classroom for their children's education, the new roadway giving their farms easier access to the port were paid for through their own hard efforts to produce quality products.
In 2012, 86% of Fairtrade Premiums received by small producer organizations were spent on building their businesses and on services to farmer members, such as improving productivity or quality. Empowerment through trade is the principled backbone that runs through Fairtrade, however we write the next chapter. Except I've learnt my lesson - this time, it will definitely need a whole new book!
Please send your ideas for Fairtrade's next strategy to: @harrietlambFT