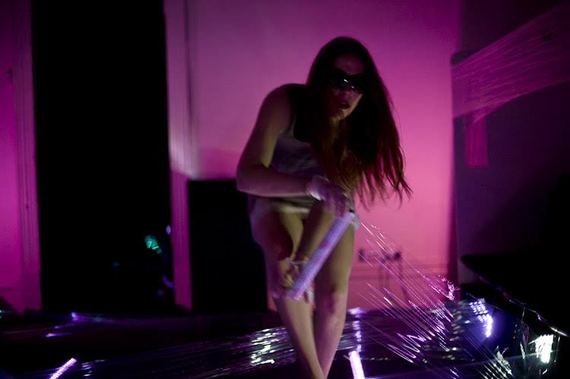 I've been spoilt with six Edinburgh Fringe Festivals on my doorstep and I've seen my share of comedies, dramas, performance art and acrobatic acts. Most have been entertaining, some moments have been impressive but very rarely has a show left such an impact that the feeling follows you through the following days, leaving you on edge, mulling through certain aspects of the performance. On Thursday, I was lucky enough to have that opportunity, when I strolled slightly tipsy into a small dark university room, my pupils adjusting to my new surroundings after a sunny day in the George Square Fringe Underbelly. My brain, marinating in wine, was trying desperately to wake up, analysing the room that was cleverly set up like an airplane, and as if I were on a flight, I glanced around looking for the exits - just in case. My friend and I sat down at the end of the front row facing a lit plane aisle. We clutched each other's hands trying to calm down our adrenaline as we were cast into complete darkness, jarring music drifting into minor key until the lights focused on the one woman act. My last thought was, "Shit. I should have read the summary." And then the play began. Too late.
Cut, a psychological thriller written and directed by Duncan Graham and winner of the 2015 Underbelly Adelaide Award and Adelaide Fringe Best Theatre Weekly Award, plunges the viewers into a sensory and thrilling experience. The viewer enters the story as a flight attendant finishes work, and the screenplay quickly changes from first person to third person, cutting to past and present throughout the production. The play's actress, Hannah Norris, has her hands full balancing a complex juxtaposition of a flight attendant with her perfectly coifed hair and makeup against the woman who hides under sunglasses and her loose hair after work as she races away from someone or something. Hannah delivers it perfectly, if my goose bumps were at all telling.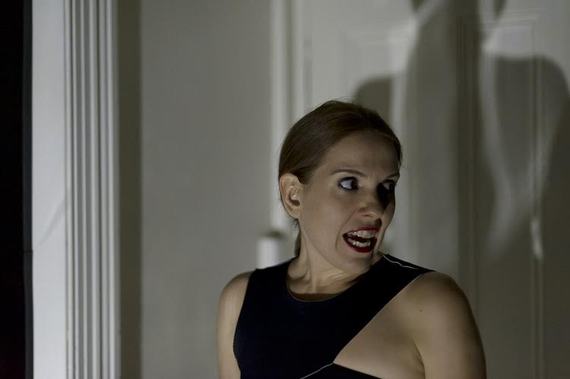 While Hannah delivers the emotions, the play's lighting designer and technical director, Sam Hopkins, creates atmosphere and innovation. He designed a system for operating the show and Hannah controls the lighting with a purpose-built device called OSC-R. Cut's writer and director, Duncan Graham said of Sam and OSC-R, "He is a wizard of the theatre and the transformation of space, the space-defying lighting design that creates so much of the experience, is all down to him. It [OSC-R] is the first of its kind anywhere in the world. It's a marvel and has opened up so many new possibilities for the work." The set is very minimal and they make good use of minor but effective props to build the suspense, allowing the viewers to slide down the rabbit hole of the protagonist's mind. The screenplay cleverly repeats a select few phrases over and over. Is this foreshadowing or simply to build the suspense? You must buy a ticket to find out. But in the meantime, Cut's writer and director, Duncan expands on the play's inspiration, the importance of changing points of view and what he hopes to achieve with his play.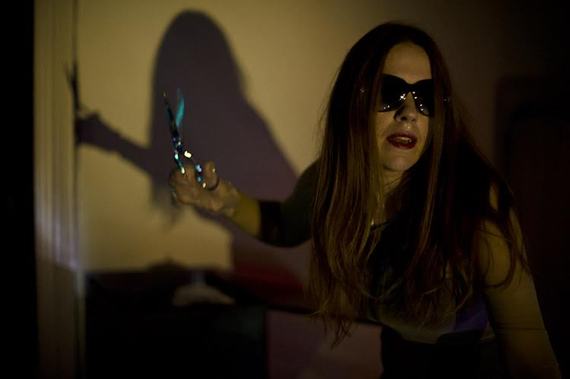 On inspiration:
"The story was inspired by Greek sources - Clytemnestra from the Oresteia; and the Fates, who were women, crones in fact - they were the forces that measure, weave and cut the thread of our lives. In this instance our woman, the protagonist, through the weaving of her dreams and fantasies, takes control of her fate, then elevates herself to the status of Atropos (she who cannot be avoided, the 'cutter' of the thread of life). In some ways the play itself is an experiment in what it means to tell a story. How fragmented is our sense of reality? On top of this, we were looking to unleash a Greek, pre-humanist sensibility. In this way, one woman rises above her circumstances, her objectification, and in her mind at least, through this violent ritual, takes control of her safety. Hannah's reading of the text was along these lines. Then the design came in behind all this. It suggests a modern world of international transit and living but at its base, it always emerges and disappears literally and emotionally from a deep darkness. The work as a whole, to me at least, is a feminist response to the rising sense of emergency and catastrophe we confront that lurks beneath the surface of our reality and the modern state of mind."
On switching points of view:
"The switching from 1st to 3rd person is a reflection of the woman's state of mind. In the first person, the threat is real, immediate and inescapable. Here she is more like a victim of circumstance or the immediate subject of her dreams and fantasies. She switches to 3rd person to try and gain distance and hence power. She becomes the narrator of her own life. But it's also something that we do in our minds all the time. It's part of the mechanisms by which we make a narrative from the various fragments and threats we face day to day."
On the viewer experience:
"We have attempted to make a work that is haunting and sensorial. We hope it affects people, if nothing else, at the level of their nerves so that when they close their eyes they will see, somewhere, this show returning for consideration. We don't want people to walk away with a neat, consumable experience. So the content at times is ambiguous and enigmatic, but then again so is this world and in particular our minds. How do we weave any coherence from the total range of our experiences? This narrative work of living, if you like, is what we are trying to expose. We are inviting people into a difficult and often unsafe space where the world isn't fully formed. It is peopled with hard realities like confined spaces - planes and trains - but nebulous spaces like dreams and fantasies. All of these in the end make up our sense of reality."
When: 5-17th August, 2 pm and 6 pm; 19-31st August 2pm and 6 pm Venue: George Square Pricing: From £12.50 (includes £1 online booking fee) Duration: 70 minutes Warnings: Contains total blackouts with one minor strobing effect, adult themes and scenes of a violent nature. Latecomers not admitted. Book your tickets here.
This story was first published on Yankee Doodles lifestyle blog.
All photos credited to: Gary Cockburn