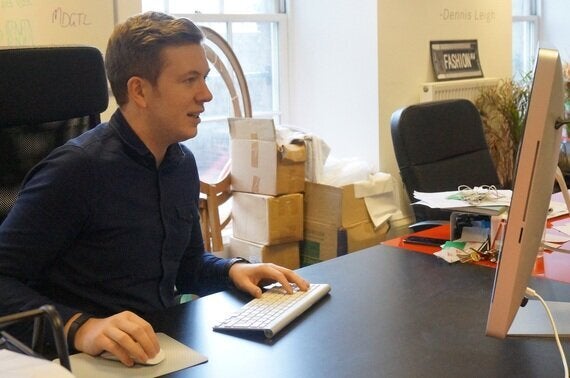 I haven't seen Cally Russell in four years and in that time he's founded two startups. This Edinburgh-based entrepreneur is the founder of the award-winning company Mallzee, which developed the Mallzee app. Mallzee recently placed in the top 100 US lifestyle apps and is billed as the "Tinder of Shopping". Mallzee isn't the first startup Cally has headed and while his first venture never achieved what Mallzee is accomplishing, it certainly wasn't a failure - more like a learning process.
In the height of his busiest season, the Mallzee CEO shared his experiences in an exclusive interview with Yankee Doodles and explained why having self-belief, being kind and learning from failure are important principles for your life and business. And without further adieu, I'll let Cally speak since he's so good at "this chat malarky."
"It's all about people and it's all about team."
"You need to build a strong group of people. That's vital to give yourself that support and spread of knowledge. That's the sort of thing that you learn about really early on. It's about people, it's about team. It's about expertise, it's about knowledge. You don't know it all yourself. You need to find out all the bits and pieces. We made a website - a single page website, promoted it and signed up lots of people very quickly and realised that there is a market for what we wanted to do. And you prove that then you go get funding. We've been very fortunate to be backed by people who believe in our vision and believe where we want to get to. There's now 11 of us - all good people and we've built a good strong team and people who back us and supported us and who are happy to be behind us and take us through the stages."
"You just have to have that initial belief in yourself."
"You can figure out a lot of other stuff but you just have to have that initial belief in yourself. And I think as Scots, we often don't have that. If you believe in yourself then the chances of other people doing so as well are much greater."
"We signed up 3,000 people before we made a single line of code and spent only £8."
"It wasn't hard to move from one start up to another. Sometimes you wake up and say, 'That isn't going to work anymore.' We binned all that and it took three days to come up with a new concept to focus on web, promoted that and saw how we got on before we built anything. We signed up 3,000 people before we made a single line of code and spent only £8. As people, we have to have a mindset change that we have to be fine with failure and accepting of it and learn from it. I think that's something that scares a lot of Brits but you just have to go for it. I think that's probably where you Americans differ from us slightly, is that you are much more accepting of it [failure]. As a start up, you're always the underdog."
"Don't be a wantrepreneur."
"Don't just want to be an entrepreneur. You have to care about what you are trying to do. That's really vital because people aren't as successful as people who are genuinely passionate about their product."
"Choose something you're passionate about."
"It's hard. You're not going to see people and you're going to have to go on grinding so you have to choose something you're passionate about. Go into everything with your eyes open. Be honest with yourself. Know what your weaknesses are so that you can address them early and think about what you're going to build and have belief in what you're building."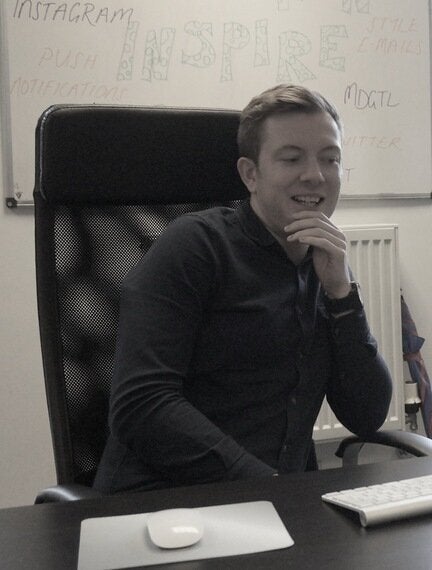 "Local companies don't have to be just your corner shop..."
"We're a Scottish company with an international focus. We can't be a Scottish company with a Scottish focus because the market isn't big enough for us. I'm proud to be Scottish. There's so much going on in Edinburgh just now. In terms of technology, there's some great businesses like SkyScanner, Blipfoto, FreeAgent (that's massive in the States) and Dashboard and that's a great thing to be a part of and we should just embrace it. Support your local companies. Local companies don't have to be just your corner shop or boutique shop - those are great. But we're a local company as well. We're just done in a different way."
"There's lots of things that we've done that are really good...I'm not done yet."
"Always improve what you're doing and move onto the next stage. We've got big aspirations but I think we'll get there - we just have to keep pushing. I'm really proud of what we've got and what we've managed to do. We've got great people and we get to do fun stuff and we all enjoy what we get to do. There's lots of things that we've done that are really good - we've won lots of awards, met some fantastic people, collaborated with some great people. I'm not done yet. I'm really happy with where we've got to and really proud of what we've done but I'd very much like to keep trying and keep pushing myself."
"Get your 60 second pitch, your 30 second pitch and your 10 minute pitch."
"Think about what an investor is looking for. If you're going to take their hard-earned cash, think about what you need to prove. Make that list and start working through that list. So you need to prove that you can build something and you need to prove you can get users and that you can monetise it. Get out and network. You have to get introductions. Introductions are so important and it takes time. Think of it as a full-time job for six months. Get your 60 second pitch, your 30 second pitch and your 10 minute pitch. You need to be able to pitch people even if you're not looking for investment. You have to learn to pitch people because you're going to pitch people all the time even if you don't think you are. Whether you're pitching to get a sale or to get staff, you're pitching people all the time. There are certain people who are just naturally very good at it but then others can learn the skills. It comes from confidence and it comes from belief."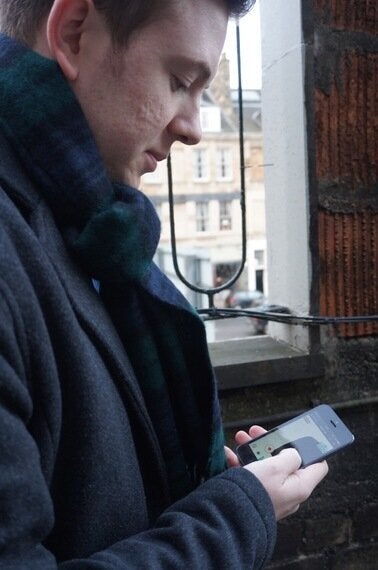 (And as if to emphasise the importance of pitching, Cally gives his 60 second pitch without me asking for it.)
"We created a product that pulls together clothes from over 100 different stores in one single place. It uses some really cool technology to recommend you stuff so the more you interact and the more products you say you like and dislike, the more tailored it is for you. With our new style feeds, you can build profiles for different parts of your life and the app gets smarter all the way through it it. That's such a key thing in shopping - really personalised and really unique to yourself. And we help you find clothes. At the end of the day, ASOS has over 1,000 pairs of jeans. I do not have the time, the energy or the will to go through 1,000 pairs of jeans. I just know I want to find that type of jean. And Mallzee makes it really easy to find clothes but also really fun at the same time."
The latest version of Mallzee is available on iOS from 17th December 2014. Check it out here.
Popular in the Community