Iceland's glaciers are melting at an alarming rate due to climate change. Some of Iceland's glaciers have vanished already, while several others will be gone within a decade. As glaciers melt, they add more water into the ocean, which causes sea levels to rise. I believe all people have the potential to stop, or even reverse this process, by becoming more conscious consumers and adopting a more natural lifestyle. Even the smallest habits can have a positive impact on the planet, such as running the dishwasher only when it's full, recycling, and turning off the lights when you leave a room.
Part of a natural lifestyle can also extend to wearing clothing made from sustainable, natural materials. One less person buying chemically-treated, mass-produced clothing made from synthetic materials and the planet will love you for it. Wearing natural fibers is also better for your health, especially if you've got sensitive skin. Sustainable clothing can be more expensive, but you are buying more durable clothing with a longer lifecycle. We need to protect our world for today's and tomorrow's generations and this is what motivates us at Dimmblá, an Icelandic eco-friendly fashion brand.
I founded Dimmblá in 2014 with the intent of creating a sustainable fashion brand. I was shocked to discover how wasteful and environmentally harmful manufacturing common fabrics and materials can be. Unlike most fashion brands, we aim to have a positive impact on the environment, in part by reducing waste. We use sustainable fabrics that are produced from crops that require zero to low levels of chemicals to grow, use less water and leave less waste during production. Dimmblá will implement measureable outcomes in the next few years to explore how the creation of Dimmbla's clothes compares to conventional methods.
Each Dimmblá collection has a special theme and a story to tell. The Glacial collection is a reflection of the current effects of climate change on our planet, and in particular, the threat that global warming has on the world's glaciers. The collection features photos of icebergs and glaciers in Iceland that one day may become a thing of the past. The scarves in the collection are made of banana fabric, which comes from the stem that farmers throw away after harvesting. The tree stalks and leaves are removed and processed into pliable fibres. The stalks are being used as a new and valuable resource, whereas previously they were considered a pollutant that was simply dumped or burned once the fruit was cut off.
Dimmblá would like to think sustainable consumption is the future! The products feature beautiful patterns of nature itself and are created and designed to preserve nature for today and tomorrow. For every piece sold, a donation goes toward those who directly support our natural world. Dimmblá supports Oceana, an international organization which protects the world's oceans and works in partnership with the Icelandic environment association, Landvernd.
Next on the agenda is signing a contract with Icelandic environmental organizations to donate proceeds from Dimmblá's Northern Lights collection and support the establishment of a National Park in Iceland's central highlands. This breathtaking region offers extraordinary scenary with a great variety of landscapes, including glaciers, glacial rivers, geothermal areas and lava fields. Over the last few decades, the energy industry has been pressing for the construction of power plants, reservoirs and overhead power lines. Environmental organizations have formed a coalition with the goal of establishing a national park in the central highlands. A park in this area would be Iceland's greatest contribution to the protection of its spectacular nature to date. Dimmblá's plan is to be part of this goal.
Dimmblá's luxurious, nature-inspired clothing enables women to choose clothing with a long lifetime and lets them feel confident, feminine and good about what they wear.
Check out Dimmblá's website for more information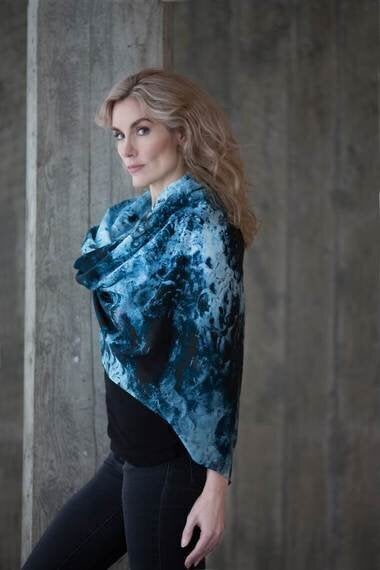 This September The Huffington Post UK Style is focusing on all things sustainable, for the second year running. Our thirst for fast fashion is dramatically impacting the environment and the lives of thousands of workers in a negative way. Our aim is to raise awareness of this zeitgeist issue and champion brands and people working to make the fashion industry a more ethical place.
We'll be sharing stories and blogs with the hashtag #SustainableFashion and we'd like you to do the same. If you'd like to use our blogging platform to share your story, email ukblogteam@huffingtonpost.com
Popular in the Community