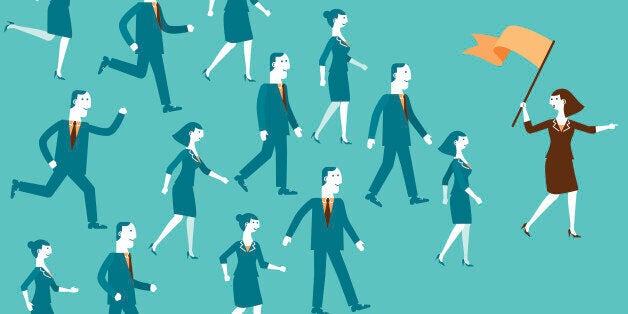 We all remember Labour's 2015 election 'pink bus' and Harriet Harman's claim that, in 2010, 9.1m women did not vote. Evidently a similar number of men don't vote either.
Many women will say that politicians only pay lip service to policies that could improve their lives. Is this because there's an assumption that women don't vote and therefore don't need to be targeted during election campaigns or is that politicians don't understand the potential benefit that could be reaped from making women's lives better? I would argue it's a combination of both but would emphasise that politicians really should pay attention to the economic upside that be realised from facilitating women to work and have children.
I don't have children and so the debate around maternity leave and parenting responsibilities has tended to have remoteness for me, even as a feminist. I've always sympathised with the challenges women who juggle a career and motherhood face but never really appreciated the reality. Or at least that was the case when I was an employee of a large corporation. I'm now an employer and have a different perspective.
I've been running a womenswear company for the last four years. Excluding the boardrooms of the major players, the fashion industry is composed mainly of women. By default, therefore, employers like me will interview more women than men. Maternity leave and the needs of working mothers will always be on the agenda.
I've hired men and women and have found that employers could be overlooking the benefits of hiring working mothers.
Two years ago, I interviewed the woman who is now our studio manager. At the interview she was very clear that, with two small children, she was looking for a role that offered flexible working hours. She had the right skillset and attitude and so I decided to try to find a way to accommodate her needs. We built her working week around her commitments.
The result has been a success, not least because she's the right person for the job, but also because she has fine-tuned a highly valuable skill - time management. Working mothers operate to a strict timetable - they have to if they are to meet all the demands on their time. This adds to productivity and is a positive example to other team members.
There's also loyalty. Working mothers will stick with a company that accommodates their family commitments and helps them develop their career. This is a benefit to employers because replacing employees adds to risk and costs.
But what must not be overlooked is development. I tweeted a newspaper article recently which stated that pay parity breaks down when women return to work after having children. A number of people responded saying that this was obvious because returning mothers worked fewer hours.
According to the IFS (Institute of Financial Studies) mothers who return to work end up earning a third less than their male counterparts because their career progression slows.
Basically the argument is that women are less likely to be promoted because they put in less facetime in the office.
But what employers could be overlooking is quality over quantity. In my experience, I've had an excellent return on hiring women with parenting and grandparenting responsibilities, specifically because these women are in the habit of managing their time efficiently. It makes sense to develop them.
Right now we are in the midst of the election maelstrom. There is much up for debate but none of the main party manifestos seems to offer a full solution for women who want a family and a career (even with encouragement from the Women's Equality Party to steal theirs).
Part of the issue is that employers look at female employment as a source of problems. They look to government for the solution while fearing that all they'll get is burdensome and costly regulation. But actually businesses could be more creative and look at the opportunities that hiring and retaining working mothers brings.
Looking at my own experience, our studio manager works for two-thirds of a standard, 40-hour working week. When she's not there her role is supplemented by a junior who gets to take on more challenging responsibilities. Not only does this create a positive working environment it also identify incoming talent.
Our studio manager also takes the month of August off as an annual sabbatical. This is to accommodate her children's school holidays, both in terms of quality family time but because childcare is not always available. There is also increased working flexibility during other school holidays.
We are a small company but we have found a way of working that creates mutual benefit. Larger companies have the resources to do much more.
From a wider perspective it does not make economic sense to invest in the education of people (women) only to have them withdraw or limit their contribution - especially when UK women are 35% more likely to go to university than men.
And the issue is compounded in the face of Brexit. We don't know whether Brexit will lead to tighter immigration controls but, if so, we could also lose out on higher-skilled immigrants who would ordinarily add value to the economy.
The future government needs to consider the pressure on the economy from our challenging demographics; we have a growing proportion of older people. It is now more important than ever for us to generate the best return on our domestic labour force. This means not only keeping women in work but in jobs that add value.