The first time I met Efua Dorkenoo in 2010, it was in a learning event as part of the newly-founded Tackling FGM Initiative. We were 14 grass-roots organisations funded to end FGM, and apart from Forward, most of us had little experience in the field. Although we all worked with communities affected by FGM in health, support or domestic violence services, and regularly dealt with safeguarding issues, we found FGM a challenge. Thankfully, Efua was there to show us the way. I was amazed at how self-evident everything sounded when she spoke; things like, 'If it was little boys getting their penises cut off, there would be a revolution'.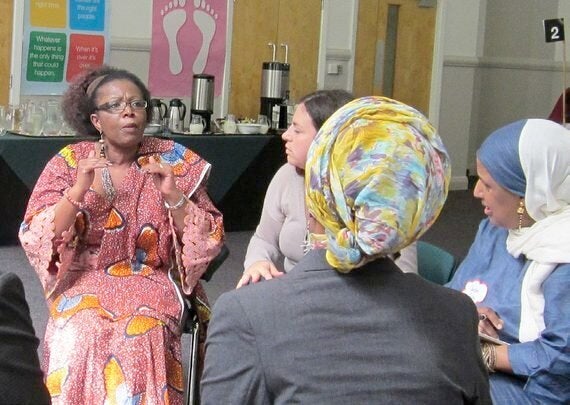 On that day, Efua had brought with her a children's book she'd written to raise awareness amongst affected communities. In it, Mother Nature visited an African village where she quickly noted that all women had one leg. When she questioned the residents about it, they told her it had always been like that; no one knew for sure when the practice started but everyone was sure it was necessary. After all, if a girl didn't have one of her legs cut off she risked it growing as big as a tree, and in any case, no woman could look as beautiful with two legs. 'But what about the children?' Mother Nature asked. The children were always in Efua's mind.
It is no accident that Efua was known to all of us as Mama Efua. We were children around her, trusting in her wisdom. She dressed in gorgeous African clothes so we were always in awe of her, like little girls watching their mums dress up. Like a good mother, Efua also had never-ending patience. She worked for over thirty years to ensure FGM was addressed as a human rights violation across the globe. Her advice convinced the funders of the Tackling FGM Initiative to invest £2.6 million to end the practice, more than has ever been invested in the UK. Efua believed that Africa should lead the way to end FGM and that governments around the world were responsible for putting the action plans and legislation in place to enable that change. She made sure that FGM survivors like Leyla Hussein and Nimco Ali fronted the campaign and that their needs were heard over those of policy makers afraid of offending sensibilities. Every time I heard her speak I was amazed at how calmly she repeated herself over and over, to the changing Governments and their representatives, until she had answered every objection and dealt with every hesitation. 'Would you punish the parents who think they're doing the best for their daughter?' someone would always ask. 'What if it was white girls getting their fingers cut off?' Efua would answer.
In the past two years, Efua's work was being rewarded more than ever before. The media took notice; the Evening Standard and then the Guardian took on the campaign to end FGM. Before long, FGM was always in the news, the government begun listening to survivors, policy changes were happening. Then in 2013, the UK announced the biggest ever investment to end FGM in Africa within a generation: this was to become the Girl Generation, the campaign she would be entrusted to lead. Efua Dorkenoo never lost sight of her dream to end FGM but its realization finally seemed imminent. How devastating then to learn that on Saturday 18 October, a week after the global launch of the Girl Generation, Efua passed away. All of us mentored and supported by her find consolation in her knowledge that the end of FGM was now inevitable. We are left with the responsibility to carry the task through, but Efua has paved the way. Efua was loved like few people I've known and she has changed the lives of more girls than would ever come to know her. She will be greatly missed and the thoughts of all of us are with her family.
Related