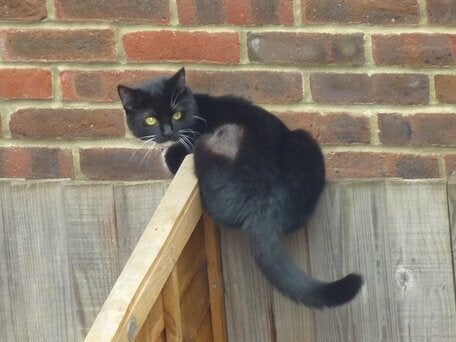 I'm in love. Completely besotted. And I'm not talking about my husband (though I love him just as much, obviously).
The lucky recipient of my adoration is our newly adopted cat, Pepper.
She chose us as her new family as we walked through the doors of the cattery at the RSPCA Sussex, Brighton and East Grinstead Branch Animal Shelter at Patcham.
She came running to see us as we approached her pen, and we knew she was the cat for us as soon as we saw her.
Luckily we were the right people for her too; she was best suited to a home with no other cats and we don't have any other pets.
As you can see she's very pretty (or maybe I'm biased?) and remarkably cheeky and confident considering the difficult start she had in life.
No one knows exactly what Pepper's circumstances were as she ended up with the RSPCA to recuperate after she was hit by a car. Her pelvis was broken so she was in a lot of pain, but staff at the animal shelter said she was always very patient and sweet with them.
She wasn't microchipped, didn't have a collar and no one claimed her, so she may have been a stray - we'll never know. Once she was fully recovered it was decided that she should go to a new home.
A lovely volunteer from our nearest RSPCA branch had already been to our home to make sure we lived somewhere that was suitable and safe for a cat, and also that we understood the commitment we were taking on.
I don't mind admitting that I was nervous before the home visit as it felt a little bit like we were being 'tested', especially as I work for the RSPCA! In the event it was very informal and really nothing to worry about.
So after a bit of paperwork (quick and easy) we were able to take Pepper home with us straight away. Like most cats she wasn't keen on being in the cat carrier, but once we were safely home she had a quick scout around the house....then rolled on the floor purring! We were so glad she approved!
Pepper, who we think is about a year old, settled in quickly and now she goes outside she's BFF with one of the other feline residents in our street.
She's not a lap cat yet, but she's playful, comes running when we get home, likes being stroked and is very affectionate - my husband Liam and I are completely loopy about her.
Adoption was well worth the wait
We waited a long time for the time to be right for us to get a pet, and it was so worth it. We've ended up with a super personality-filled cat who is extremely rewarding to care for and we know appreciates us giving her a good home.
If you think you could adopt an animal from the RSPCA, check out some of the animals available. I'd thoroughly recommend it!