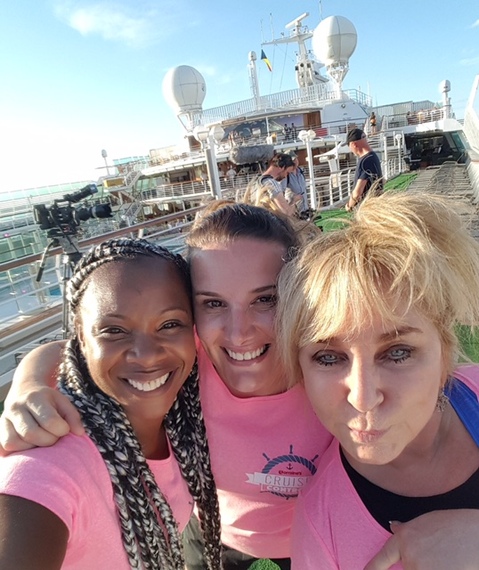 What do an X-Factor winner an ex-Gogglebox star and myself have in common? Answer: some surplus flesh and a healthy mind-set deficit. Hence our shared eagerness to respond to an opportunity to be part of 'Cruise Control ' on ITV as part of Lorraine, what's not to like? A lovely motivating trainer in the perfectly firmed up shape of Faisal, a cruise ship with several pools, restaurants and oh ... bars. The last feature is my personal challenge, especially since my lovely play mates (Sam Bailey and Sandi Bogle) are not only 10 and 20 years younger than me - they don't seem to want to drink like a fish every time they hear a chink of an ice cube.
But hey, this is a generous opportunity to get out of my comfort zone and grow as a person. So far it's working. I went on a two-wheeler bike which was most unusual for me given I'm rubbish on a bike and also did squats as if I was 'bearing down' with commitment.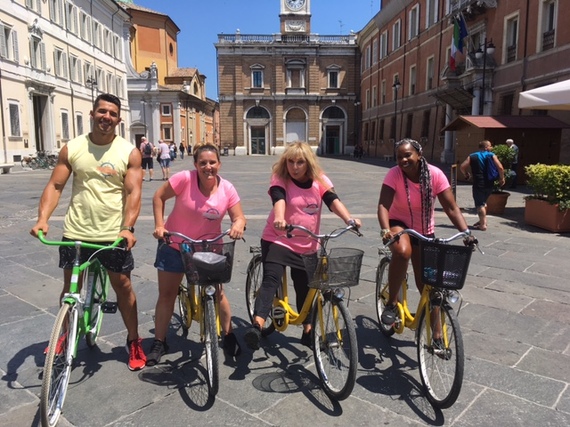 No sooner had I unpacked my highly tight leggings with attached skirt over the la la area, I was running (you heard) round the deck trying to look cool in front of the understandably curious stares of other passengers. This would have been almost doable had it not been for the strange Julie Andrews yodel that involuntarily presented itself from inside my neck. I have discovered that I can't do running without recourse to a very loud breathing sound and I just have to wear it with humility.
The positive messages from the highly authentic Faisal are beginning to get through, especially the one that said 'be better not bitter' and I'm trying to curb my spontaneous asides ('defence mechanisms') so that very soon I can walk PAST the bar to return to my cabin AS WELL as leaving the gratis biscuits alone.
However, being contained not only on a ship but also with a new group of strangers brings with it a curious sense of powerlessness and feeble need to be told what to do. We have all joined the same 'Whatsapp' messaging service. This tells us which floor to meet on, at what time and with what clothes on. Suddenly I'm in a panic. Where is my plastic card to get me in and out of my cabin? (If you loose it there is a punishment - I'm not sure what but I don't want to risk being shut out in the corridor in a wet cossie). Also, which sports outfit should be worn washed or hung out to dry? The need to be alert to being part of a group without ego, inappropriate observations or temporary sleeping is key. I fail on all three but gain on not eating doughnuts. At all. Also I have been on a board in the sea, stood up on it for a second, before falling into the water. (Filmed).
On last day, I begged Faisal for a one-on-one and got rather more than I bargained for. An hour later I was sweating and doing 'HIITS' which is nothing to do with music and all but to do with intense doable movements with a breathy rest in-between. In spite of the grunting (mine) I finally understood something. I can do HIITS apparently (which in itself is extraordinary) but must repeat these jumping and pushing body moves for the rest of my life if I want change (oh I do). Thank you Faisal and thank you Lorraine.