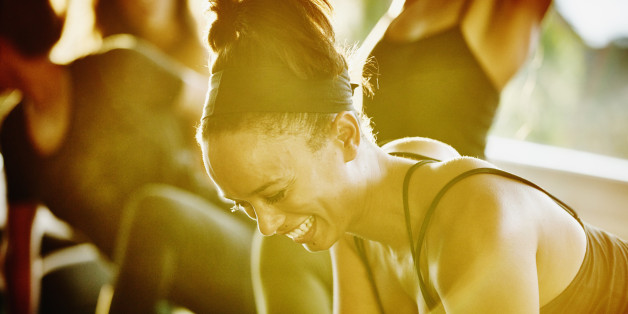 Thomas Barwick via Getty Images
Yoga leggings: they are expensive, yes, but bang on trend, with many styles now able to take you from the street to the studio. And, if you buy wisely, they will last a long time, assist your performance and make you feel 'kick-ass' when you wear them.
But not all leggings are created equally. Here are our top tips on how to invest wisely in your performance kit:
FABRIC
You have two basic choices; Lycra or cotton. Cotton leggings should be avoided if you intend to sweat in them, as they will get heavy and hold the damp next to your skin. All Lycra is essentially a plastic, meaning it will not decompose and return to the earth when you are done with it. Are you still reeling from the word plastic?! Fabric technology in activewear is continually evolving. Good quality Lycra has the advantage that it doesn't soak up water, rather allows it to pass through the fibres so it can evaporate easily. You should be looking for multi-way stretch qualities - a sign that good quality elastane was mixed in.
Increasingly you have a choice about whether to buy quality leggings made using virgin resources or a raft of newer brands, like Flip The Dog, who are producing high quality activewear from recycled plastic - worth bearing in mind as the clothes we all buy are now having huge socio economic and environmental impacts across the world.
Last point to note regarding the fabric is to test for opaqueness.... (try a quick downward dog in them, now can you see your underwear through the fabric? Not a good look...)
COLOUR
You could opt for the fail-safe black. It would match with pretty much anything... but we believe that once you have worked out in high impact leggings, you won't look back. Colour boosts mood and energy levels, it can impact confidence and how we feel about ourselves. This fact has long been scientifically proven, with the term 'enclothed cognition' referring to a mental shift you experience when you wear certain clothes. So, if you wear bright, bold patterned leggings, you might, in turn, feel more bright and confident yourself.
Dr. Jonathan Fader, sports psychologist for the New York Mets, makes the connection between activewear and mental state; 'When you put on new fitness gear, you begin to get into character like an actor putting on a costume for a performance. As a result, you expect to have a better performance, making you more mentally prepared for the task.'
Basically, when you wear luscious workout wear, not only are you more inclined to actually be active, but, as Fader comments, they will also make you feel more confident in your abilities, which could lead to an improved focus,
SEAMS
King of all stitching for activewear garments has to be flatlock stitching. And rather handily, it is very distinctive and highly visible by its very nature. it effectively butts the ends of the two sides of fabric together without any overlap, creating a strong and flexible seam with elasticity built in.  No overlap of fabric means no bulky seam and so, crucially, a significantly reduced risk of chafing or discomfort. Why don't all activewear manufacturers use this type of stitching we hear you cry! Cost is the main reason. Flatlocking requires expensive specialist machines, significantly increasing the cost to produce a garment.
WAISTBAND
How low can you go?! If you are a slim Jim, low rise looks great, but stick your skinny butt up in a down dog and a low rise can be exposing. Mid / high-rise is the most flattering for the vast majority of shapes and will support you during your work-outs. Does it contain elastic? A string of elastic in the waistband can be quite uncomfortable as it is bulky and only stretches to a point. If a garment is well balanced and carefully constructed, it is not essential to contain elastic to stay up.
GUSSET
Does it even have one?! (please save us from the spectacle of working out in kit without a gusset, camel toes are rarely en vogue). A well constructed gusset should enhance your silhouette and give you a great shape. If it is lined that will give you the added bonus of not having to wear underwear; useful if you do lots of floor work/hot yoga/have an aversion to underwear...
COUNTRY OF ORIGIN
As a stark rule of thumb, clothes made in the UK are far more likely to have full oversight of their supply chains, and fair and ethical treatment of those who made the clothes. The clothing items will also come with a far smaller carbon footprint having generated little, if any, airmiles. If you are going to spend a decent amount of your hard-earned cash on good quality activewear then its worth a moment to consider what that purchase means. When you buy something, you are actively supporting a brand and their ecosystem, you are endorsing their ethics and investing in their working practices and supply chains.
Buy wisely and the right pair of leggings can be confidence boosting, performance enhancing, style statements, that enable you to support fair working practices, local trade and protect the environment.