With so many trends out there people seem to be piling it all on at once and walking around in some scary stuff. Don't get me wrong I am all for expression through style but I am also all for balance, so let's just take a step back, because it's all becoming a bit much.
The thing with balance is, it requires restraint and I know how difficult that can be when all those amazing trends strut down the catwalk, but you must be strong! What is your existing style? What trends work with that? By taking elements from the catwalk and highlighting your look, your aesthetic will be more effortless. We need to remember that not all trends suit all people.
I've made some hideous fashion mistakes in the past but I think you need to do that before you can find what suits you. With the rise of social media those mistakes will hang around in cyberspace until the zombie apocalypse deletes your wardrobe malfunctions for good. So the key is to simplify and no that doesn't mean being "basic". It's better to be demure than attention seeking, you will get noticed for the right reasons because no one likes a clown (it's called coulrophobia).
I have an assortment of tattoos and my hair is currently shaved on one side and so because my overall look is quite full-on I tend to keep my attire simple. I like to mix high street with designer, vintage and alternative fashion to create something special. A look I'm not in danger of seeing on someone else and an aesthetic I can call my own.
A good example of what I've been warbling on about is a recent blog post I wrote about boyfriend tees.
I styled a men's Mambo graphic t-shirt with a striped midi skirt, statement clutch and heels. Easy. An outfit which works from day to night, no fuss - I didn't even add any accessories other than my trusty skull ring. The key elements in this outfit were colour, the silhouette and statement prints. There's not too much skin on show and the loose style of the t-shirt works well against the fitted shape of the skirt. The yellow of the smiley face is echoed in the yellow of the statement clutch and the stripes and comic print compliment each other. I've kept the heels fierce but simple in patent black and my hair is big. That's really all there is to it. A balance of style.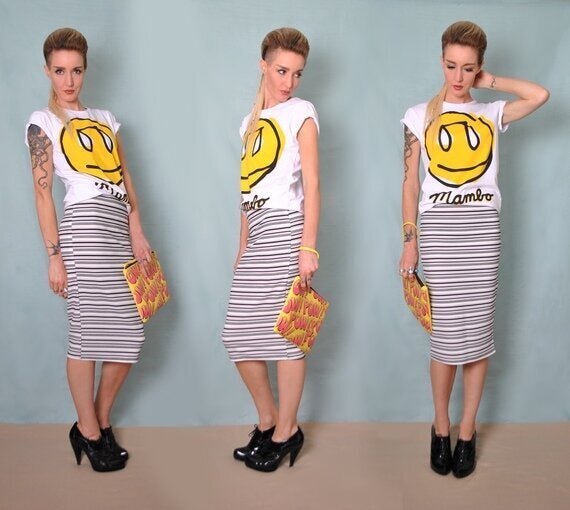 Popular in the Community