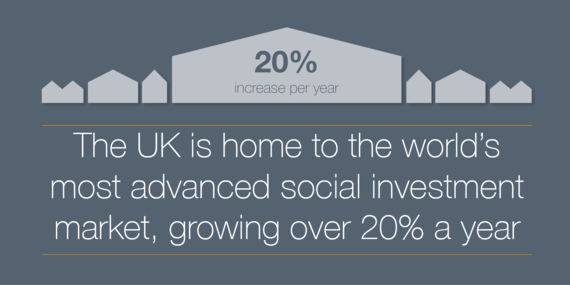 As a concept, social investment can be hard to get your head around.
For the UK Government however it has quickly become a credible and important way of helping charities and social enterprises increase their impact in communities, helping them to grow and support more people in need.
Social Investment is about individuals or groups investing in ventures that have a social benefit. They may accept the risk of a lower financial return in order to generate greater social impact.
Social ventures and charities often struggle to access mainstream finance and given that they deal with some of the most challenging social problems in the UK, such as homelessness, youth unemployment and loneliness, we want to make sure they can get access to different types of finance and that's why we've been working to promote and grow this market.
But while there is some risk for those who take the plunge and invest socially, it is often financially well worth it.
Take Social Impact Bonds as an example. These use private investment in payment-by-results programme where an investor will cover the upfront cost of delivering a programme and make a return if the outcomes are delivered.
Because the service providers are mainly charities and social enterprises who are absolute experts in the area that they have been asked to deliver the service in - for example a youth charity aiming to reduce reliance on youth unemployment - the investment is much more attractive because the chances of success are higher. Basically the investor can make as healthy a return on their input as they would if they invested in a small business, all the while making a real difference to difficult social problems.
In Government, the Office of Civil Society, which sits within the Cabinet Office, leads charge for this market. This week's report shows that we are truly at the forefront of a global movement.
We've made a lot of progress in the three years since we set out our stall in this market.
We've introduced the world's first tax relief for social investment, set up Big Society Capital - the world's first social investment wholesaler capitalised with £600m- and we've played an important role in increasing the number of social enterprises, which now employ over 2 million people in the UK.
You can read about our ambitious plans for the next 12 months here but the crux is simply to make it easier for people to become social investors as well as helping organisations to access social finance.
The new Social Investment Tax Relief will be key in helping us do this as it levels the playing field to make investing in charities as attractive as investing in smaller private companies, and our focus this year will be making it work as effectively as possible.
We want people to know that if you have money to invest, it's now a real option to consider investing socially.
You can invest in renewable energy projects through organisations such as Abundance, meaning you can make money while supporting the planet.
Platforms such as Ethex also provide details of social investment opportunities as well as competitive savings accounts that support charities and social enterprises.
But it's crucial that we also help social organisations get access to the new forms of finance.
We will use the £60m from the FutureBuilders loan book, to support investment and contract readiness for great social sector organisations as they develop and grow.
Social Investment is an important development which I believe will make an significant contribution to society and our action plan for the next 12 months will see the UK continue to lead the way.
Related