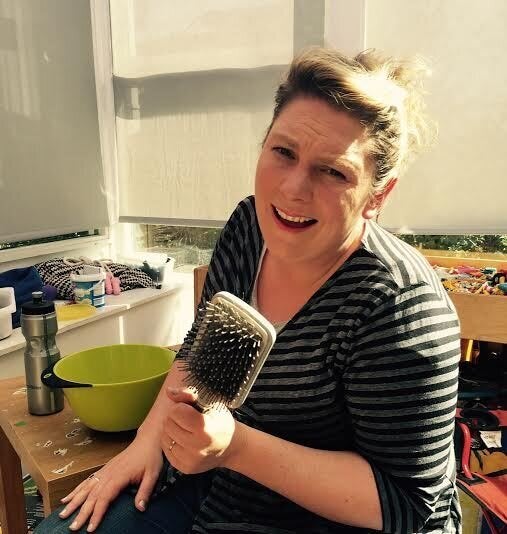 Few things in this world can beat the feeling of belting out your favourite song at the top of your lungs. Whether you sing in the car, in a crowd at a festival or just with your girlfriends at the end of drunken night, it really is one of life's true joys. (Honestly, who doesn't love a good 'Groove is in The Heart' karaoke session at 1am?).
Just by binning your inhibitions, closing your eyes and swaying to the music, you can nourish the soul and blast away your worries. And, it doesn't matter if you sound like Rhianna or a dying cat, just by warbling out a few notes, you can feel instantly better.
As a permanently frazzled, messy and way-too-busy mother, having a full volume sing-along, is one of the best and easiest ways to release stress. Well, apart from wine, but I often combine these things for the best results. Who needs sex, when you have INXS blazing and mug of Sauv Blanc? And, it is especially useful when I am stood in a room full of Lego, washing and have Cheerios stuck to EVERYTHING. All I have to do is bang out my favourite tune, and then I can be magically transported to another place - a cleaner, quieter place, like a tip or a demolition sight.
Whilst other parents find sanctuary in yoga, kale and meditation, I have made singing my recent health kick, in fact, I would say it is my super-power. And, it is much cheaper and a lot more fun. I have found that I can drag myself out of my middle class pity party with just a few bars of 'Calfornia Dreamin', even though it does scare the kids and the neighbour's dog.
Also, watching my own kids discover their favourite songs has been one of those truly heart-melting parenting moments. How quickly I forgot about potty training nightmares and supermarket tantrums when my kids first sang Twinkle Twinkle, or surprised me by singing word-for-word Adele's 'Hello'. Although, let's not speak about that entire Summer Holiday break when I heard, 'Let it Go!' on repeat. NEVER. AGAIN.
One particular magical parenting moment came when I went to see the wonderful Mrs H and the Sing-along Band with my kids at the Latitude Festival. Harriette Ashcroft and her band completely entranced us with their singing, puppets and engaging performance. Within a few bars, we were all singing along to their 'Dance Away With Me' and bopping along. My four year-old son, who can barely remember to wash his hands or brush his teeth, came away from the show singing all their tunes and smiling.
"BINGO!", I thought, all I have to do is sing my parenting instructions and make my life into a permanent musical, and then my children will listen to me. My house could be like a real life Andrew Lloyd Webber musical, but with fish fingers and wet wipes, instead of Lycra-clad cats and technicoloured biblical characters. Maybe singing really IS parenting's best super-power. I decided I would get in touch with Harriette to find out whether this was true.
Harriette who has been described as "the Gareth Malone for under fives", started Mrs H and the Sing-along band about 15 years ago because of her own love of singing. Their first gig was at the Tate Modern with House of Fairy Tales, on a bed. What a start!
Since then, she has been providing free weekly concerts at the Exmouth Market Centre. And now the band has grown and is now a six-piece ensemble. They all sing, as well as use many instruments, including a banjo, trumpet, double bass, guitar, flute and keyboards. They have high-quality musicians who have played with Beth Orton, Red Snapper and have collaborated with Shane Meadows on many projects. So, not just your average wonky tambourine and a half-licked maraca troupe!
For Harriette, singing is important to her because "it releases me and it cheers me. Singing causes a chemical reaction that keeps me optimistic." For that reason alone, I think we should ALL be singing 24/7 - who doesn't need an injection of optimism? Perhaps we should make it mandatory that politicians sing some show tunes before each sitting. Or that the G8 leaders perform an ABBA medley before making any major decisions.
Not only does Harriette see changes in herself, but also in the children and carers whom she performs to every week. I asked her why she thought singing was important. "It is not so much the singing that's important, it's that children see others sing, ideally live and with their families. It gives them a sense of belonging - children want to be part of society, they want to see all ages together. They need to be surrounded by a good positive atmosphere, it needs to be real and needs to feel alive. Children need to feel that grown-ups are allowed to join in too. And it introduces them to collaboration, which sets them up for later life."
Harriette has seen thousands of children attend her concerts, and I was curious to find out what impact she thought singing had on them. "You see them growing like a seed .I see friendships, confidence and ownership, the children learn through participation. It's all about shared responsibilities and turning what the children do into something real and inspiring. Everyone feels empowered by this experience." And with that eloquent response, I think she has answered my question. Singing really is a super-power, not just for stressed out mums like me, but for everyone. So, pop on your stereo, scream out Bananarama's best hits and feel like Wonder Woman.
Mrs H and the Sing-along Band perform at the Exmouth Market Centre every Wednesday and Thursday. They are currently fundraising to create a Sing-along children's book and CD called Mrs H Sings. Please visit their Kickstarter Page and support them.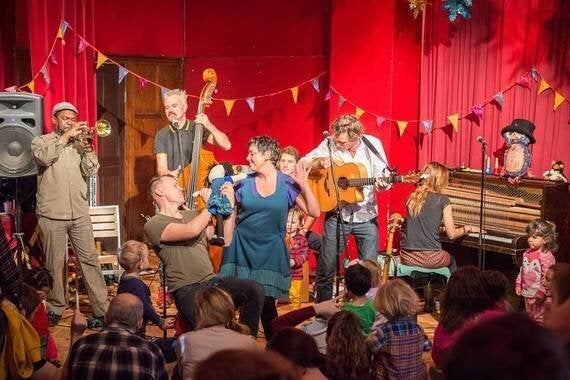 You can catch The Scummy Mummies performing live comedy shows around the UK.