Although Anthony Nolan supports patients in the UK, donors can come from anywhere in the world. Because stem cells cannot survive outside the body for longer than 72 hours, we rely on volunteer couriers to make sure these precious cells are delivered to the patient as quickly and safely as possible.
One such volunteer courier is Bob Janes, 54, from Greenwich in London. Bob started volunteering for Anthony Nolan in 2014 and since then he has completed 89 trips - some between different cities in the UK, but others involving travel to Australia, Sweden and the United States.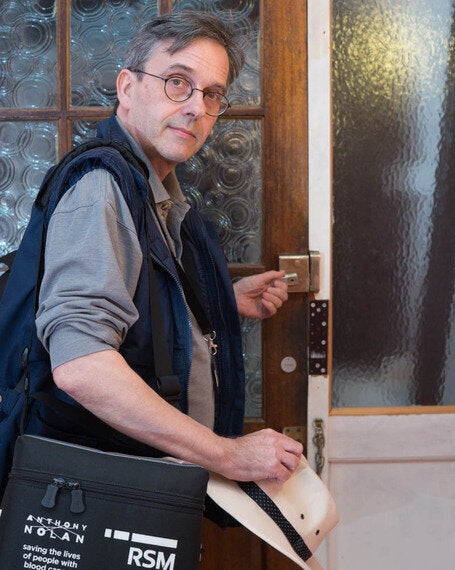 Bob collects stem cells from the clinic where the donor is and transports them in a specially designed cool bag to keep the cells cold. Because stem cells are so delicate, the bag can't go through airport security X-ray machines and must be taken on planes as hand luggage. Getting the cells to their destination on time and as safely as possible is of the utmost importance.
A former civil servant in the Department for Education, Bob's voluntary work means spending long days travelling - but the rewards are completely worth it.
Bob told me, 'The best unexpected treats are when someone stops you and tells you that they had a transplant some while ago. A gentleman at Newark and a woman checking-in to a hotel in Manchester were the icing on the cake, coming at the ends of long tiring days; especially seeing how well they looked post-treatment.
'I also met a donor at a clinic in Cologne one afternoon. She was very pleased to be giving some stem cells, but they had problems getting the needles into her arms (she had lots of blue sticking-plasters on) so I got the impression she was very glad to hear someone say how valuable her donation was. It was very good to be able to stress how special a gift she had given.'
Despite the vital role he plays in the transplant journey, Bob is modest about his efforts.
'In truth the magic of the process is that someone gets a second chance through the mundane actions of a whole chain of people of which we are just one small link; an example of how the little actions, easily given, of many people can have a profound effect on a small group in dire need. As couriers we are really just delivery men and women, sort of like special delivery posties - although I guess if you consider the anticipation felt for the stuff we bring, you might just be able to compare us to Santa's elves!'
Are you aged 16-30? You could give someone the best Christmas present ever - the gift of life. Join the Anthony Nolan stem cell register or make a donation to our lifesaving work at www.anthonynolan.org
Popular in the Community