Banksy is an artist clouded in mystery. He has become a legendary figure. Stealing from the rich and giving to the poor. He began his career as a benevolent urban artist, adorning the streets with pithy jibes at institutions like the police, art houses and politicians. He serviced a seemingly voiceless society, free of charge.
Though, as his fame grew the art establishment wanted an ever larger slice of the cake and Banksy was all too keen to oblige, if only for a price. Like Robin Hood he goaded the rich he duped. Early in 2007, the day after Banksy sold six works at Sotheby's, all reaching six figure sums, he released an image of an auction house scene, captioned by the phrase ' I can't believe you morons actually buy this shit'.
But are Banksy and Robin Hood really analogous? Does Banksy not just take from the rich and pocket the booty?
The street artist lives on both sides of the fence and his grass is always green. An anti-capitalist whose biographies are littered with pound signs. A critic of the auction houses but has retrospective on at Sotheby's S |2 gallery.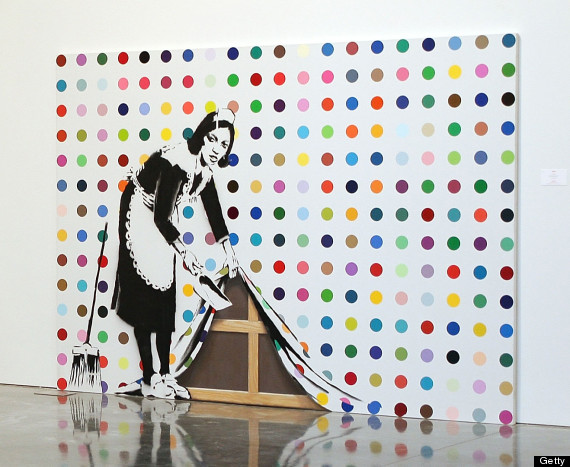 In an interview with The New Yorker Cheyenne Westphal, the European chairman for Contemporary Art, revealed "My first experience with him was in October 2004, when he left a piece outside a party we were throwing for Damien Hirst." It was a rat holding a placard that read, "You lie". This was an act that simultaneously flicked two fingers up at the corporate schmoosing which is now rife in the art world and Hirst, whilst crucially also performing the function of advertising his work to Sotheby's.
That was 2004. It seems by February 2008 Banksy had reconciled his differences with Hirst, "a living example that talent is nothing and money is king" insisted The Guardian, when the two artists collaborated to produce "Keep it Spotless" which sold for $1.8 million (£950,300).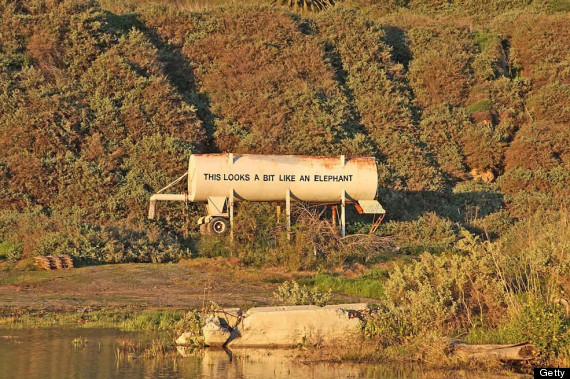 It would be unfair to stop there. The proceeds went to the United Nations Foundation in support HIV and Aids relief in Africa. Often you'll find the episodes of hypocrisy in Banksy's career are caused by the irreconcilable aim to make art and serve the little man.
One such episode occurred when Banksy accidentally caused a homeless man to be evicted from is squat. He painted a water tanker with the phrase "This looks a bit like an elephant". The tanker had been the home of Tachowa Covington for seven years but such was the interest created by Banksy that the tanker was snapped up, and subsequently taken away by a conglomerate called Mint Currency.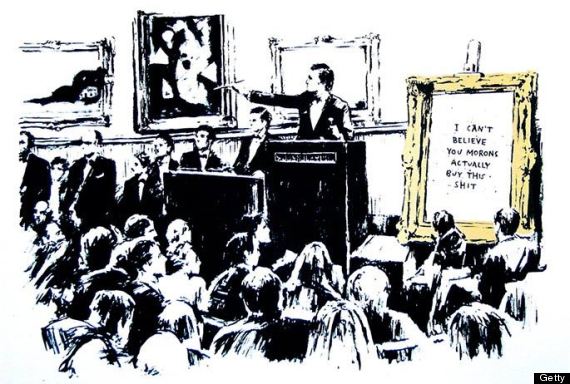 Realising his mistake Banksy provided Covington with an apartment for a year to get him back on his feet. In an interview with The Independent, Covington said "There ain't no better man than Banksy. He was an angel to me." Though when the payments stopped Covington was again left homeless. I suppose Banksy thought he had done enough. It seems unfair to vilify the artist since he didn't have the tanker taken away. His own artistic merit undermines his aim to make art a means of sharing.
Currently on the "Q + A" section of the artist's website Banksy addresses the hypocrisy of his art. "As a kid I always dreamed of growing up to be a character in Robin Hood. I never realised I'd end up playing one of the gold coins." Banksy, despite his best efforts, has become an asset used to exploit and be exploited.