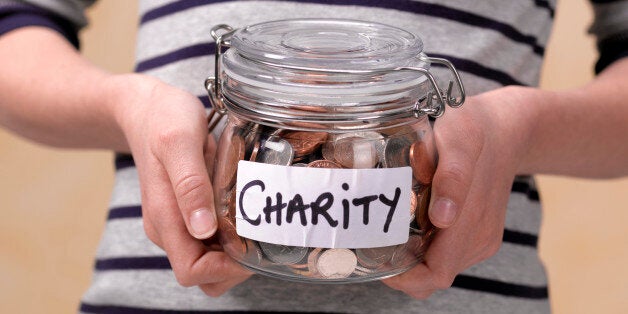 After the scuffles of Black Friday and the sales of Cyber Monday, could we add a day to celebrate generosity? A day of giving back after two days of getting deals. A kick-off to the "giving season".
The movement began in the US in 2012. Last year, Paypal set the Guinness World Record for the most money raised online in a day, and the overall #GivingTuesday campaign chalked up over $117 million online, and sparked other kinds of giving as well -- volunteering, offline giving, community engagement and donations of goods and services.
We have been thrilled to see this movement grow around the world, with people in more than 75 countries taking part. And it continues to take different shapes to reflect local needs and cultures. In Singapore, #GivingTuesday has turned into a full week of giving, with a big focus on volunteering. In Brazil, the campaign has turned into #DiaDeDoar, and is catalyzing a new giving tradition. In Slovenia, the effort looks to encourage citizens to consider giving as a part of their tax returns.
As an Englishman in New York, where this campaign was born, it has been a thrill to see the UK lead the way in re-imagining #GivingTuesday. Under the direction of the Charities Aid Foundation, a record 1,500 partners will participate this year, from small community organisations to some of the UK's largest charities and biggest businesses, like Sainsbury's, Morrisons, Sue Ryder and Cancer Research UK. Thanks to Royal Mail, this year there has been a #givingtuesday postmark on millions of letters posted before the big day. We'll even see a choir of MPs singing to raise money for "Singing for Syrians," which raises money to fund doctors in Aleppo, outside the Houses of Parliament (not a sight likely to be seen outside Congress any time soon).
In my mind, wherever it has landed, there are four things that have been behind the growth of #GivingTuesday.
1) The generosity of ordinary people. #GivingTuesday only works because people step up to find ways to give and connect with their communities. In the US, the average gift is less than 100 GBP. We see groups of dads coming together to donate to food banks. We see people donating pianos to local schools. We see blood drives and coat drives. That's why the UK #GivingTuesday campaign slogan "do good stuff" feels so right.
2) The power of social media. For the past two years #GivingTuesday has been the top trending item on Twitter for the day with support from well-known figures like JK Rowling, Stephen Fry, Gary Lineker and David Tennant. Last year it was mentioned over 100,000 times on Twitter in the UK. We built this campaign without a media budget, so we always relied on the power of social to drive awareness and scale.
3) The multiplying effect of community. Giving is so much more powerful when we give together. For some that is taking part in a bake sale for a school. For others, it is sharing the campaigns we care about via social media. At its best, giving isn't just about reaching out to those in need, but also strengthens our communities. In Milton Keynes, for example, businesses, charities and the public are all coming together under one banner to address local needs.
4) The entrepreneurialism of the charitable world. #GivingTuesday hasn't been about funneling funds towards just one cause, but bringing together the sector to showcase its importance and creativity. Time and again we've seen amazing campaigns that make #GivingTuesday their own - to great results. Dress for Success, which provides interview clothing for women in need, runs "#GivingShoesDay", where they ask people to donate shoes for those heading back to the workplace. Heifer international created downloadable "goats," and is encouraging people to post goat selfies with their #GoatSquadGoals to rally people to give back to address hunger.
#GivingTuesday began, and remains, an experiment. We are committed to learning from the movement as it grows, and sharing those learnings across a now global network of organizations. For me, watching this grow, has reaffirmed something I have always believed - that ordinary acts of kindness, especially when they are communally combined, shared and supported - can have extraordinary impact.
So wherever you are on Tuesday, let me encourage you to join us in taking time to give, in whatever way is most meaningful to you - to a neighbor in need, to a cause close to your heart, to your local community or to those on the other side of the world.
At a time when so much seems to divide us, acts of giving and kindness, small and large, matter even more in what they can do to bring us closer together.
Popular in the Community