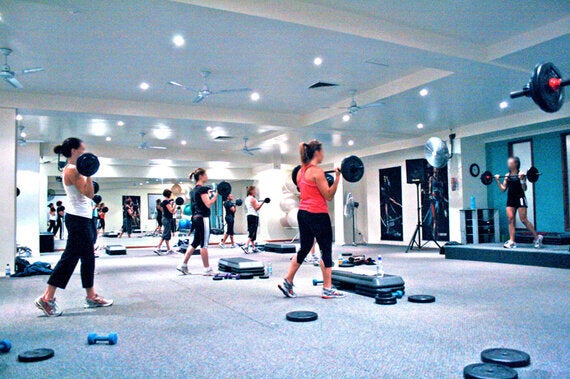 We've all been there: you diet for months before a trip so that you don't scare any locals at the beach, then spend your longed for holiday drinking cream-based cocktails, eating kebabs and lying down. Before you know it you've put on all of the weight you lost, plus a bit more for good measure. You start your holiday looking like a Greek god(dess) and end up looking like Buddha.
But it doesn't have to be that way. For years, Spain has been the go to holiday destination of choice for most UK holidaymakers. In 2011, The Co-operative Travel group analysed 8.9 million travel bookings made in the last six years and over 29% of them were for holidays to Spain. Greece was second with just 10% of the vote, while Turkey attracted 8% of holidaymakers. It's hard to pinpoint exactly why Spain is so popular, but some people believe it's due to the familiarity, the fact that many Spanish people speak English...and the ready availability of delicious food (and beer).
However, despite British holidaymakers' reputation for over indulging in Spain, it seems that more and more tourists from the UK are opting for transformative, healthy, active breaks in traditional summer holiday destinations such as Marbella, Tenerife and Gran Canaria rather than the usual tapas -and-booze marathons.
Recent years have seen a wide variety of world class gyms, fitness retreats and 'wellness centres' spring up in these areas. After all, where better to get active, eat well and improve your general health (and waistline) than in the warm, balmy and beautiful setting offered by Spain's stunning stretches of coastline? What's more: sightseeing is much more enjoyable without a hangover, and upgrading- rather than deleting- your hard won bikini body while on holiday makes a lot more sense.
Can it really be true? Are we ditching the shots, parties and kebabs in favour of a more wholesome Spanish holiday experience?
Nick Mitchell, founder of the international Personal Training company "Ultimate Performance" certainly thinks so. Nick is a Mayfair based personal trainer who has seen plenty of celebrities pass through his years since he founded his fitness empire, most recently Made in Chelsea's Oliver Proudlock. He was also crowned "London's Best Personal Trainer" by Time Out. Now, he's setting his sights on Marbella in order to make the most of this Spanish fitness holiday trend:
"In the last few years, it's become clear that Spain is bursting at the seams with potential when it comes to fitness retreats and body conditioning holidays," explains Nick. "It's easy to get to from the UK, is blessed with great weather all year round and obviously also has a large resident population who also want to stay in shape, so when we were looking for somewhere to found a new 'masterpiece' gym we really didn't have to look very far: it was the obvious choice. We've nearly finished construction on a 5000 square foot air conditioned interior gym with an attached outdoor area where our members will be pushing cars, heaving logs and building muscle. It's basically Venice Beach, but in Marbella. We're expecting it will be incredibly popular with tourists and locals alike."
For the real die hard fitness enthusiasts, triathlon holidays (which combine cycling, swimming and running) are also attracting more interest. There's even a 'tri-camp' on the island of Majorca. According to this BBC article, there has been a 35% increase in triathlon holiday providers in the last three years, with a 30-35% increase in bookings year on year. Add in the current enthusiasm for boot camps (a quick Google search for 'boot camps Spain' returns over half a million results) and it seems that the country really is experiencing a fitness boom.
For ordinary summer holiday enthusiasts, it's hard to imagine going on holiday and coming back looking better, fitter, healthier and more toned than when they set off. Most people bring back a beer belly and sunburn as a souvenir (I'm certainly one of them). Maybe it's time to give some serious consideration to a fitness - rather than patatas bravas- based summer holiday.