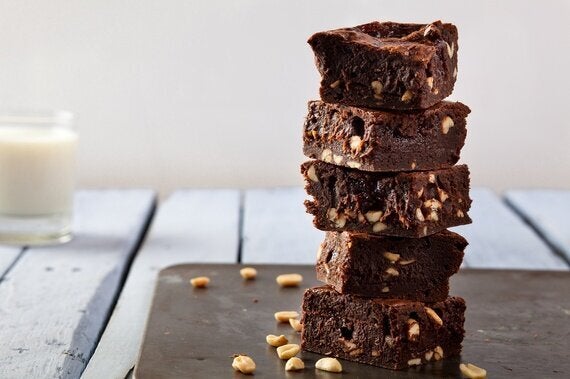 Nothing but nothing is prepared and it's almost (gasp) December. This has never happened before. At least, if it has, I have blanked it out. I have a few stocking fillers. I have a list of possible gifts to buy. I have a box of Christmas cards and some silver bells to attach to the presents I haven't bought yet. But that's it. What's wrong with me?
I have no answer for you. Instead I have peanut butter and raspberry brownies. That is, PBJ brownies if you're an American or at the very least, an Americaphile. (Is that a word?)
Makes 9 large brownies or 16 smaller ones - cut them as small as you wish
325g dark chocolate, not more than 40% cocoa solids
125g salted butter
150g castor sugar
90g soft brown sugar
3 large eggs
100g plain flour
75g peanut butter
70g salted peanuts
50g raspberry jam
Grease and line a 20cm x 30cm tray and preheat the oven to 180°C/fan 160°C/gas mark 4. Break the chocolate into squares and melt together with the butter in a large saucepan over a very low heat, stirring regularly to ensure the chocolate doesn't burn. Remove from the heat when smooth and add the sugars, eggs and flour. Stir well then, (after stirring the peanut butter to loosen it), add the peanut butter and peanuts. Stir until swirled with peanut butter, pour into the tin and add teaspoons of raspberry jam to the top. Use a fork to mix the jam in - it looks very 'Good Food magazine' if you leave some blobs larger than others. Blobs is a technical term by the way.
Bake for 25 - 30 minutes until the brownie has stopped wobbling and is starting to look a little cracked at the edges. Cool on a wire rack and refrigerate for an hour before cutting with a knife dipped in warm water. You can clean the knife after each cut to get perfect little squares.
P.S. You can make these, freeze them and then pop them into little tins like this one from Iced Jems and give them to folks. Suddenly I think I might be set for Christmas after all.