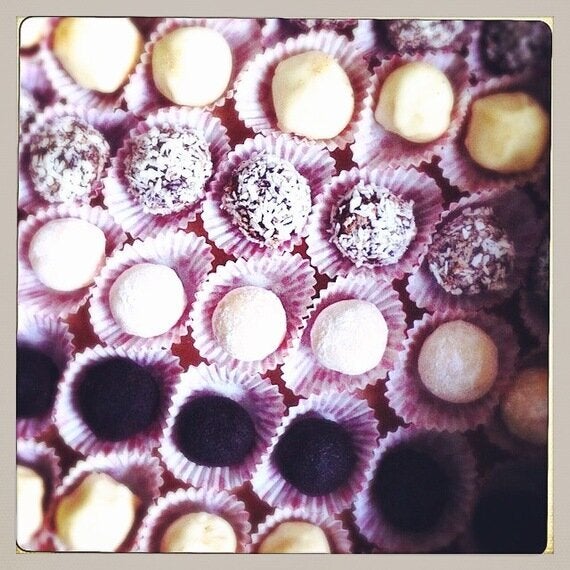 I have so much going on I can barely stop to talk. I really hate it when people do this - tell you how busy they are and then waste 15 precious minutes talking about their stress when they could be tacking their to do list. So I won't. Instead I will just offer up something that is simply amazing. I don't even like egg nog (the drink) but I do like these. Oh yes I do.
(P.S. If you are wondering about the other truffles in the picture then I also made orange truffles using this recipe and then rolled them in crushed Oreos. I used the same recipe to make coconut truffles, subbing the orange extract for Malibu and then rolling in desiccated coconut. I also rolled some egg nog truffles in nutmeg spiked icing sugar. They all keep for 1 week from making, provided your double cream has a use by date that doesn't come before that. Keep in the fridge and bring to room temperature for one hour pre-serving. And please, if you want to temper your chocolate then go ahead and do it, I just don't have the time at the moment, nor to explain it. You may get a bloom on your chocolate coating if you don't temper. It's fine, it will still taste the same. Just sprinkle with more nutmeg. Did I mention how busy I am?)
I made a lovely video with the Scoff folks to show off how to make these truffles. You can see the vid on my YouTube channel and also the Scoff one. You can watch it below too.
360g good quality white chocolate
80mls double cream
1 tbsp brandy or rum
½ tsp freshly grated nutmeg
A pinch of ground cinnamon
360g white chocolate for coating
Grated nutmeg to decorate
Melt the chocolate, cream, brandy, nutmeg and cinnamon in a heatproof bowl over a pan of simmering water, being careful not to let the bowl touch the water. Stir until completely smooth then chill for about two hours until hard.
Take a teaspoon and remove heaped spoons of the truffle mixture. Roll between your hands to form spheres. Place on a plate covered in non-stick paper and chill again for another hour.
Melt the chocolate using the same method as before. Dip each truffle into the chocolate using a spoon and fork. Drain as much chocolate from the truffle as possible and transfer to a tray lined with greaseproof paper. Grate a little nutmeg over each truffle. Leave to set either at room temperature or in the fridge, though be aware a bloom is more likely to develop on the chocolate if you use the faster fridge method.
Related