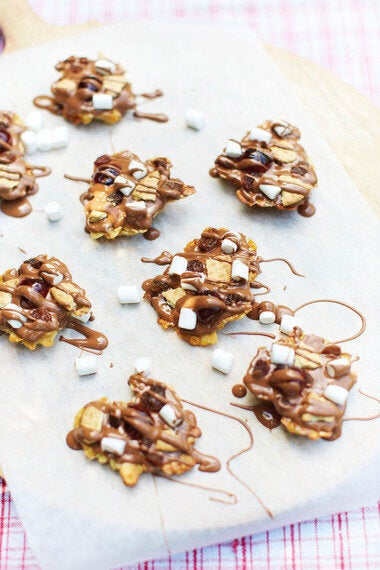 My publisher has given the okay to blog another recipe from my book, Recipes from a Normal Mum. With 100 recipes to choose from it wasn't an easy decision. I wanted something sweet as I know folks are partial to the odd sweet treat. After a little ask about on Facebook I had the answer.
These florentines are delicious and really very easy. The crunch and all important brushing of chocolate make them a big hit amongst the smaller people in our family. Add to this already heady combination some marshmallows and sultanas and this could well be treat heaven.
100g brown granulated sugar
100g glace cherries, cut into halves with scissors
20g rich tea biscuits (about 2 biscuits), chopped into 1cm pieces
Preheat the oven to 190°C/gas mark 5 and line two baking trays with non-stick greaseproof paper. Heat the honey and sugar in a saucepan over a medium heat until the mixture is molten and the sugar has nearly completely dissolved. Remove from the heat and stir in the flour and almonds using a wooden spoon. Leave to cool for 2-3 minutes and then place heaped tablespoons onto the baking sheets about 3cm apart, this will allow for a little spreading. Do not use your fingers to get the mixture off the spoon as it will be extremely hot. As you go squash them down a little with the back of a spoon, you do not want heaped mounds. Bake for 10 minutes until they are lovely and golden and have spread. Remove from the oven and leave to cool on the baking trays.
Melt the chocolate in a heatproof bowl over a saucepan of barely simmering water, making sure that the base of the bowl does not touch the water. Stir until it has completely melted. Spoon a couple of teaspoons of chocolate onto the top of each Florentine and press a few cherries, marshmallows, biscuit pieces and sultanas into the chocolate. Repeat for each Florentine and if there's any chocolate left over, drizzle it over the top of the Florentines in a zigzag pattern. Leave the chocolate to set for 2 hours.