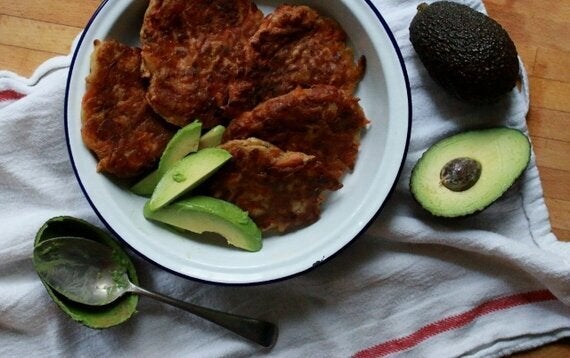 Pancake day is looming. So I thought I'd offer you up something just a little different. I know you like your wafer thin crepes with sugar, lemon, Nutella, jam, caramel, bananas etc, but I wanted to champion the savoury pancake. It's thicker, it's less about tossing and it's very happy when sitting next to sliced avocado.
220g carrot (2 large)
140g sweet potato (1 medium sized)
130g halloumi cheese (or other hard cheese)
3 cloves garlic, crushed or very finely chopped
175g self raising flour
1/2 tsp bicarbonate of soda
1 tsp ground coriander
1 tsp ground ginger
1 tsp salt
1 tsp ground black pepper
110mls milk
2 large eggs
10mls lemon juice (from a bottle or fresh)
Olive oil for frying (about 6 tbsp)
Preheat the oven to 180C/gas mark 4. Find a large baking tray and line with non stick baking parchment.
Top and tail the carrots, grate and place in a large bowl. (I don't bother to peel mine). Peel the sweet potato, grate and add to the carrots. Grate the cheese and add to the bowl.
Add the garlic, flour, bicarbonate of soda, ground coriander, ginger, salt and black pepper to the bowl of grated ingredients. Stir well with a metal spoon until everything is well covered and distributed.
Lightly whisk together the milk, eggs and lemon juice with a fork. Add to the dry grated mixture and stir well with a metal spoon until the batter is completely mixed. Have a good dig about at the bottom as flour tends to hide there.
Heat 2 tbsp olive oil in a large non stick frying pan over a medium heat. Add heaped tablespoons of the batter to the pan. (I managed four in my pan at a time without them touching).
After a minute use a slice to lift the pancake up and check how well done the underside is. You're looking for golden brown. If it's still too light then leave to fry a little longer. Once the underside is golden brown flip each pancake over.
Fry for a further minute, squashing the pancake down a little with the slice, then check as before for a golden brown colour. Remove the pancakes once fried on both sides and place on the lined baking tray.
Repeat stages 5, 6 and 7 until all the batter is used up. Remember to add more oil each time.
Once all the pancakes are fried make sure they're arranged in one layer and bake for 20 minutes.
The pancakes with be slightly puffed up and fluffy inside once baked. Serve immediately for breakfast, lunch or dinner with avocado, chilli, fried eggs or simply alone.
NB: These keep in the fridge for three days, well wrapped. Or freeze in bags separated by non stick baking parchment. Re-heat in a preheated oven at 180C/gas mark 4 for 15 minutes before serving (slightly longer from frozen). Remember, if feeding these to under 1's then leave out the salt.