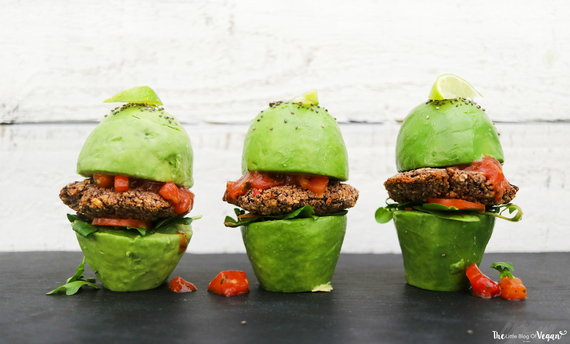 Preparation- 15 minutes
Makes- 7 burgers
Level- Medium
...
Ingredients for the burger
-1 can of black beans
-1/2 red pepper
-1/2 white onion
-2 large garlic cloves
-1/4 teaspoon of garlic granules
-2/3 cup g of breadcrumbs (I used gluten-free)
-Pinch of salt & pepper
For the avocado buns & garnish
-4 avocados
-Mixed salad (I used rocket & baby spinach)
-Tomatoes
-Tomato salsa
...
Step 1- Pre-heat your oven to 180 degrees and line a baking tray with grease proof paper.
Step 2- Drain the liquid from the black beans, wash and place them into a food processor/blender and whizz up until paste like.
Step 3- Place the pepper, onion, garlic cloves, salt & pepper and garlic granules into a food processor/blender and blend until combined, then transfer the mixture into a large mixing bowl and combine.
Step 4- Add in the black bean mixture and breadcrumbs.
Mix until fully combined.
Step 5- Form the mixture with clean hands into burgers and place onto the lined baking tray.
Bake for 10 minutes at 180 degrees on each side until fully cooked.
Whilst the burgers cook, prepare the avocado burger buns.
Step 6- Slice an avocado in half and twist.
Step 7- Carefully cut around the stone and remove.
Step 8- Peel the skin from the avocados and place them on a plate.
Cut a flat base so the avocados can stand.
Step 9- Drizzle over sone lime to keep the avocados fresh.
Step 10- Once the burgers are cooked, carefully remove them from the oven and place onto the avocados, along with some fresh salad, tomatoes and tomato salsa.
My tomato salsa recipe coming soon!
Serve whilst warm, or you can freeze the burgers to enjoy at a later date.