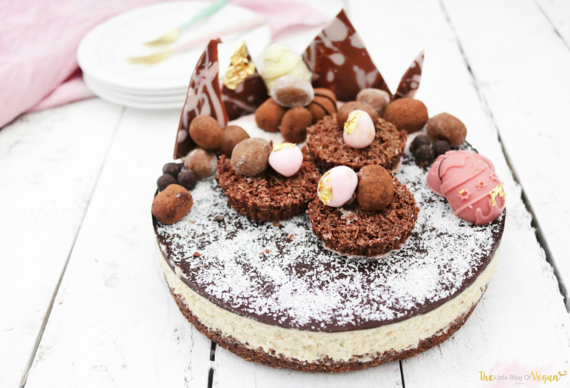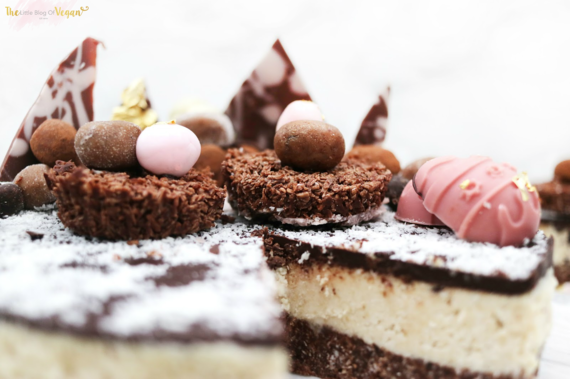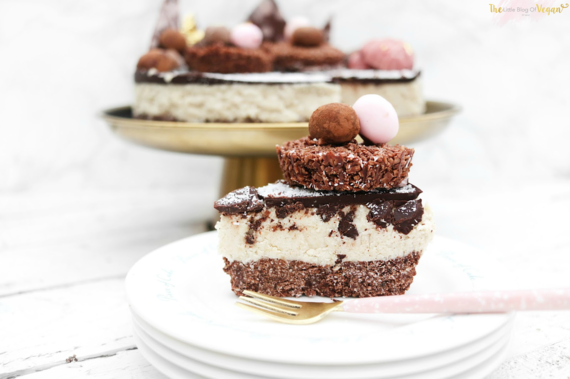 Freezing time- 5-8 hours (or overnight)
-200g of dates (pitted & de-stoned)
-200g of unsweetened dessiccated coconut
-2 tablespoons of cacao powder
-50g of coconut oil (melted)
-35g of dark chocolate melted (I used Vivani 71%)
Ingredients for the filling
-200g of cashew nuts (soaked overnight)
-2/3 cup of coconut cream (1 can)
-85g of coconut oil (melted)
-50g of unsweetened dessicated coconut
-1/3 cup of maple syrup (you can use fruit syrup)
-1 teaspoon of vanilla extract
-1 bar of the 70% Vivani cooking chocolate (100g)
-Coconut easter nests with hazelnut eggs (Get the recipe here)
Step 1- Line a cake tin with grease proof paper.
Step 2- In a food processor/blender, add in all of the base ingredients and whizz up on high until like breadcrumbs.
Step 3- Firmly press the mixture into the lined cake tin and pop into the freezer.
Step 1- Drain the cashew nuts and pop them into a food processor/blender along with the coconut cream, melted coconut oil, dessiccated coconut, maple syrup and vanilla extract.
Allow to blend for 5-8 minutes on high until smooth. There will be some texture due to the coconut.
Step 2- Pour the creamy coconut layer onto the base and pop back into the freezer to harden.
This will take around 30 minutes.
Step 3- Once the cheesecake is firm, using a bain-marie, melt your 100g of dairy-free chocolate until silky smooth.
Pour the chocolate onto the cheesecake and level out with a metal spoon. Pop back into the freezer to set.
This will take around 25 minutes.
Step 4- Once the chocolate has set, now you can decorate your cheesecake.
I topped off my cheesecake with a hefty sprinkling of dessiccated coconut, homemade Easter nests, Nakd coconut nibbles and some homemade pastel easter eggs and chocolate bark.