Unless you're dropping some serious cash on a diamond encrusted wedding dress, it's a pretty safe bet that food and drink will be the biggest slice of your wedding budget. And so it should be - food and drink are essential to you and your guests having a great time, and setting the tone for the day. But if you're on a tight budget, how do you bring costs down without letting your guests go hungry?
Choices, Choices...
It's always great to have options when you have a meal, but catering for your wedding guests shouldn't be like running a restaurant. Limiting the number of choices your guests have for your wedding breakfast will save you a great deal of time, hassle and, most importantly, money. Go for a crowd pleaser you know everyone will love, and offer a vegetarian or gluten free option for those who really need it, not as a choice. There will be less waste and you can get a lot more for your cash.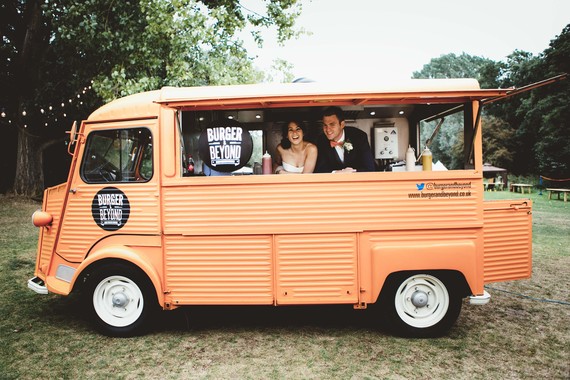 Photo Source: Revelry Events
Don't Get Married at Lunchtime
A surefire way of bringing that catering budget down is to shorten the day. A trap many couples fall into is the desire to make the most of their venue (and the money they paid for it) by holding the wedding super early, around lunch time, then going all the way into the wee hours. Yes you get to spend more time with the people you invited, but it's a bloody long day for everyone - including you. Secondly, the more time you expect people to be with you on the day, the more often you need to feed and water them.
Lunchtime weddings mean people won't have eaten much or at all, sit starving through your vows, then drink your champagne on an empty stomach...we don't need to elaborate here, but I'm not sure you'll be happy with those photos.
Consider a mid-afternoon ceremony or later, ensuring everyone will have had a proper lunch. That way, post ceremony you can get away with a few small bites during cocktail hour, then a two or three course dinner at a meal time people are used to. Instead of 4pm wedding meals that leave guests hungry again before they've even hit the dancefloor.
Follow the Season
Every month of the year has a new delicious offering, and following the calendar for your wedding menu will shave a big chunk off your food budget. If your caterer doesn't have to import expensive, out-of-season ingredients for that dish you like the sound of, you'll find your money goes a great deal further.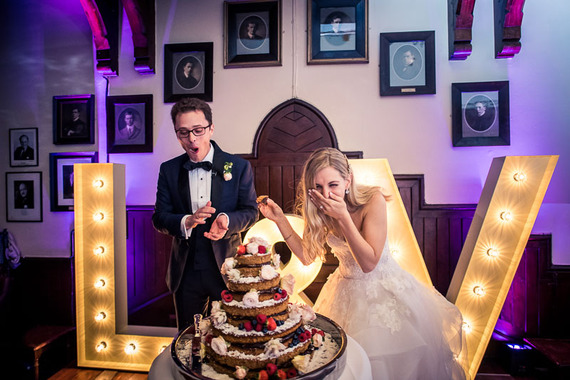 Photo Source: Revelry Events
The Numbers Game
The harsh reality is that every wedding guest has a price on their head. Every plus one, second cousin and ex-colleague you invite adds upwards of £50 to your catering budget. Factoring in, not just food, but also those extra chairs, extra plates and extra staff. Have another look over your guest list with that in mind and consider whether you could reduce your headcount to bring down your costs.
Plate Up
Wedding meals that require less labour and fewer staff will always be more budget friendly, and can even be a lot more fun. Go for big dishes that can be shared and served at the table, such as whole roasted chicken or big dishes of slow-roasted beef. Large bowls of salad, cheese platters and tearable breads make for a great, communal and friendly atmosphere at each table.
Fake It
These days, there's no wedding cake too big or too ornate. It's the creative centrepiece of the evening and an amazing photo opportunity. But of course, the bigger the cake the bigger the price tag. One great way of getting the best of both worlds is to ask your caterer or cake maker to design a larger cake with extra layers made out of polystyrene. Et voila! Beautiful cake and money back in your pocket!
Find out more wedding hacks from us over at Revelry Events