Summer is the time of year when people gather en mass to celebrate with music, dance, theatre and sometimes even bulls. These colourful celebrations are the perfect way to revel in the beauty of summer. If you like the idea of celebrating summer with music, dance, and a good dose of culture, then here are seven fabulous summer celebrations you don't want to miss.
Fiesta de San Fermin
Pamplona, Spain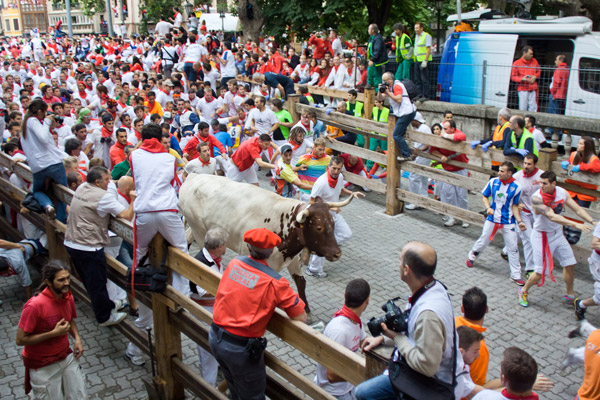 Running of the bulls through the streets of Pamplona © Shutterstock
Some of the most iconic images of Spain are those of people dressed in white shirts and trousers with a red waistband and neckerchief, running from charging bulls. During the Fiesta de San Fermin that takes place each year from the six to the 14 of July, hundreds of people from around the globe join this adrenaline-fuelled 800m mad dash known as The Running of the Bulls. Referred to in Spanish as encierro, the race is only for adrenaline junkies who relish the thought of running through the barricaded streets of Pamplona towards the bullring, with a dozen angry bulls at their heels. Although Pamplona is the most renowned encierro, other encierros take place during the summer in Spain, Portugal and Mexico.
Global Gathering
Stratford-upon-Avon, UK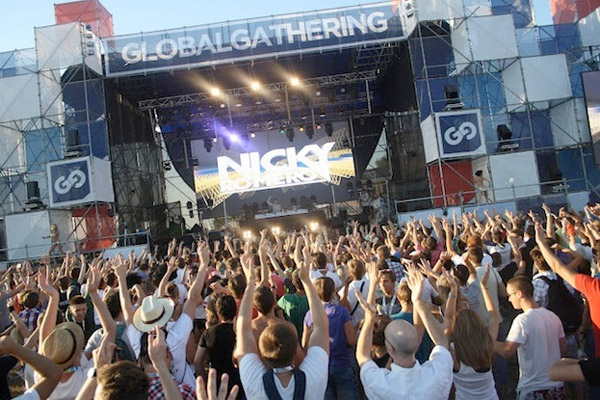 Nicky Romero playing at Global Gathering 2012 © Global Gathering
Global Gathering is a dance music festival that is celebrated each summer since its inception in 2001. It's one of the most popular music festivals in the UK, and has twice won the "Best UK Festival" award in the DJ Magazine awards. Tens of thousands of electronic music fans descend on Stratford-upon-Avon on the last weekend in July to enjoy live acts, trance, house and dubstep. Sixteen different stages are set up on Long Marston Airfield, where the Global Gathering takes place. There are great camping facilities available, but staying in a holiday rental is a great alternative for those who would prefer not to camp. The festival has been so successful in UK that there are now GlobalGatherings in places like Poland, Belarus, Ukraine, Russia and South Korea. Global Gathering 2013 takes place on the 26 and 27 July.
Palio di Siena
Siena, Italy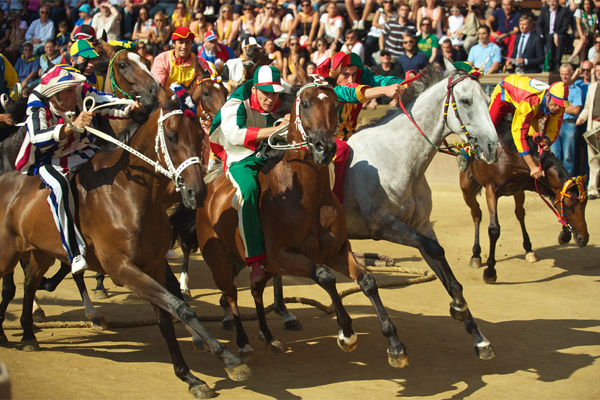 Bareback jockeys struggle to stay on their horses during Il Palio in Siena © Janus Kinase
Known locally as Il Palio, the Palio di Siena is a world-famous horse race held twice each summer in Siena, Italy. The Palio held on 2 July is called Palio di Provenzano, and the Palio held on 16 August is called Palio dell'Assunta. The spirited race lasts under two minutes on a dirt track that circles the Piazza del Campo. The ten jockeys who take part in the race represent ten of the seventeen contrade (city wards). Il Palio is raced bareback and it's not uncommon to see horses finishing the race without their jockeys who've been unceremoniously thrown off at one of the turns. Il Palio is preceded by Corteo Storico, a spectacular parade that includes a fantastic flag-waving exhibition in which participants are dressed in medieval attire. It's a great way to celebrate summer if you're on holiday in Siena.
Boryeong Mud Festival
Boryeong, South Korea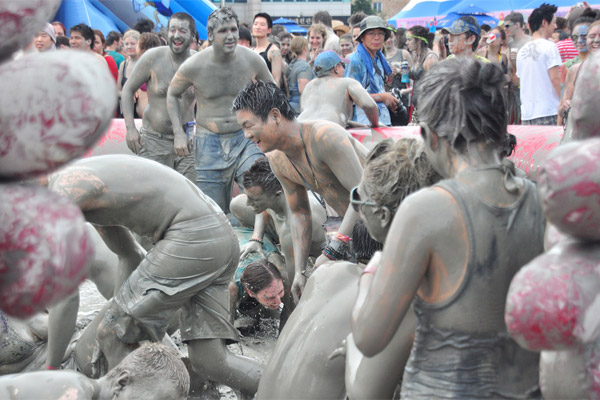 Get dirty at the Boryeong Mud Festival in South Korea © Jordi Sanchez Teruel
Every summer over two million visitors descend on the Korean town of Boryeong, located 200km south of Seoul for the famous, and very dirty, Mud Festival. The festival began in 1998 as a marketing event for Boryeong mud cosmetics. Mud from the Boryeong flats is transported to Daecheon Beach where the festivities take place. If you don't fancy the idea of wrestling in the mud, you can always just enjoy a spa treatment using the famous Boryeong mud. The 2013 festival will take place from the 19 to the 28 of July.
La Tomatina
Buñol, Spain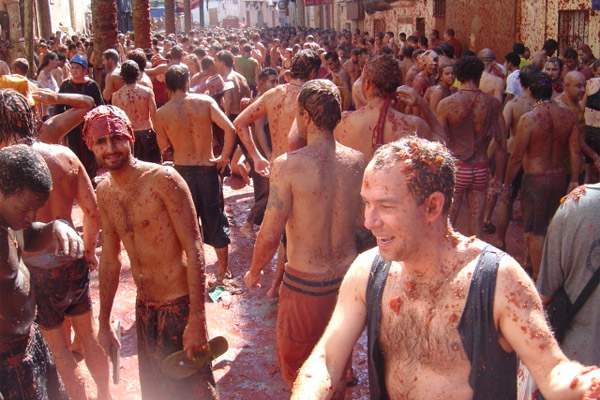 The town of Buñol in Valencia gets painted red every summer during La Tomatina © davidd
Another fantastically messy summer festival is La Tomatina, which is held in Valencia, Spain. Each year, tens of thousands of tomatoes, specially grown for the occasion, are trucked into the town of Buñol, for the world's biggest food fight. The tomato throwing begins as soon as somebody is able to topple ham off the top of a greased pole. To avoid injury tomatoes have to be squashed before they're thrown. Within an hour the streets of Buñol are painted red, along with thousands of enthusiastic tourists and locals. When the tomato throwing ends the streets and tomato-covered people are hosed down. La Tomatina takes place on the last Wednesday of August each year.
Stockholm Midsummer Festival
Stockholm, Sweden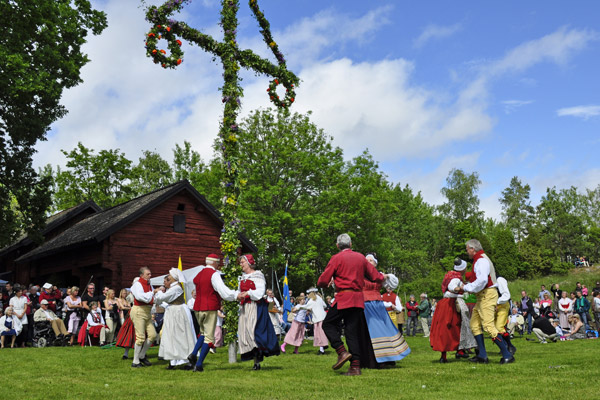 Midsummer celebration in Sweden © Shutterstock
Midsummer's Eve is celebrated all over Europe, and one of the best places to take part in the Midsummer festivities is in Sweden. Midsummer was historically celebrated as fertility festival that included rituals believed to bring a good harvest in the autumn. Today the Swedes celebrate the beauty of summer by singing and dancing around the maypole dressed in fabulous costumes and crowned with flower wreaths. If you're in Stockholm for the midsummer weekend you should head to Skansen, the open-air folk museum that attracts a huge crowd each year. Here you can enjoy plenty of entertainment while sipping on schnapps and basking in the summer sun which only sets at 10pm. Midsummer is celebrated in Sweden on the weekend closest to 24 June.
Duanwu (Dragon Boat) Festival
Beijing, China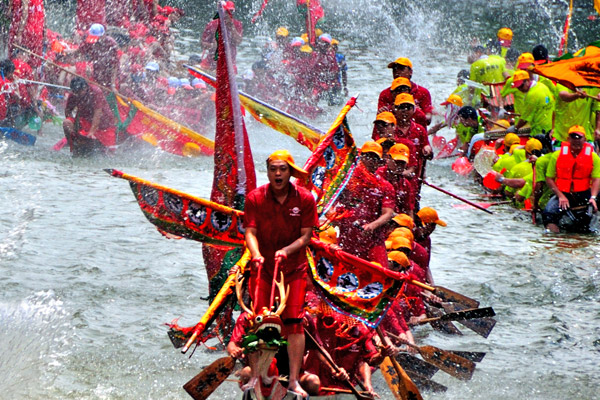 Participants paddle their boats © Shutterstock
Europe is not the only place you can experience fabulous summer festivals. The Chinese also know how to celebrate the summer in style. The Duanwu Festival, also known as the Dragon Boat Festival, is held on the fifth day of the fifth month of the Chinese calendar. The annual celebration includes eating rice dumplings wrapped in bamboo leaves, known as zongzi, drinking wine, and racing dragon boats. The festival activities are believed to promote health and well-being, and prevent evil. The Dragon Boat Festival also commemorates the death of the famous Chinese poet Qu Yuan.
Burning Man
Black Rock Desert, Nevada, USA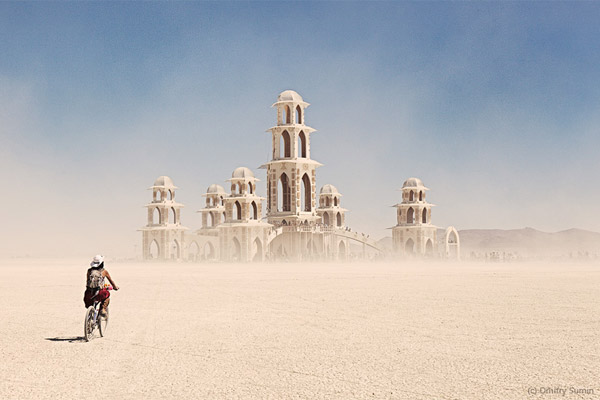 The temple at Burning Man festival is burned on the final day © Dmitry Sumin
If you are looking for the world's wildest, weirdest and hottest festival that celebrates art, self-expression and self-reliance. For one week each summer, around 60,000 people converge on Black Rock Desert, 120 miles north of Reno, Nevada, creating a pop-up bohemian paradise. Everywhere you look you'll find nipple-pierced, flame throwing free spirits who party day and night and indulge in their sexual proclivity at the Burning Man festival. Amoungst the revelers you'll find artists, hippies, techies , corporate top dogs who celebrate creativity and freedom of expression through music, dance, unique art installations, workshops and other community events, culminating in the burning man finale on the final night. After a week-long celebration the burners depart, leaving no trace of their wild week. It's a counterculture festival of free love which takes place from 26 August to 2 September. The 2013 art theme is "Cargo Cult".
Aomori Nebuta Matsuri
Aomori, Japan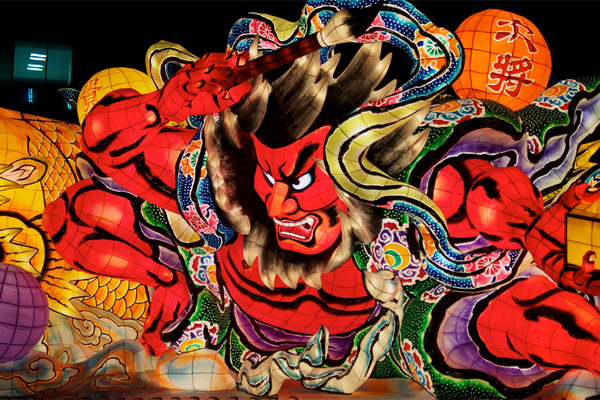 The massive colourful latern floats at Aomori Nebuta take up to a year to construct © Yuya Saito
In early August each year, the streets of Japanese towns everywhere come to life with colourful parades and millions of visitors who have come to watch these spectacles. The most impressive of these celebrations is the Aomori Nebuta Festival which is held in the city of Aomori on northern tip of Japan's main island, Honshu. The celebration involves enormous lantern floats of brave warrior figures, which are paraded through the city centre between singers, musicians and dancers dressed in haneto costumes. The impressive floats often take a year to construct. If you want to join in the fun you can always purchase a haneto costume of your own. The festival is held from 2 August to 7 August each year, with a marvelous fireworks display on the final day.
Written by Kerryn du Plessis, a travel writer for HomeAway.co.uk.