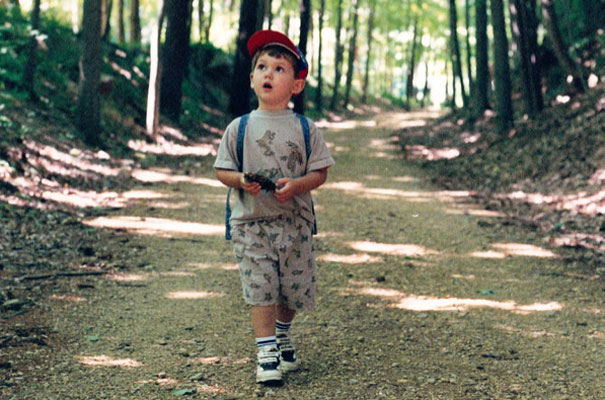 Take the kids on a family adventure in the great outdoors this summer © Jonf728
Okay, so the saying may not go quite like that, but hiking is a great way to spend some quality time together as a family. Every summer families across Europe take out their hiking boots, grab a backpack and put on their sunhats for a family adventure in the great outdoors. Whether your family prefers a gentle amble along flat forest paths, or a more challenging climb up rugged hillsides, Europe is full of amazing hiking destinations that are ideal for kids.
Locarno, Switzerland
Switzerland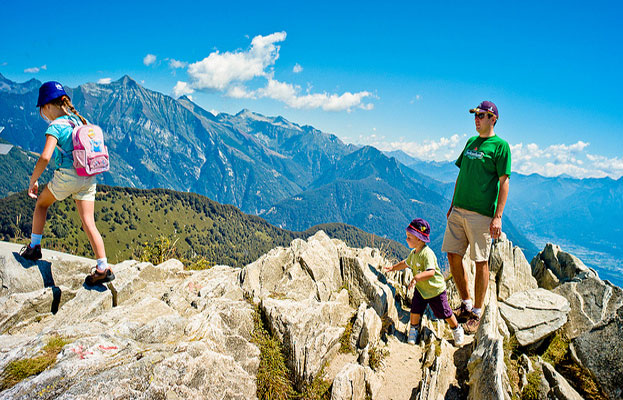 You'll be on top of the world on Cimetta in Locarno, Switzerland © Ding Yuin Shan
Locarno district is located in the Swiss canton of Ticino, near the border with Italy. It's an area of deep valleys, rugged mountains and peaceful lakes. What makes Locarno an ideal spot for a family hike is the
panoramic view point from Cardada and Cimetta, which is remarkably easy to reach, even if you have small children.
On the mountain you'll find Nordic walking trails, but if the little ones get tired you can always make use of the cable car that runs from Orselina to Cardada, or the chairlift that runs from Cardada to Cimetta. When you're not enjoying the 360° panoramic views over Lake Maggiore and the valleys of Ticino, the kids can have fun in the Indian Village or the play areas. Holiday rentals in
Ticino
make a great base from which to explore this beautiful region at your own pace, and give you the flexibility to take a day off if the kids are feeling tired.
Akershus Fylke, Norway
Norway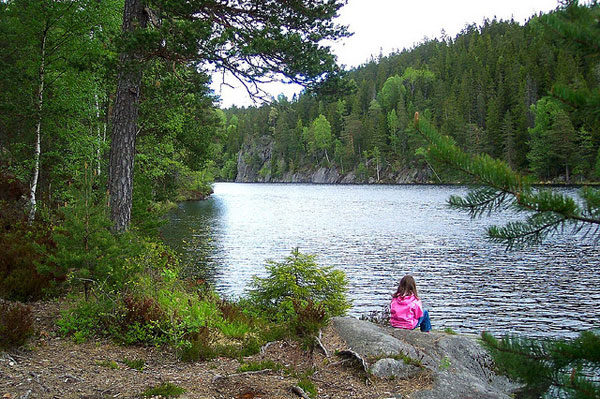 Beautiful lakes and tranquil trails make Akershus, Norway a great family hiking destination © *saipal
Akershus
is a county (fylke) in Norway, on the outskirts of the capital city, Oslo. The
thick forests, rolling fields, beautiful lakes, and tranquil walking trails make it a great destination for a hiking holiday
the whole family can enjoy. It's the great outdoors at its best. You can walk The Pilgrim Way at Romerike, do an urban uphill hike from Sandvika to Bærums Verk, or if you have small children you can take a tranquil route around Semsvannet Lake. The area has a lot more to offer than just good hiking routes. On your hiking holiday in Akershus you can have tea at a café in Drøbak, visit the historic Oscarsborg Fortress, or take a cruise along the Oslofjord. Your kids will also love TusenFryd amusement park with its SpeedMonster roller coaster and SuperSplash water ride.
Montserrat, Spain
Spain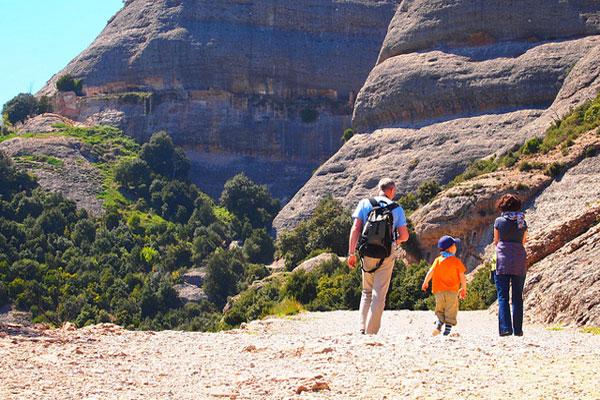 Discover the rugged beauty of Spain on a family hike in Montserrat, Spain © leo gonzales
If your family wants a walking route that is not too far off-the-beaten-path, but that still allows you to discover the rugged beauty and diversity of Spain, then look no further than Montserrat. This craggy mountain is located in Catalonia, near the city of Barcelona and is home to Santa Maria de Montserrat, a Benedictine abbey. The area has several different hiking routes to suit all levels of fitness.
There are some routes that are so easy you can even bring granny along
, although if you're traveling with very small children and granny you may want to take the Saint Joan funicular up, and walk the downhill trails. You can end your day with a tapas dinner at
La Pepita
.
Chamonix-Mont-Blanc, France
France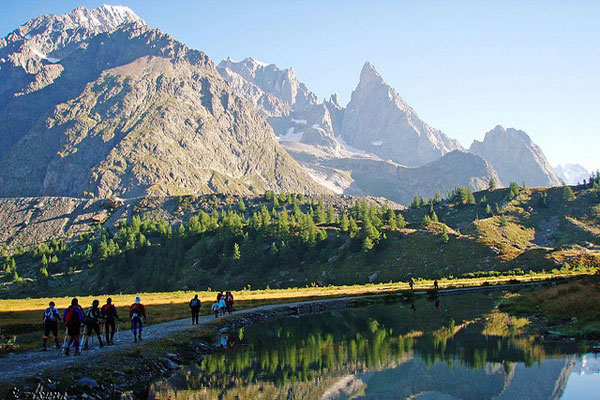 Hike along peaceful Lac Combal in Chamonix-Mont-Blanc, France © akunamatata
The
Chamonix Valley
is
one of the most beautiful hiking destinations in France
. The valley has an astounding 350 km of hiking trails. There are
160 routes to choose from
, so you're sure to find something that suits the whole family. The lower valley has thick forests and is easier for kids, but if your kids are older and you have the stamina you can hike along the routes at higher altitude. Take your time to enjoy the hidden delights like the delicious blueberries, the scent of the alpine forest, glistening mountain lakes and of course the magnificent views. With the help of cable cars and mountain trains you can explore the Mont Blanc circuit.
Brecon Beacons, Wales
United Kingdom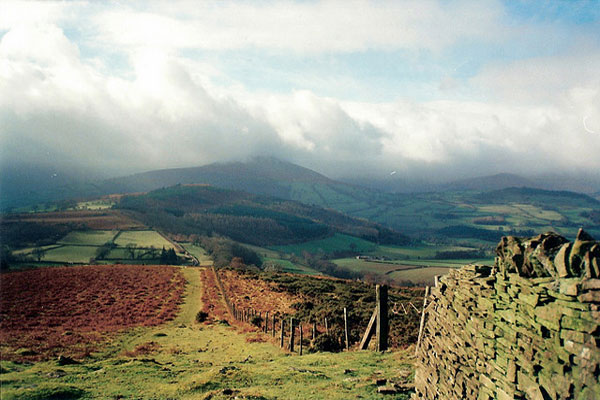 There are dozens of walking routes to choose from in beautiful Brecon Beacons, Wales © Theodore Scott
If your idea of hike is more of a gentle amble in the countryside then Brecon Beacons is the ideal spot for your family. The
Brecon Beacons National Park is the perfect place for an active family holiday,
with dozens of walking routes that traverse the grassy mountains and heather-clad hillsides. It's an area of outstanding natural beauty. The Brecon Beacons National Park
website
even has routes suitable for those with pushchairs and wheelchairs. You can download their Park Explorer app for detailed maps and hiking routes. When you're not hiking in the beautiful Welsh countryside you can go caving, cycling, kayaking, horse riding, or you can even try your hand at archery. It's the ideal destination for an active family.
Cinque Terra, Italy
Italy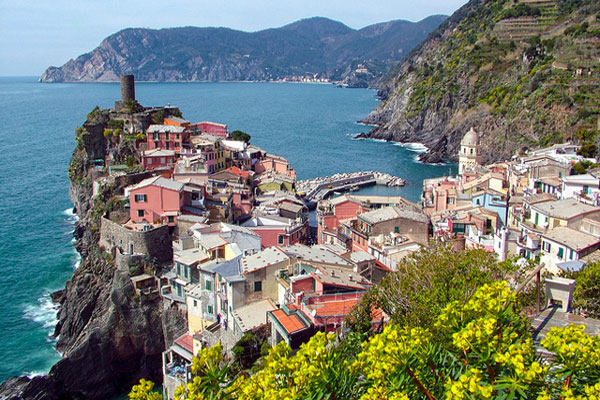 Explore delightful towns like Vernazza on the Cinque Terre, Italy © kkmarais
The
Cinque Terre
is a world-famous rugged coastal region in Liguria, Italy. The Cinque Terre is home to the celebrated Sentiero Azzuro (Blue Trail) walk that connects picturesque fishing villages and ports along the Italian Riviera.
The dramatic cliffs, quiet vineyards, panoramic views and pastel-coloured villages make for some of the best hiking in Europe.
The entire hike is only 9 miles and is suitable for the whole family. The clearly marked route begins at the Via dell'Amore (Street of Love) in Riomaggiore, and ends at Monterosso al Mare, although you can walk in the opposite direction. Take it slow and explore the charming Italian villages of Manarola, Corniglia and Vernazza along the way. If you're looking for a place to stay with a superb Mediterranean view,
there are great Cinque Terre holiday apartments
to choose from.
The Lake District, England
United Kingdom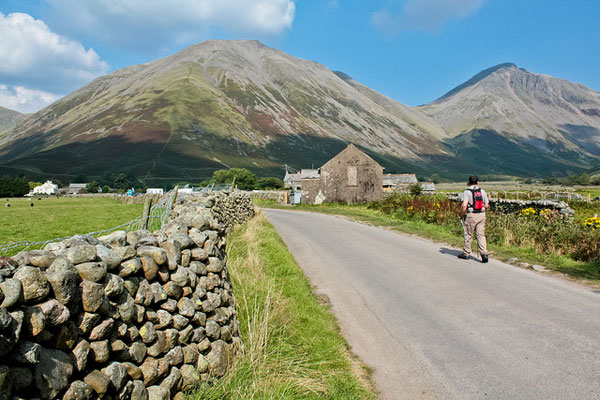 From gentle amble to high ridge walks, the Lake District has it all © Shaun Dunmall
If you'd prefer to keep it local, England's Lake District is well-suited to hiking. The Lake District National Park has walks to suit every level of fitness and ability.
There are gentle lakeside ambles, 40 "Miles without Stiles" routes for those with a buggy
, as well as high ridge walks for the more adventurous. You can also join guided walks through the spectacular Lake District. When you're not on the fells or taking a stroll around a lake, you can take the kids to the adventure playground at the
Brockhole Lake District Visitors Centre
, which has rope walks, slides, swings, scramble nets and zip wires. During the summer holidays the Lake District National Park has "Children's Pathfinder" sessions for eight - 11 year olds, where the kids hunt for treasure using maps. The kids will also enjoy a scenic ride on the
Ravenglass Railway
. With so much to see and do, and right on your doorstep, it's easy to see why so many families choose the Lake District for their family holiday.
Written by
Kerryn du Plessis
, a travel writer for
HomeAway.co.uk
.